Joomla Templates
10+ Business Services Joomla Themes & Templates
If you have a business and want to create a website, Joomla templates are what you should go for. As a content management system (CMS), Joomla is the most popular right now. With the help of Joomla templates, you can make your own websites without much knowledge of coding. It also gives you an idea beforehand of how your website will look and function. With the help of business Joomla templates, you will be able to build your own website that will generate a lot of traffic and thus give your business a lot of publicity. Check out the most popular Joomla templates which are listed below. You may also see Business Joomla Website Themes.
Boat Service Business & Services Joomla Template $75
For a business that provides boats and services related to it, this Joomla template is the perfect fit for creating a website. It is a very well designed template that has a lot of features. It comes with 24/7 free support. Its responsive design helps to view the site on any browser and on any device. Themes in multiple colours are available as well. Parallax effect and UI elements make it a must have.
Corporate Business & Services WordPress Theme &75
This beautifully designed Joomla template is best suited for corporate businesses and services. Consultant is the way to go if you want to build a website for such a business. Its various features include k2 support for the blog, clean and unique design along with easy customization. It is responsive and retina ready with make viewing a soothing experience for the visitors. You may also see Responsive Joomla Themes.
Taxi Business & Services Joomla Template $75
With the increasing competition, a website for taxi businesses and services is a necessity these days which can be easily achieved by this very attractive Joomla template. Along with being mobile friendly, due to its responsive design, its social login forms make it easy for the customers to login via their existing Facebook and Google accounts and avail the services offered. Counters can be used to give ideas about the number of taxis available and also the expected time till they can get one. You may also see Mobile Joomla Themes.
Portfolio Business & Services Joomla Template $29
This responsive Joomla template is best made for Portfolio businesses and services. Your website can be used to view details about your business, services you provide, your team and projects you are undertaking. This theme has a strong framework, 4 colour styles, MegaMenu generator, article post formats and compatibility with multiple Google fonts among its many features. Shortcodes will assist you in easy designing of the website.
Cleaning Business & Services Joomla Template $75
If your business provides cleaning services, a website is what you need these days to reach a large customer base. This alluring Joomla template is what you need to achieve that. Its 14 predesigned pages can help you in easily setting up your website. 24/7 free support is another added benefit. Contact forms will be really helpful for customers to make queries as well as apply for services. The advanced search option will help the visitors to find about the varied services you provide.
Corporation Business & Services Joomla Template $53
Jollyness is the Joomla template you should go for if you plan on creating a website for your corporation business & services. Not only is it beautifully designed, but it also comes with some amazing features. You can choose from 8 homepage options to choose the one you like the best. Search engine optimization will increase the traffic of your site and thus increase your outreach exponentially. Powerful shortcodes will help you in designing your website and adding multiple features like tabs and pricing tables to it.
Pool Cleaning Business & Services Joomla Template $75
Pool cleaning services are required for individual homes to housing societies to hotels resorts. What better way to reach them all then by creating your own website. This attractive Joomla template is best suited for your pool cleaning business & services. Its responsive design makes it viewable on all types of browsers and devices. The parallax effect gives the website a very professional look that is sure to amaze the visitors.
One Page Business & Services Joomla Template $19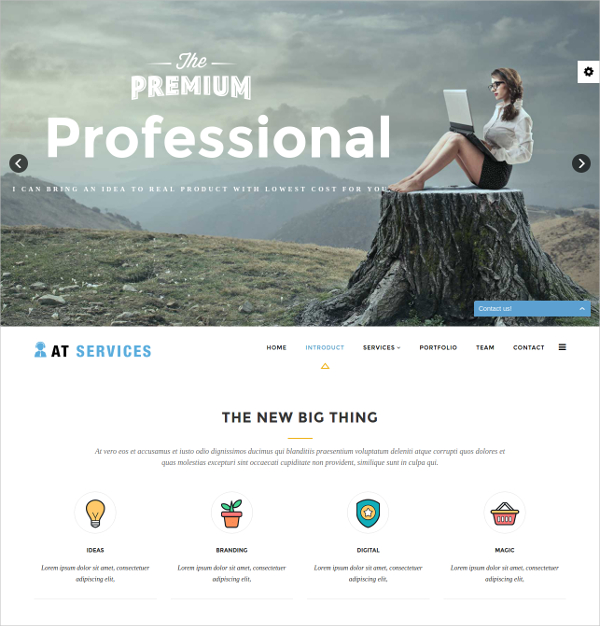 This single page Joomla template can be a very good choice to create a website to build a wider customer base for your business & services. This can be used to create an interactive website where your team can interact with potential customers to discuss queries as well as ideas. The fully responsive layout is one of its key features. You also get to choose from 4 layout colour styles. It is powered by Bootstrap 3.2.
Cleaning Company Business & Services Joomla Template
This Joomla template is very elegantly designed and Cleaning businesses & services can create wonderful websites by using it. You can advertise your various cleaning services on it. This template can be easily customized as well. Theme navigation will be useful for visitors to browse different parts of the website and learn more about the business. Many high-resolution photos will also be provided for setting up the website.
This is a very beautifully designed Joomla template which will be very useful for small businesses and services to make a website of their own. You can set it up even without any coding knowledge. It is very easy to customize and has many built-in features. This theme is available in multiple languages. It is also supported by all major browsers. Built in SEO will help in generating traffic for the website and thus increase the number of visitors.