Every now and then, a new restaurant pops up and serves a different kind of cuisine. It offers another kind of dining experience to the customers. Every cuisine is deliciously cooked to satisfy our palates. While these restaurants differ in taste and offering, they only have one common denominator that's common these days—a mobile website.
Mobile websites are useful when you want to order food on the go. These show delicious photos to convince us into buying their products. Mobile websites also allow you to pay online to avoid any hassle. Ordering food is just a few clicks away. Once you're done, the food will be delivered to your door.
Why You Should Use a Mobile Website
Owning a restaurant in the digital era does not only need strong branding and marketing strategies but a website as well. You have to embrace and adopt the changes in a world where digital media rules. Expanding the presence of your restaurant brand online allows you to reach all kinds of audiences. The Internet is mostly accessed on mobile phones these days. You have to find a way to make your customers access your website and that is through mobile.
Give more information
Use your mobile website to give the most basic information to your customers such as the address, hours of operations, directions, and payment methods. This is also a way for the customers to be aware of your promos and for the staff to spend time answering inquiries.
Since more people turn to the Internet to search for new things, your website should have all the information it needs so people won't look for other options. This will also improve the website's search rankings as long as it is boosted with search engine optimization (SEO) elements. Just a few keywords related to your business and your site will appear on the results.
Updates on the new cuisine offered
Having a mobile website for your restaurant allows you to update your menu if you release new dishes. This will help your customers be updated as well. In updating your menu, put in the prices as well as the descriptions of the different dishes. Add in visually pleasing photos of the food to stir the appetite of the site visitors as well. The mobile website also serves as a spot for more food choices other than the restaurant's menu.
Even if you don't release new menus, make sure to update your site every now and then. Some features might not be working and you have to give your website a huge revamp to make it look brand new.
Easy reservation for delivery
The Internet provides so much convenience. With the list of menus available on your mobile website, it is now easy to make reservations for delivery. Put a convenient feature on your site so people can order food wherever they are. Be detailed in the description about the food so the customers can choose carefully.
Low advertising expenses
Contrary to print advertisements and commercials, online advertising costs less. Online advertising enables you to put in a lot of information and update the outdated ones. The information is accessible at any hour, so there is no need to reprint flyers and give them away.
Boost branding
Having a mobile website creates a professional image for your business. It also creates awareness in people about your business. This is done through solid and smart marketing. Testimonials from customers are another way of boosting your restaurant's branding. The reviews from them will urge more people to give your restaurant a try. Newspaper critics and bloggers reviewing your restaurant are a big help as well.
Better payment processing
With online websites, payment can now go cashless. Payment is usually done using credit cards. Put features in your websites where your customers can pay for their orders. Your site should have some sort of partnership with banks for that matter. Give them a hassle-free payment method as much as possible to seal the patronage on your restaurant.
Promote other services
A good way of promoting other services offered by your restaurant is through websites. Create pages dedicated only to the services within the website and put all necessary information. Always present the details clearly. These are important for the customers to know what you are offering them.
Sharing on social media sites
Mobile websites have links embedded to social media page accounts of the restaurants to make it easier to reach out to the customers. These are found either in the header or footer of the website. Social media is an amazing way to reach audiences and expand your business. You can post updates on your pages and inform them of a new cuisine. Social media also allows your patrons to follow your pages for updates.
Picking a Good Design
A website's design matters. This is the first thing you see when you click it and it finishes loading. Many things could come into your mind while browsing through the site, but first of all, you would take note of the design. People tend to leave a site when the color and the overall look is not pleasing to the eyes. They stay if the site looks good and decent.
Picking a design for the website can sometimes be hard. You have to weigh the good and the bad thing when you stumble upon a theme. Now, here's a short list of things to remember in choosing a website design.
Making a first impression
Choose a design that can make a lasting impression on site visitors. Check if the colors suit the theme of your restaurant. The colors should depend on what kind of food you are offering. It is just a matter of balancing the colors. Making the first impression memorable attracts patrons to your site and restaurant. They stick to what they remember best. So, make your website attractive and memorable.
Usable features
A good design means having usable features that will make website navigation easier. These features come along with the theme. Find a design that looks simple but packed with features. You can easily customize these the way you want.
Visuals
Since it is a restaurant business, high-level skills of photography are needed. You need to post photos of your menu. It has to look appetizing to the customers. When it comes to visuals, choose a theme that can accommodate your need of showing great photos. You can also create a portfolio section in your website for your food photos.
Mobile-friendly
A mobile website should be mobile-friendly, meaning it works well when viewed on smartphones. All the features are rendered correctly when accessed on mobile. It matters since transactions are done online. There are many mobile-friendly templates available so look carefully and pick what you like best.
Take a look at our collection of themes for restaurant mobile website templates.
Bambino Theme
Bambino has nine homepage samples for food businesses such as pizza, burger, pastry, desserts, and seafood restaurants. The neat, clean, and modern design is suitable for promotions.
Tasty Theme
Tasty is a creative website that provides a clean and minimal working environment.
Gastro Theme
Gastro is a classy theme that goes well with fine dining restaurants. It has a striking design filled with appetizing photos. Information is also neatly arranged.
Galiana Theme
Simple and eye-catching, Galiana attracts site visitors with its cool animations. It also has links to social media sites.
Good Ol' Wine Theme
If you want to open a wine bar and serve delicious pastries, this theme is the one for you. The theme provides a smooth browsing experience on all devices.
Moka Theme
This theme is suitable for coffee enthusiasts and coffee shop owners. It prioritizes mobile elements more than anything else.
The Flavour Theme
The Flavour highlights content easily. This is best used for dessert restaurants and other places offering sweet delicacies.
LT Beepub Theme
For those planning to venture into the pub and bistro business, the LT Beepub is the theme you need. The theme's design has a splendid way of convincing you to actually visit the place.
Pizza Restaurant Theme
This theme is perfect for pizza and Italian restaurants. The appetizing food photos make visiting the site worth a second try.
Plate Theme
This modern theme puts your content in the center and highlights it well. The simple design has features that enable you to easily put together an enticing menu.
Cuisine Theme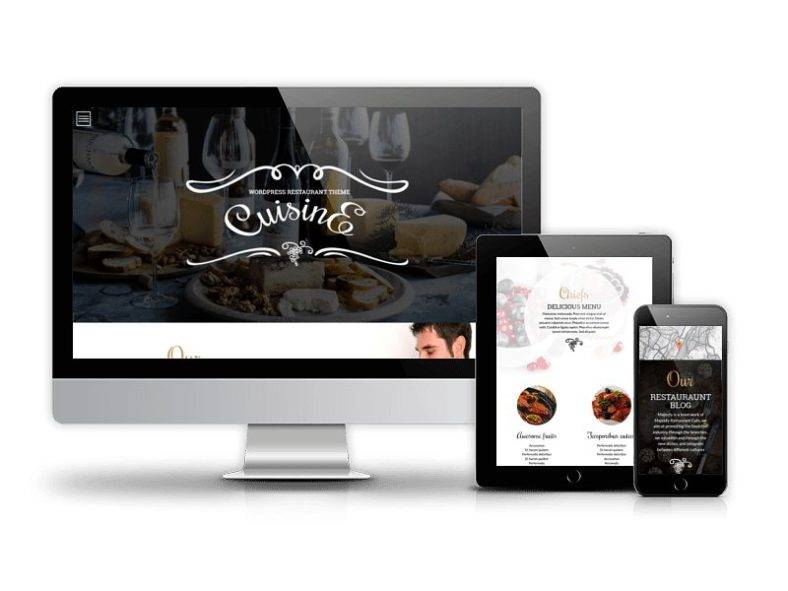 The clean and minimal design of this theme is an excellent choice for a restaurant business. It has pre-built pages, customization options, location map, and responsive gallery.
Liber Theme
 Sushi Bar Template
It looks like a series of photos compiled in one page, but the photos serve as the backdrop and the information is displayed the more you scroll down. The theme is solely made for sushi bars.
Enzo Italian Restaurant Theme
The theme gives a smooth scrolling experience to its users. The photos are well-displayed to entice customers.
Crabster Theme
Maniva Theme
JD Restaurant Theme
Restaurant Theme
Convenience is what people are looking for these days. Mobile websites are the answer to that. With these, getting food is easier than it was before.