Using custom themes for your websites are essential if you want to attract traffic. These days, quality content is no longer enough to keep users coming back to your sites. Additional effort needs to be done like using search engine optimization (SEO) and purchasing custom themes.
WordPress is undoubtedly the most popular online writing and blogging platform. Freelance writers use it for their own travel, business, food, and lifestyle blogs, and corporate personnel also use it for their respective company and product portfolios. No matter what the purpose is, WordPress remains as the go-to tool for writers.
There are numerous custom WordPress themes you can purchase at very respectable prices. Custom themes not only add to your website's visual appeal, but also attract traffic to your websites, especially when paired with SEO.
Listed below are some of the best clean and minimal WordPress themes for agency, portfolio, and blog websites.
Clean Minimalistic WordPress Theme for Professional Bloggers
If you are going for a rather simple WordPress theme, here is a clean minimalistic template for you. There are no extra designs and color in this theme, so make sure your content is of top quality.
Sensational Magazine WordPress Theme
Are you writing for a fashion blog or magazine? Then, this sensational magazine WordPress theme should be on the top of your purchase list. Similar to the previous theme, this one also showcases a very simple yet engaging design.
Bridge Multipurpose WordPress Theme
This template uses some beautiful gradients that can fit any website. This WordPress theme is very attractive and can be used for any website (and it looks especially great for travel and lifestyle blogs).
Magazine WordPress Theme
This magazine WordPress theme uses some print magazine effects and applies them in the template. This template perfectly combines physical effects and online design.
Glamour Minimalistic WordPress Theme
Here is another fashion-related WordPress theme which is great for your website. Pink colors and bold fonts are the most popular designs used in fashion. Purchase this now.
Alder One-page WordPress Theme
This one-page WordPress theme is one of the best single-page themes around. Single-page websites have been popular these days due to their functionality and accessibility. With single-page websites, users can easily access and browse through the website's contents.
Here is another clean and minimalistic WordPress theme you can use for your any website. The white background and black text are great combinations to use not only for website themes, but for graphic design in general.
Camila Minimal Blog WordPress Theme
This WordPress theme offers multi-functionality among different website platforms and also has a clean and minimalistic design. Similar to the other themes, this theme allows text to be inserted inside images with rectangular box borders and gradients.
Iggy Clean Blog and Magazine WordPress Theme
This WordPress theme relies on large images and text inside rectangular box borders. This template is great if you are incorporating multiple images in your websites.
Kathy Minimal Photography and Portfolio WordPress Theme
If you are into photography, either as a professional or as a beginner, then this minimal photography and portfolio WordPress theme is best for you. The clean and simple design is perfect for photography as the focus of the user is not diverted from the photos.
Budapest Minimal Multipurpose Portfolio WordPress Theme
This minimal multipurpose portfolio WordPress theme has a section where you can insert a background image. If you are planning to use this WordPress theme, make sure the photos you attach are of high resolution as every detail will be prominent in the website.
Pharos Minimalist, Clean, and Simple WordPress Theme
This minimalist WordPress theme also lets you add large images, so make sure the images you attach have high quality resolution. Your users will be able to notice some unnecessary blurs and pixels if the photos are not of good quality. Similar to the other templates, this one uses a white background with black text, although the background and text color can be edited.
Feodora Creative WordPress Theme
If you are looking for a creative WordPress theme, then this one should be on the top of your purchase list. The sample image used in this template resembles a piece of object being dropped in water. Grey hues, meanwhile, replace the actual colors in the sample image. Retain the image if it fits the theme of your website.
Cubez Creative WordPress Showcase Portfolio Theme
This WordPress theme has some very cool dark designs if you are opting to go for a darker hue in your website's theme. This theme is best used for blogs centered on news and product reviews as the darker background better showcases the text or images.
Valentina WordPress Blog Theme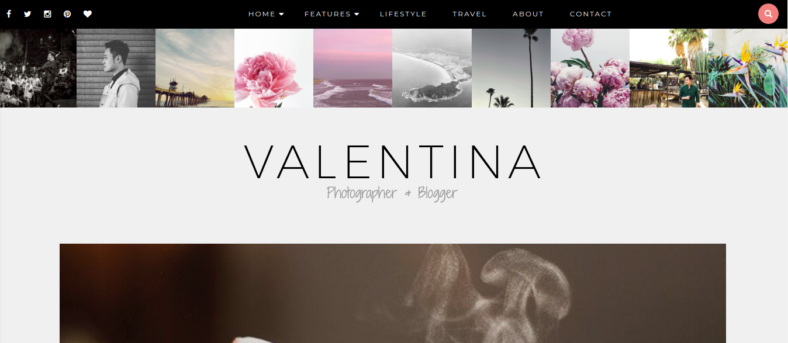 If you are looking for a more stylish and elegant WordPress theme you can use for your fashion or lifestyle blog, then this theme is right for you. This theme contains light gradients and very stylish font styles which you can easily edit and customize.
This is another WordPress theme you can purchase if you are selling products online as seen in the sample image above. The clean and simplistic theme is perfect as it provides a clear backdrop for your products.
Chanel WordPress Blog Theme
Moonrise WordPress Theme
This WordPress theme is the best theme for your lifestyle blog. It allows you to easily categorize the sections of your blog, making it easier for your reader to follow your posts. The clean and minimalistic effect of this WordPress theme allows the content to shine as well as allows easy access for your readers and potential partners.
Lushy Love WordPress Theme
Here is another multipurpose WordPress theme you can use for your personal blog. Its clean and minimalistic design is similar to the other templates and takes a backseat to the actual content and images used in the blog. Its multi-functionality allows the blogger to create sections and subsections within the blog for users to easily access content.
Oritina WooCommerce WordPress Theme
This WordPress theme uses some minimalistic designs not only for the theme, but also for the sample images. The furniture designs are very easy on the eyes and magnificently represent the minimalism at its best. If you plan on using the sample images to your blog for added visual appeal, then this template is perfect for you.
Trem Creative Portfolio WordPress Theme
This WordPress theme is as minimalistic as any minimalistic theme can go. A section where you can insert a large photo in your homepage is enabled and the theme allows for easy multi-functional setup. Users can easily scroll through your blog if you purchase this very affordable WordPress theme.
Unom Creative Portfolio WordPress Theme
Here is another minimalist WordPress theme where you do not only get to marvel at the clean yet engaging design, but the sample images used in the theme as well. There are three sample images as seen above: the first wonderfully designed images of people that resemble a 1960s or 1970s hippie look, the second represents a cartoon planet, and the third is text with a blue background. Again, use the said images if you want an added visual appeal in your blogs.
Latest eCommerce Magazine WordPress Theme
Similar to the other WordPress themes, this one exudes simplicity and minimalism. This theme is best used for personal blogs where you plan to insert high quality write-ups and images. The actual theme again takes a back seat as it makes way for your content to take center stage. You will certainly attract traffic to your website when you pair this theme with your personal blog content.
Kitty Blog WordPress Theme
As the title of the theme suggests, you can purchase this clean and minimalistic theme for your pet blog (cats, dogs, birds, or even reptiles). You can post photos of your cute and energetic critters in your website using this WordPress theme. The white background and black text are perfect for your blog as the focus actually shifts to your content rather than on the WordPress theme.
We hope you enjoyed browsing through our clean and minimal WordPress themes for agency, portfolio, and blog websites. When paired with SEO, these themes can bring a much-needed boost to your websites and eventually bring in profit. Purchase them now since they are very affordable and will not create a dent in your pockets.