One no longer needs to hire a professional to maintain or build the website. One can use the Coming Soon WP themes and templates and stay ahead without any coding language. Discussed here is some of the best that one can use and stay in touch with the customers.
TANIS – Full-Screen Supported WordPress Theme
Download
Highlight your business or products before they are launched with Tanis coming soon WordPress theme. One can select from 2 backgrounds for full screen image and white. The layout is very Responsive with AJAX contract forms and MailChimps. It has a wide array of interesting fonts and setting up the website can be done with minimum clicks. Increase your customer base long before you actually launch your website and create a demand for your product.
Woodsman – ACF Pro Compatible WordPress Theme
Download
This WordPress theme has clean and minimal design which is fully Responsive. The theme will have a Visual Composer, Ultimate VC add-ons and is ACF Pro compatible. One of the best things of this template is the Background Effects that can be changed according to the mood and the nature of business. There is live chat option in the theme and is SEO friendly to keep you on the top of the search list.
VAVE – HTML Plus JS WordPress Theme
Download
This WordPress theme that has an HTML Specialty Page, there are 16 styles to choose with coming soon options to popularize your page even before the actual launch. It will have HTML Plus JS Animation Feature to make the website lively and is quite Responsive with 1920 pix Width. The theme is going to support Adobe Photoshop C++ to showcase the pictures perfectly. It has Bootstrap and comes with registration, booking, comment and submission form. This theme is quite interactive to grow your business.
Launcher – Responsive WordPress Theme
Download
Stun your visitors with this perfect WordPress theme for any services. It is free to use with optimized speed to have a better view. The Plugins are light and the theme has 3 default templates to choose. The Frontend Editor allows editing the pages anytime. The Advanced Counter helps to gauge the anticipation and perfect your website. The Fluid Responsive technique allows viewing from any device. It is Search engine optimized and you stay on the top and generate more traffic.
Rabbit – MailChimp Ready WordPress Theme
Download
It is a WordPress theme that has a coming soon page to generate interest. The WordPress theme is multipurpose with customizable templates and is MailChimp ready. The design is totally Responsive and VC compatible. One can have unlimited Page variations with many Background Styles including YouTube. The background effects can be changed to suit the organization goals and is RTL supported. It is WPML compatible giving you chance to increase your customer base and earn more revenues.
Carco – Bootstrap WordPress Theme
Download
This is a HTML5 WordPress Specialty theme to build your website. There are 10 different styles to make your page more exciting. One can make the Coming Soon page to inform visitors about the website launch. This marketplace theme is perfect to lift your revenues. The theme is quiet Responsive having Bootstrap features to have the open source web framework. It supports English language and has multiple forms to add extra scripts. Use this 1920 px width layout giving better experience to surf.
Alissa – HTML and CSS WordPress Theme
Download
Use Alissa to build your Coming Soon enabled website that is complied with Bootstrap having HTML and CSS buttons. There is a background Slideshow feature, Countdown Timer and it comes with some of the best Fonts. The theme is retina ready and the layout is Responsive. Making the website feature rich is possible with this theme and the AJAX Email subscription allows having more customer base. The wait will be over soon to build a perfect site for your products.
Woody – 10 Background Effects WordPress Theme
Download
Woody is a clean, creative yet responsive Coming Soon WordPress theme to prepare your landing page or page under construction and create awareness amongst your customer. The theme is Visual Composer Compatible and has Unlimited page variation options. It has a Chat option and Status options for Social media. The Background Style can be changed including the color, image slideshow options. One can choose from more than 10 Background Effects to draw the attention of the clients and build a vast customer base.
Everest – HTML5 Coded WordPress Theme
Download
Be mighty like the mountain and build your Coming Soon HTML5 pages as you begin to build your website. There 11 different styles to choose that are unique for a variety of websites. Generate the excitement amongst the surfers before your site is actually launched and have a preset customer base. The WordPress theme is Responsive and Bootstrap Compatible. One can use Adobe Photoshop C++ to present perfect images and use ZIP unarchiver to open large files. Build excitement amongst your clients with this theme.
Verko – Visual Composer WordPress Theme
Download
Use theme WordPress theme to market the products and services offered by you. There is a landing page template, call to action option and provisions for uploading photo and video. The master slider and the Visual Composer make your page more flexible. There is vertical navigation, Off Canvas side bar and Menu, custom Footer and Video Header options. The Drag and Drop VC menu helps to place the contents at the right places. One can add the Premium master Slider to make your website look more professional and build customer base.
SELENE – AJAX PHP Subscription WordPress Theme
Download
This is one of the best maintenance & coming soon WordPress themes hat is easy to install. It is a high resolution theme with Cross browser compatibility enabling your website to be accessed through various browsers. There is a Countdown Timer which can be designed through JavaScript, Social Icon Plugins to increase the customer base and inform about your website. It is a translation ready WordPress theme and has AJAX PHP subscription forms. It comes with host of other features to make your coming soon page informative and exciting.
Mountain – Retina Ready WordPress Theme
Download
Mountain will be the perfect platform to inform clients about your activity with their WordPress Coming Soon template. It has a landing page with a 1 page theme. One can customize the multipurpose template, and it has the feature of Flat Long Shadow. It is AJAX ready with Bootstrap 3 compatibility. The icons are retina ready, the template is also Widget ready enabling to access from any device and is SEO friendly to promote your site to the top of the search list. Use it and feel the difference.
Launcher Pro – WooCommerce Compatible WordPress Theme
Download
This is a WordPress theme with tons of feature. Create your landing page beautifully using the Countdown Timer for the Coming Soon Pages. All information can be given in one web-page. The design is responsive with facilities like Call to Action. It is also WooCommerce compatible. There are various sectional pages to for each service. One can post blogs or upload videos to make the website more creative. It is SEO friendly allowing staying on the top of the search list and increase traffic and the revenue.
Expedition – SEO Friendly WordPress Theme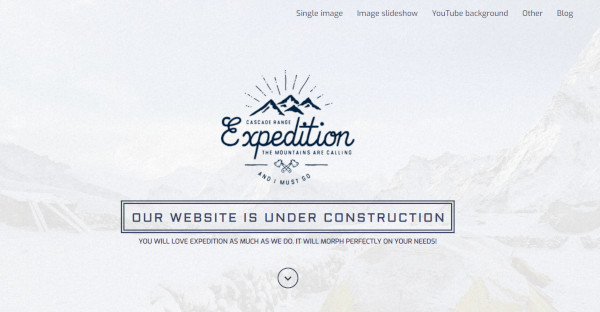 Download
This WordPress theme comes with clean code to built your coming soon WordPress page. It is fully responsive and comes with Ultimate VC Addons. One can easily change the backgrounds with colors, images, slideshow and many more. There are more than 10 background effects that can be used to make the website interesting to the surfers. It is RTL supported, and one can add CSS3 Animations. The installation is quiet easy and the template is SEO friendly to increase the customer base staying on top.
GAMEPRO – 600+ Google Fonts WordPress Theme
Download
No coding experience is needed to use this WordPress Coming Soon theme. There is an order and the disable section to edit the page, 3 details types of blog pages. The layout is Responsive taking it all-screen friendly. The theme comes with 600+ Google Fonts; one can use the unique fonts to make the page more exciting. The updates and the supports are free. Use it to build confidence amongst your customers.
Gravity – Drag and Drop WordPress Theme
Download
One of the most innovative Coming soon WordPress theme is Gravity. The designs are human centric to get full attention of the customers to the brand with Drag and Drop Page Builder options. The themes can be directly changed using the uniquely styled backgrounds. It is a Responsive theme and mobile optimized to increase the customer base. One can use multiple navigation sources like the keyboard, mouse-wheel, bullet or the clicks. Use it to build one of the best pages.
Overview
It is necessary to inform the customer or the market that one is changing the web page, or some maintenance work is being done. It is also important to create brand awareness amongst customer with the Coming soon pages before the actual launch of the site. Use any one of the above WordPress themes and templates and stay in touch with the customers.