Job hunting is not easy. You need to have a set of skills required for the position you are applying for, as well as look for a company that can compensate you well. When searching for a job, resumes are all we need to present relevant information about ourselves. A resume has to be cohesive and professional to look at. For those working in the creative industry, they need portfolio designs where they can present their best work. There are online resumes and portfolios that can help you with that.
We have collected themes that can help you present your resume and portfolio in the best way possible. These themes come with a good price and exceptional quality. You may also see WordPress resume themes.
Personal WordPress Blog Theme
CV WordPress Template
Sarah is a multipurpose theme that can be used as a personal theme, portfolio, or resume. Its stunningly clean design is perfect for those looking for minimal designs. It has a unique layout and can be customized easily.
Resume & Personal WordPress Theme
CV Business WordPress Theme
With a design that feels light and unique, CV Timeline is best used for personal resumes, blogs. It is also easy to customize.
WordPress Theme for Portfolio
This premium and stylish theme takes on a modern design that is amazing and pleasing to the eyes. Folius displays images in its best quality and it is responsive on any device. The theme is useful for resumes, portfolios, and creative small business websites. It is also suited for photographers, creative teams, agencies, and design studios.
Personal Portfolio WordPress Theme
Photographer Portfolio WordPress Theme
Resume WordPress Theme
Vitae is a one-page scrolling theme with a clean design. Some of its features include a biography, an intro image, work history, and contact details.
WordPress Resume Theme
This particular theme enables you to display your resume in a very professional way. It has a clean and modern design with a lot of widgets for your resume sections such as education, work experience, and many more. This customizable theme allows you to change colors that suit your personality. It is a one-page theme and responsive on all devices. It is also supported with search engine optimization (SEO) elements.
Profile WordPress Theme
This theme is a professional resume which displays information about yourself in a good-looking way. It displays well on desktops, tablets, and mobile devices. It also has a touch slideshow which only works on tablets and smartphones. The theme includes social media icons on the left side of the homepage template. Lastly, the template is coded with HTML5 and CSS3 elements.
Minimal CV WP Theme
Hello is a theme built on Bootstrap and has a one-page layout that is perfect for your portfolio of any kind. It can also be used for personal websites. It has built-in SEO settings, layered PSD files, and filterable portfolio features as well.
Personal Resume WP Theme
Profiler is a theme that is best used for personal purposes. It displays information on who you are, your projects, and your achievements. Profiler is a great theme to use when you want to make a good impression on your prospective employers. You may also like free WordPress themes.
Curriculum Vitae WP Theme
Saturn is a perfect landing page for business sites and portfolios for creative masters. It can work as a curriculum vitae as well. It is specially tailored for photographers, designers, and illustrators. An additional use for this theme is as a product or application landing page. It is a one-page WordPress theme built on Bootstrap 3.3.6.
One Page Personal Portfolio Theme
Convenience is what Pure wants to give to its users. The design looks clean, minimal, and easy to use. It is responsive on all devices and coded with HTML5 and CSS3 elements.
Responsive Resume WordPress theme
LT Resume is best used for resume websites. Its clean and stylish design works on all devices and it was built using the powerful Bootstrap framework. It has pages and sections such as about me, services, testimonials, portfolios, and contacts.
Portfolio & Resume WP Theme
If you are looking for a theme that bursts with a bright color, Skillz is the perfect option. It uses the drag and drop builder for the easy building of the site. It also supports various post formats like images, audio, video, quote, link, and gallery. You may also see professional WordPress themes.
Resume HTML WP Theme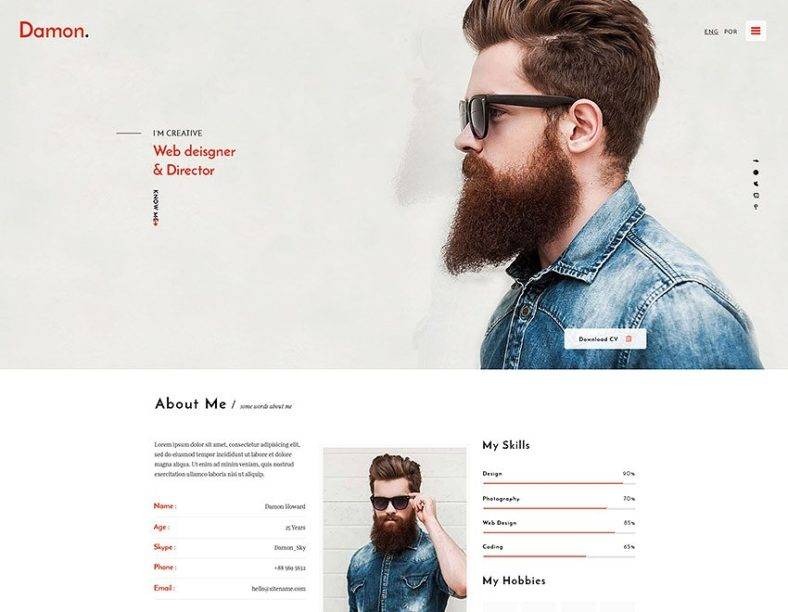 Damon is best used for personal website themes of any kind. It has a background music feature that lets you enjoy surfing the site. It is also fully responsive and customizable.
Portfolio Prism Theme
Portfolio Prism comes with a built-in portfolio structure that helps you to create a beautiful and striking online portfolio. The pages in the site use a modern grid layout which makes it easy to navigate. The theme is perfect for graphic design, photography, web design, and other visual materials. Content is greatly highlighted because of the theme's minimal design. Portfolio Prism looks gorgeous any screen size.
Modern Personal WordPress Theme
Flapp takes branding and portfolios to another level. It has advanced typography options, what with the more than 600 cool fonts available for use. Colors, fonts, and dark backgrounds are highly customizable as well. It is optimized with SEO and works on all devices.
Personal Blog WordPress Theme
ET Prome projects a clean and unique design using high quality images and deep color backgrounds. It is built on a strong framework and it is very responsive on all screen devices. The theme is compatible with all browsers and has support for WooCommerce integration.
Simple Portfolio Theme
Maker is a grid-based layout theme. It is simple and powerful with a minimalist design that is beautiful and timeless. It also has unlimited color schemes and a custom image logo. Its social menu area has automatic icons depending on the URL.
Unique WP Theme
This simple and effective portfolio theme offers a clear presentation of content to site visitors. Porto works on all devices.
Mini Portfolio WordPress Theme
The clean and minimal layout of this theme is a good way to showcase content. The theme is also mobile-friendly and optimized with SEO. It works on all browsers. Mini Portfolio is built using CSS WordPress 4.1.
Creative Portfolio Theme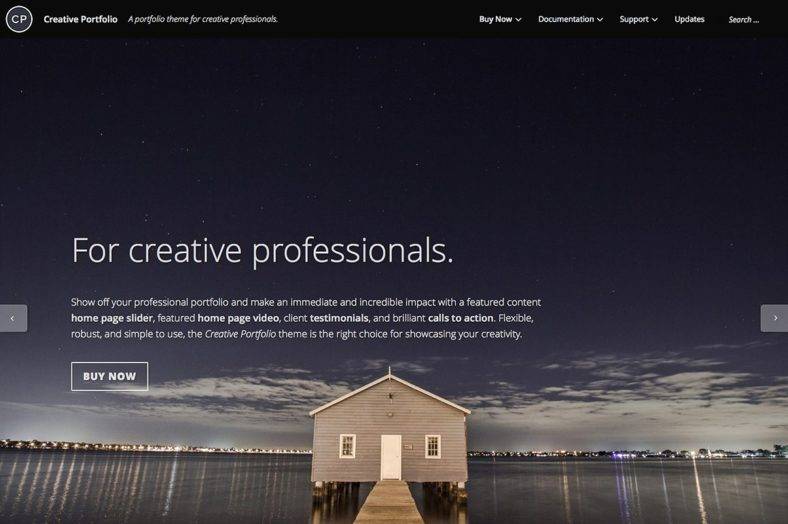 For this theme, you can use your best shots to design the homepage of your site. It is simple to use and puts your creativity into good use as well. You may also see free WordPress templates of the month.
Unique Personal Portfolio Theme
The fully responsive Nodus theme is built on Bootstrap 3 framework. It is coded using HTML5 and CSS3 with optimized animations. Since it is built with Bootstrap, it has an unlimited grid system. The theme also works on all browsers.
Coastal Multipurpose Theme
Coastal is a multipurpose theme. It can be used for personal blogs, portfolios, and other types of sites. Aside from its minimalist design, the theme provides a great avenue for telling stories along with beautiful photos. It has a full-width Instagram footer and it is compatible with WooCommerce. The soothing and light colors used in this theme make the site pleasing to the eyes.
Responsive WP Theme
The theme is ready to use with a WooCommerce plugin. It gives you an option to create a landing page. Serein offers 15 social media icons to choose from the moment you build your site. A Photoshop template is available for header and sidebar images as well. Other features include a gallery and image slider.
Creative WP Blog Theme
Simple yet beautiful, Blanco is a theme that fits your artistic taste. It is a lightweight theme that does not require any plugins just to work. It has responsive mobile navigation and social icons. Blanco is also a translation-ready theme.
Blog & Portfolio WordPress Theme
This theme is used for people who want to write their own stories or share their photos. Instinct offers a good arrangement of content. It has multiple page layouts, custom widgets, and unlimited color schemes. The theme also comes with demo content to give you instructions on how to use it. You may also see resume WordPress themes.
Why should you use resumes and portfolios?
Clear presentation of information. Using online resumes will help you present information about yourself in the clearest way possible. Online resumes have sections where specific information is written. Always write your resume clearly so people will not have a hard time reading it. You may also see portfolio website themes & templates.
First impressions always last. It is a good idea to invest in a good design for a resume. A good design will make a lasting impression on a prospective employer.
An attractive arrangement of content. For those who present their photos and other works, using a portfolio is a good way to arrange content beautifully. Grid-based layouts offer a great option when it comes to content presentation. With it, your photos are neatly compiled. Portfolios are useful for other creative works like graphic designs and illustrations.
Flexibility. Online resumes are flexible and editable in case you forget to add something or you need to remove a certain piece of information. You can do it on your computer or your smartphone, anytime and anywhere.
Easy sharing and printability. With online resumes, sharing can be easily done. You can also link your social media profiles to your resume for added information. Online resumes are printable, just in case you need to submit a physical one.
Creative freedom. Online resumes give you so much room for creative freedom. You can decide on the design, layout, and everything else that matters in your resume. Photos and graphics can be added to your resume to make it more attractive. You may also like minimal WordPress themes.
We hope these themes can help you in making your own online resume. Keep in mind that an attractive design, relevant work experiences, and a strong will to not give up are what you need to survive in looking for a job. Life is more than what you make it. So, seize the day and make the most out of it! You may also see best portfolio WordPress templates.