A freelance job is a kind of job where workers do not commit to a long-term employer and do any kind of work depending on the demands of the job. They get their salaries on a per output basis. Freelancers are often people who take up the jobs of those who were laid off in certain industries or students financing their school expenses. Some freelancing jobs include writing (script writing for films, theater, and others), music, acting, web design, computer programming, and animation.
One benefit of freelancing is its flexibility regarding the time and the work done by an individual. Some drawbacks exist, though, which include not being able to avail of government benefits such as insurance and pension. But, still, many take freelance jobs to fill their free time and earn more income. They often work from home and send their work online.
Agencies, in contrast, are government institutions that provide services to the masses. A wide range of services are available depending on the kind of agency. Whether it is advertising, employment, or digital, these agencies rely on people to keep going. Agencies have a large network and an extensive storage of records that can be used in the future.
Since almost every transaction happens online, it is important for freelancers and agencies to build their own sites so they can increase their web presence. We have collected the best themes that can be used by freelancers and agencies alike, so view them below.
Wall Street Theme
The theme takes it name from an eight-block street in New York. The design is sleek and professional. It is suited for digital media agencies, corporate businesses, law and architectural firms, and other kinds of agencies. Wall Street is built on the Bootstrap 3 Cascading Style Sheet (CSS) framework and it is responsive on all devices. It features an eye-catching slider and social icons on the header.
Charmed Lite Theme
Charmed Lite is an easy-to-use theme. It has a grid-style layout and smooth infinite scrolling. Menus are customizable. The theme responds well on any device. It is coded in HTML5 and CSS3, and is compatible with all browsers.
Sol Theme
Sol is a theme suited for creative agencies and design studios. It includes an attractive portfolio display and portfolio page template. The theme has four different page layouts and 11 integrated social media icons. Sol is also compatible with the latest version of WordPress.
York Lite Theme
York Lite aims to achieve simplicity and minimalism. It is lightweight and packed with useful features such as customizable menus and search engine optimization (SEO) elements. The minimal design makes the site stylish and professional. It has a Live Theme Customizer and a Custom 404 page.
Snazzy Theme
Snazzy displays images beautifully using its retina features. It is also responsive and highly customizable. The theme has multi-portfolio capabilities and portfolio archives. Snazzy is powerful and lightweight, with a beautiful and extensive document backup.
Berliner Theme
Berliner offers a standard and gold design for its theme. It is a WordPress theme built on the Bootstrap framework. It is fully responsive with an easily changeable Google Map feature. Adobe Photoshop files are also included along with the theme. It is best suited for creatives, agencies, and freelancers.
Portifo Theme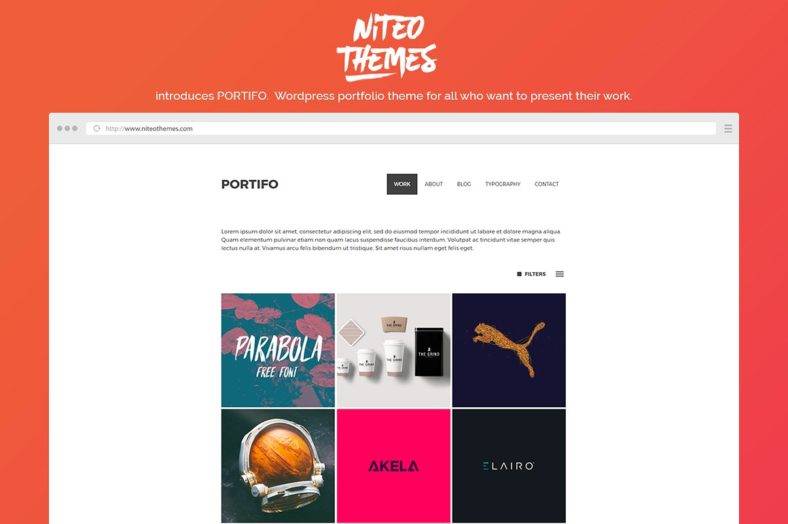 Portifo has two options, a multi-page or one page layout. It is focused on easy installation and friendly customization. Portifo has masonry galleries and columns for text and images. Custom CSS allows you to edit the theme smoothly.
Brut Theme
Despite being a one-page portfolio theme, Brut is flexible with a sophisticated and stylish design. Black and pink create a girly yet tough combo for this theme. The content is arranged beautifully. It is an excellent choice for agencies, creatives, and photographers if they are looking for a classy and top-notch design. The theme can be installed within five minutes. Text, images, audio, and video can be added to entertain site visitors.
Tessa Theme
Tessa has a modern design that follows the latest trends in websites. It is coded with HTML5 and optimized with SEO. It suits both big and small agencies. This theme can also be switched from an agency to an individual layout. It also has a Twitter feed that shows the latest news. Fonts can be customized as well.
Crafto Theme
May it be a professional or an agency, Crafto is a unique theme to showcase your work. It comes with drag and drop elements, Google fonts, customizable colors, and many more. Crafto has a parallax effect and filterable portfolio grid. It is also ready for translation.
Subway Theme
Subway has three predefined versions upon landing on the homepage, namely a video, slider, and static image. The front page can be edited. It is responsive and has an easily changeable Google Map feature. The theme caters to both the needs of agencies and freelancers.
North Theme
North is a professional portfolio and a personal website in one theme. It features a special portfolio for your images and photos. The theme adapts to all screen devices. The clean design gives off a business-like feeling.
Motive Theme
Motive is a portfolio theme clad in black and white. The page sections of the theme can be used as a blog. It is also highly customizable and beautiful.
Jayo Theme
Jayo is another theme in black and white with some unique features. It is lightweight and minimal, and the content is displayed with class and style. The theme is built on Bootstrap 3 and fully responsive on all screen devices. This design is geared for agencies and freelancers.
Adena Theme
Adena is a theme that pays close attention to details. It is sleek, stylish, and elegant. The layout is clean and modern. It caters to corporate, freelancer, and agency needs. The theme can also be used for journal, diary, interior design, and food and restaurant businesses.
Be Agency Theme
This easy-to-customize theme comes with retina-ready graphics, which can display any graphic design in its best quality. The theme has unlimited typography options and colors, and it is also compatible with all browsers.
Candela Theme
Content is the main focus in Candela's minimal design. The blog layout delivers a smooth reading experience to its viewers. It also has a sleek navigation menu to help you explore the site. The theme is compatible with WooCommerce.
Quam Theme
With a striking black background, Quam is an exceptional option when you want something new for your agency theme. It has unlimited custom colors and typography options. Quam has social media links where you can link pages of your social media sites. Lastly, it is retina-ready and SEO-friendly.
Mond Theme
This theme is minimal yet packed with sharp design elements. It is easy to use and customize anytime. Mond has a video header with up to 4k quality when it comes to Youtube videos. Unlimited Google fonts and typography options are available to beautify the theme even more. It also has social media links and a Coming Soon page.
Kraft Theme
This finely designed theme stands out against the others. It can also be used as a photography site, portfolio, or blog. This suits freelancers with its minimal and neat design. The theme has a wide layout for large screens. Its menu animations are beautiful as well. It is also responsive and features a fullscreen background.
Telesis Theme

Creative companies and agencies can use this one-page theme. Telesis has an attractive parallax effect. It is compatible with the latest version of WordPress and with all browsers. There are 11 social media icons available with this theme. Telesis works great with any device.
Freelancer Theme
Freelancer has a mobile-friendly design and easy-to-use elements. Clean and minimal, it has a scroll motion slider and a responsive layout that fits all screen devices. It works well on all browsers.
Agenzia Theme
The theme is designed for agencies who are looking for a minimal yet striking design for their website. Its design focuses on being a portfolio and needs no code to customize it. The theme settings panel enables users to change colors, images, and fonts in a snap.
Freelo Theme
Freelo is a fresh design that strays from the minimalism of most agency themes. Its funky and upbeat, filled with animations and hand-drawn illustrations. Freelo has a visual drag and drop page builder and multiple animation styles. The theme is highly customizable and controllable when it comes to page layout and width.
Strunk and White Theme
Strunk and White does not make use of flashy elements to provide a good design. It is simply a clean slate for words and images to be displayed. Strunk and White is a good option for freelance writers to showcase their work. It is optimized with SEO elements and coded in HTML5 and CSS3. The theme is also compatible with WooCommerce.
Chela Theme
Chela is a fully responsive theme with a beautiful front page slider. it has two kinds of layout – the masonry and grid. It also has an active contact form for inquiries.
Dune Theme
Dune creates a striking impression on its home page. It's built on Bootstrap 3.3.7 and responds to all screen devices.
Flamingo displays images in its highest quality with its retina features. Parallax features can be added in just one click. It has 3 completely different layouts as well.
Rebirth Theme
Rebirth is a theme suited for photographers and freelancers. It has a creative and artistic displaying of content. Th neat and clean design helps in the overall look of the site.
The themes are good in their own way. We hope you have chosen the best one that suits your needs and reaches your standards. Always remember that in designing and customizing themes, do not overdo some details and keep some things at a minimum.