If you own hotels, then the summer season is one of the busiest times of the year for you. Here are 16 best holiday WordPress themes and templates for you in 2019 –
Nixe – One Click Demo Import WordPress Theme
Download
If you are someone who prioritizes CMS tools, then you should opt for this Professional WordPress theme. The theme has a host of features. The developer has crafted the theme with customization tools to allow you to personalize the website. The theme is completely yours to take over once you purchase this theme and install it. The theme comes with some amazing demos, which you can import quickly with the one-click demo import feature.
Jingle Bells – JetElements Plugins WordPress Theme
Download
This extraordinary Christmas WordPress theme is perfect for winter holidays and allowing your customers to feel the festive air when they visit your site. Let your customers know the festival discounts and offer at your hotel. You can customize the website as and when you want with the JetElements plugins pack. The theme has been built using the powerful Elementor page builder. A JetBlog plugin has also been included in the theme. The theme is highly responsive and SEO friendly.
Campingfun – Booking Valley Plugin WordPress Theme
Download
This is the theme for you if you want to boost your tourism business. This is a one-page layout theme will all the features that are required for a holiday website. It has been integrated with the booking valley plugin to help your customer's book in advance of the available rooms. The theme has a full-screen slider and smooth scrolling feature. It features 4 column area and an inbuilt video box section, which is a nice addition.
Trendy Travel – SEO Optimized WordPress Theme
Download
This is the perfect WordPress theme for a holiday website. The developers have incorporated room filters into the theme for better customer experience. It is a WordPress theme with booking form builder so that you could include your own reservation fields. This allows you to customize the booking system as well. The booking database is clutter free and displays all the bookings in an organized manner for better management.
Santa's Bag – Elementary Page Builder WordPress Theme
Download
This is the perfect winter coming website. For attracting customers to stay at your hotels during the Christmas holidays, you should get this theme. One of the great features of the theme is that it is extremely responsive and built with elementary page builder, so it does not matter what device your customers will use to view your website. They can view it from anywhere and from any device and can still access all of the features of the website. The theme has crafted using the open source code.
Holiday – Customer Friendly WordPress Theme
Download
As is evident from the name of the WordPress theme, this theme has been designed keeping in mind the industry's standard of a holiday website. The theme showcases rooms that are available in real time, so this ensures that you do not run into problems with your customers over no rooms when they saw available rooms on your website. To help the customers reach the hotel staff easily, social handles of the hotel staff have been included.
Hemma – Well Documented WordPress Theme
Download
If you are someone who gravitas towards more simple and elegant designs, then you will definitely like this well-documented theme for your hotel business. The design is simple yet very elegant. It has been designed only for hotels and resorts. The developers took care to include a video tutorial which should guide you step by step on how to install the theme and make your website live. So, what are you waiting for?
Halloween – Highly Responsive WordPress Theme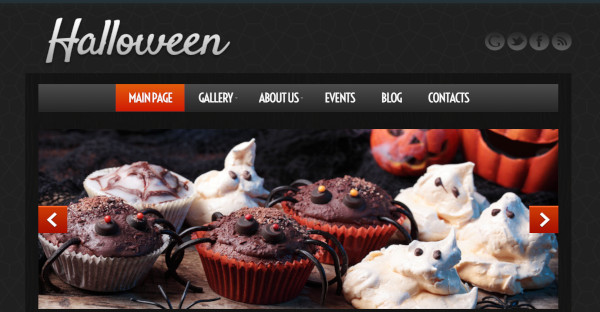 Download
What better way to celebrate Halloween than to get a Halloween themed holiday WordPress theme! It features all the cartoonish horror images and animations to celebrate the spirit of Halloween truly. It has a highly responsive layout which allows it to adapt to any screen size. It does not matter what device it is. Developers have optimized the theme to be search engine friendly. Hence you can use this theme to rank in the top 5 google search results.
Travelino – Full-Screen Background WordPress Theme
Download
Humans are visual creatures; the developers kept this thing in mind while crafting this website. They included various visual tricks to up the visual appeal of the theme to make your visitors stay and take a look at what you are offering. This holiday elegant WordPress theme has multiple thumbnails and a full-screen background image. It features some amazing sliders and a carousel. It has colorful boxes in the theme to bring your attention to them.
Traveler – Custom WordPress Theme
Download
Who does not like extra income on the side? This theme allows you to earn revenue from affiliate programs. The online payment is extremely flexible giving the customers enough payment options. This theme has a sync feature to help sync with trip advisor calendar, Airbnb calendar, Google calendar, and HomeAway calendar. There are multiple layouts available for services and listings. It also features single service layouts. The advanced search feature helps make searching easy.
Smile – Parallax Effect WordPress Theme
Download
The name of the WordPress theme is apt for a holiday website, as holidays are bound to put a smile on anyone's face. The website has been crafted with care. The developers have included a back to top button and a fixed navigation bar which makes navigating the website a breeze for the users. It is compatible with WPML which means the theme is translation ready and hence is multilingual. The website includes a portfolio section which allows you to showcase the hotel staff. The theme features a parallax effect.
Tour Service – Mobile Friendly WordPress Theme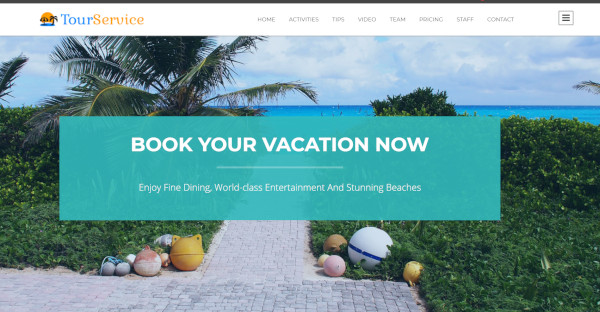 Download
Whereas other sites may be difficult for users to navigate and use, but this is extremely easy to use, and understand. This theme has been optimized to be search engine friendly and is ultra responsive. You can also upload your company's logo on the website which is a bonus! The theme also features a blog where you can share tips about traveling and what not. You can use the blog to update customers about the latest services and amenities that you are offering in your hotel or resort. It has a 4 column service section.
Happy events – WooCommerce WordPress Theme
Download
This theme has a one-stop event planner that makes it convenient for your customers. They can plan out their whole vacation without any hassle. The developers have designed the theme to be compatible with Woo-Commerce. So your website can work as an online shop too! It has a 4 column feature area. The theme plugin has been incorporated into the theme. The theme features a calculated form which allows your costumers to calculate the cost of the entire event. This helps them to plan early in advance.
PartyMaker – User-Friendly WordPress Theme
Download
The theme has about us where you can mention your company and its history. You can also introduce the staff in this very section. It has a service page where you can showcase all the services that you offer at your hotel. The landing page has been crafted with care to make an impression on the visitor. It also has a separate team member's page where everyone in your team will get to shine. It has features page, and a client's page otherwise known as the testimonial section where your customers can share their experiences.
PartyDecor – HTML5 and CSS3WordPress Theme
Download
The theme features an amazing slider, which is bound to make your visitor stay and take a look into your website. Who knows, he may like what he sees, and may turn into a potential customer! The theme supports multiple browsers and has been coded with HTML5 and CSS3. Apart from the default slider it also has multiple sliders, so you have many sliders options to choose from. The admin panel has been created using Ajax. It features a testimonial section and has an extremely responsive layout.
Roam – Powerfull Admin Panel WordPress Theme
Download
Do you know what is best about this website? The free plugins. Yes, you read it right. The theme features some amazing plugins which have been included in the theme for free. The visual composer and slider revolution has been added in the theme without any extra charge. It is super easy to import the roam theme with one click demo import feature. The theme is extremely SEO friendly and has a responsive layout which has the ability to adapt to screens of any size. The admin panel is a powerful section.
Overview
With summer, comes the holiday season when schools and colleges will close for a summer break. Kids and adults alike will be sipping in lemonades and applying sunscreens. Families will plan a vacation away from their place. With the themes mentioned above create an attractive, functional holiday WordPress website which will help them to plan out a vacation.