Do you want your business to stand out in the digital age? If yes, one of the main things that any entrepreneur should invest in is a business website. But be careful in taking this step as it can easily be a slippery slope. Websites can easily be abandoned and the domain left to expire if its owner is not knowledgeable enough about running a website. That is why you should make sure to use the best business WordPress website theme for your website along with learning how to navigate the digital divide.
In this article, we help you traverse that path by providing useful tips on starting your own business website. We also provide examples of modern business WordPress website themes that you can use to stand out online.
Qualities to look for in a business website theme
Before looking into the different examples of WordPress theme templates for businesses, we have compiled a few key characteristics that you should look for when choosing among different website themes and templates. Knowing these qualities is very useful to ensure that you make an informed choice.
1. Professional design
Websites are one of the first things that entrepreneurs need to have if they wish to establish their company's online presence. The website will act as the business hub online and should primarily follow a professional design. This does not mean that all business websites need to have a stiff corporate and formal look. To illustrate, professionalism in websites can be shown by choosing a consistent and well-maintained design theme despite showing cheerful and bright images.
Having a professional design also means that your business website includes accurate and up-to-date information about your company. Make sure that your chosen website theme includes a page or section where you can add social media icons, links, and a company profile.
2. Easy to customize
When looking for a business website theme, another important aspect to look into is customizability. This factor is especially important for new entrepreneurs who do not want the hassle of learning how to create their own website themes from scratch. With a customizable website template, it will be easier to add, remove, and modify certain portions of a theme.
To illustrate, brands will need to add their own brand name and logo into a pre-built website template. Therefore, entrepreneurs who are designing their own business websites should choose a theme that includes the functionality to upload their own branding elements into the template. Easy customizability also means that you can add other design elements that you wish to have your own website to have even if the original theme did not include that particular graphic design element.
3. Reflects your business or brand image well
Finding and defining your business' own brand is another important factor in ensuring business success. Therefore, if you have already established your brand's image, you should make sure that this is shown in all your online assets, including your professional business website. But, for those who are just starting out their businesses, it is best to first take a step back and assess your own business' purpose and image. For it is only after this period of reflection that any business owner can truly know what his or her business stands for and how he or she intends to achieve that.
4. Universally appealing
One quality that anyone should look for in a business website template theme is if it has a universally appealing design or not. Remember that a company or business website is primarily built to attract audiences and potential customers online. And, to get the attention of different market segments, entrepreneurs need to use a theme with an attractive design. But we also know that what is appealing to one person may not be beautiful to another person.
Entrepreneurs and web designers need to carefully toe this line. If you are just starting out, you may easily test your website design's appeal by using AB testing tools or you could directly ask for feedback from your site visitors. When done right, your website design will be one of the many things that will help make your business well-known.
5. Mobile responsiveness
With the global rise of smartphone usage, a business website's mobile responsiveness is an important criterion that entrepreneurs should always keep in mind when designing their own company websites. Mobile responsiveness is a functionality that allows any website to be shown in any kind or size of display screen. A responsive website design means that your website retains a readable layout without losing any of the site's functionalities when it is viewed on a mobile device.
Mobile responsiveness is usually a feature of any modern business web template. It is listed separately in this article because of its importance when deciding on what business theme to use for a self-hosted WordPress website.
6. Variety of features
In connection with the previous tip, a business WordPress theme's list of features should be the make or break criteria when looking for a website template. A rich list of theme templates features is important because it means that your website can do a lot of things by just using one theme. For example, you can choose a WordPress theme that includes a built-in shopping cart functionality to help decrease the back-office work associated with running an online shop.
If there are specific functionalities that you want for your own website, list them down before browsing through different web template search engines. You may then use this list to help narrow down the different theme choices available to you.
Internalize these six qualities or criteria well so that you will not have a hard time looking for a modern business WordPress theme template that will best suit your business or brand. Also, keep an open mind during the theme selection process as you may have to overlook some aspects in lieu of other more important functionalities. What is important is that you already have a vision of how you are going to use your business website to further your products and services. Check out this article for more tips on the do's and don'ts when choosing a WordPress theme.
Examples of different business WordPress themes
Embedded below are different business website theme templates for WordPress sites. Study each theme template well and test it out using the demo buttons to see the themes in action and whether or not they will fit with your business image. Each WordPress template is downloadable so that you can easily edit them.
Moresa Business WordPress Theme
Beratung Multipurpose Business and Consulting WordPress Theme
Constructera Construction and Business WordPress Theme
Consulting Business WordPress Theme
Buran Creative Portfolio and Business WordPress Theme
Drubo Corporate WordPress Theme
Veso Multipurpose Portfolio Theme
Norebro Creative Multipurpose WordPress Theme
Ducat Responsive Multipurpose WordPress Theme
Noor Creative Multipurpose WordPress Theme
Evolve Multipurpose WordPress Theme
Premium versus free business WordPress themes
Another dilemma that entrepreneurs may encounter when first choosing a business WordPress theme is whether to select a premium theme template or a free business website theme.
Free website themes come at no additional costs. This is a very good solution for entrepreneurs who do not have any marketing budgets at all. They are also effective if you already know how to code and if you are confident enough in your skills so that you can adapt the theme template for your business. If you take this approach, the rewards will be high in terms of website usability and the recognition of your design skills. However, some free themes will not include theme support or access to dedicated helplines. This may mean that you will be on your own searching for solutions in case something goes wrong with your website's theme.
Using a premium or paid business simple WordPress theme is preferable for those who do not know how to code and are only confident in making minor simple website theme changes. Take the premium WordPress theme route if you want a guide (or a support staff) to be available if and when you need them during the website setup and maintenance process. Premium themes also have more customizability options so that you can do more with them compared to their free counterparts.
Nyro Multipurpose WordPress Theme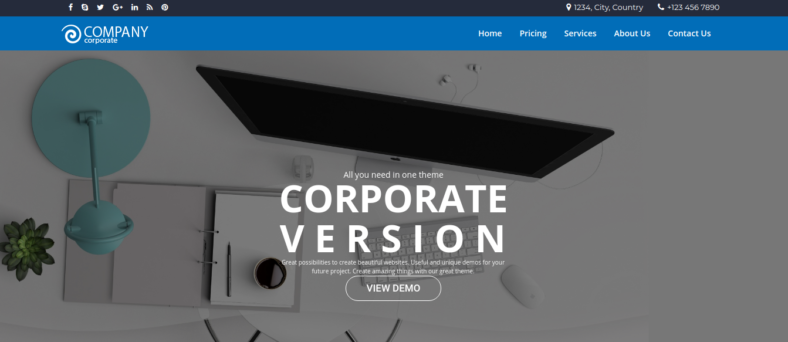 Foundation WordPress Theme
Boast Corporate WordPress Theme
ET Epic WordPress Business Theme
Corporate Inc. WordPress Theme
Biofuel Company WordPress Theme
Agencia One-page WordPress Theme
Agora Financial WordPress Theme
Top Invest Investment Company WordPress Theme
Multipurpose Business WordPress Theme
Easy Audit Auditing WordPress Theme
Dominer Business and Services WordPress Theme
Startup Company One-page WordPress Theme
What is the best business WordPress website theme for you?
Choose the kind of business theme template that you are most comfortable with. This is an essential piece of advice that entrepreneurs should heed when selecting a business website theme. After all, if you do not like your website design, you will be the one who will have to live with it until you can create another cool website theme template. As long as you have incorporated all the top qualities or characteristics to look for in a good website theme, the business WordPress theme you choose will most likely be appealing enough to your customers.
If you found this article helpful, do not forget to tweet and share it with your friends and colleagues!