Digitization has changed the way people look at businesses. Hence creating a responsive WordPress website is exceptionally crucial. The real estate professionals usually opt for the Best Property Management WordPress Themes & Templates. Why? Well, because these are easy to implement, they look great and last but not the least they are feature-packed.
Here's a list of 21 best property management themes and templates:
Bentuestu – Fully Responsive WordPress Theme
Download
Bentuestu has a minimal design with sassy typography and loads of white space. The theme is extraordinarily responsive as it is built on Bootstrap 3 framework. The theme supports all types of high-end resolution device, and it is retina ready. The most distinctive feature of Bentuestu is that it features a booking system along with an availability calendar.
Conforro – Elementor Page Builder WordPress Theme
Download
It is comprised of classic design and a simplified layout. This theme is retina-ready which signifies it looks good on anything from a high-end display of 4K laptop to the low-end smartphone. The developers have provided features with a great utility such as e-mail alerts and search saving. The theme supports paid submissions and membership packages too.
Fullhouse – Visual Composer WordPress Theme
Download
Fullhouse is a fast selling WordPress theme among the property management themes. The best-selling author, Envato created it. Fullhouse is substantially flexible, and it comes with impressive features. It also comes with three unique homepages presets along with premade pages and multiple layouts. Long story short, Fullhouse has a fantastic out-of-the-box design.
Homelist – Powerful Admin Interface WordPress Theme
Download
The theme sports clean lines, sharp-looking design and solid colours. It features advanced filters, monetisation, front end submission, extensive documentation. It is explicitly wrapped with the translation functionality. It also supports Realia Browser on iOS app which is available on CodeCanyon.
RealtySpace – Slider Revolution WordPress Theme
Download
It has the best-looking design as a property management theme, period. The theme is comprised of modern-day professional design and is built on top of Bootstrap 3 framework. The theme emphasizes entirely on readability and focuses on curating visual interest. RealtySpace comes with the basic features of real estate templates. Integration with Google maps Street view makes the theme stand apart from the crowd though.
Real Places – Drag & Drop Layout Manager WordPress Theme
Download
The real estate theme has 5/5 stars. It is one of the well-received and popular drag and drop WordPress themes. Real Places boasts a contemporary and professional design with plenty of character. It has optimum performance, and it is lag free. There is a lot of room to customise the theme, and it has Google maps integration. It also has excellent UX.
EstateEngine – Customizable WordPress Theme
Download
It is the latest offering from the WordPress' EngineThemes wizard. This is one of the most awaited themes so far. In WordPress, EngineThemes is an acclaimed company. It is a full-featured real estate solution that can save the sparing webmasters in design cost and development. EstateEngine is richly abundant with features and extremely customizable. The theme is completely optimised for SEO.
WP Rental – Retina-Ready WordPress Theme
Download
WP Rental is designed explicitly for the webmasters whose business model and goal, lines with AirBnB as well as competing websites. WP Rental is fully-featured with booking and listing platform and is the best for your business. It is built on Bootstrap, and at the same time, it is retina-ready.
Homeswort- JetFamily Plugin WordPress Theme
Download
Main Street WordPress Real Estate integrates with the outstanding dsIDXPress plugin. The theme comes with default templates for setting up the IDX plugin, and they have a good looking website for every single IDX and local listings. Main Street comes with some of the easiest drag and drop widgets, maps, a search module, and a listings summary.
WP Residence – Mobile Friendly WordPress Theme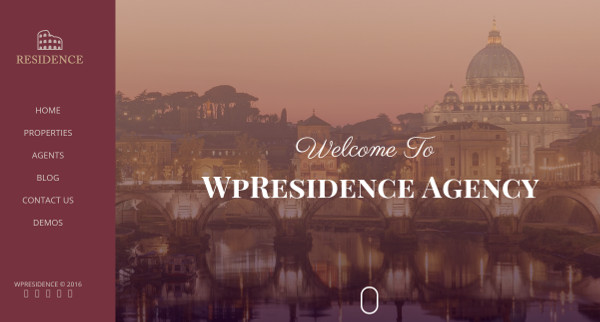 Download
Residence comes with a distinctive Mobile Responsive Layout. It also offers IDX-MLS integration. The theme is retina-ready, and it is comprised of most advanced features. The residence has a preloaded currency-metric selector that can help you to change the currency and metrics accordingly. The residence has five of the intuitive four colour styles which are bundled with themes.
RealAX – Full Functionality Integrated WordPress Theme
Download
This is one of the advanced additions for property management on WordPress. Technically, Easy Property Listings isn't a theme rather it's a plugin. The basic version of the plug-in is free, but the premium version comes with a moderate price tag. The powerhouse plugin support 12 different languages and 26 currencies. This is best for exporting and importing essential data of any format from real estate agencies.
Open House – Retina Ready WordPress Theme
Download
The feature-rich theme is the ultimate solution for people at a low price. Open House is best for admins, visitors as well as developers. It has a world-class support team. The theme completely integrates with MLS/IDX. Open House comes with free setup, custom property fields, Integration with Google map and front-end property management. The theme has beautiful Retina images too.
Oikia User – Drag & Drop Homepage WordPress Theme
Download
The new theme from cssigniter is the most simplified and user-friendly theme in the list. This one provides the appropriate tools that a person need for their real estates' website such as dynamic filtering along and map integration. Oikia has a timeless design and a simple layout. The developers have put extensive customisation options for the users too.
Real Homes – Multilingual WordPress Theme
Download
Real Homes is a premium theme price that comes with a fully-wide photo slider. The real estate themes have support for six months from InspiryThemes. It grants flexibility to utilise the search option right from over image. You can easily compare the properties using this theme. Real Homes provides a comprehensive and easy to use customizer along with multiple gallery templates too.
Skyestate – Responsive WordPress Theme
Download
Skyestate and EstateEngine are quite similar to each other. The theme comes with a classy and professional look. The developers have made the Skyestate extraordinarily responsive and snappy with inbuilt translation. The versatile theme has numerous preloaded layouts to choose from. Skyestate is also bundled with Visual Composer for drag & drop options.
ElegantEstate – ePanel Theme Option WordPress Theme
Download
It comes from the developing team of ElegantThemes. The theme looks stunning but there is a simple drawback in it, and that is the theme doesn't have the present day hip. ElegantEstate doesn't have most of the features of other themes. Nevertheless, ElegantEstate is an excellent template for the aesthetics, and concepts, else it wouldn't be on this list.
Real Estate 7 – SEO Optimized WordPress Theme
Download
Real Estate 7 is ideal for building a fully-fledged real estate website. The theme has built-in support for dsIDXpress plugin along with an extensively powerful page builder. This theme is completely optimised for SEO and has a potent admin panel that provides people with a lot of settings for adjusting and tweaking on the back-end. It has a pixel-perfect design.
RealEstate – Visual Composer WordPress Theme
Download
The theme features a contemporary, clean design with every single functionality that people need for building cutting-edge website. Other features of the theme include advanced searching, listings of property information, integration with major browser and IDX plugin support. The theme comes with header setup that allows additional flexibility.
Citilights – WooCommerce WordPress Theme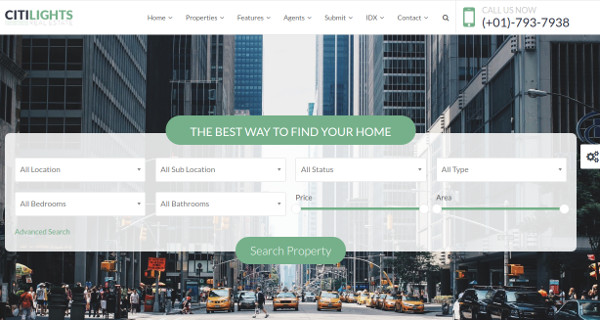 Download
Citilights was specifically developed and designed for the real estate agencies along with property management. It is one of the fresh themes that are featuring on this list. It has cutting edge features and design. Citilights support paid listings, Geolocation, and dsIDXpress plugin to integrate with the listing date of MLS. It also supports translation.
WP Estate – Various Header WordPress Theme
Download
WP Estate is a clean, contemporary, and concise theme. Well, the motto of the theme is 3C's. It has dsIDXpress support along with paid listing with PayPal. The theme comes with Front End submission which makes it an excellent choice for people who want to create a simplified old school look.
WPCasa – Fully Optimised WordPress Theme
Download
The WPCasa team creates the best of themes, frameworks, and plugin to build a fully optimized real estate and property website for WordPress. The theme is one of the oldest WordPress themes, and it is best to create a robust real estate website. It comes with both paid and free versions.
There are several other Property Management Themes that you can utilize for your business, yet the ones mentioned in this list are the most versatile and popular ones. Choose a perfect template or a theme and get busy making money!