Education is very important because it is one of the major elements that contribute to societal, cultural, and technological progress. The most common form of education most people undergo is that of the academic type. Thanks to the advancements in technology, it is now possible for interested learners to attend any university, or school, without having to physically be at an institution or school building.
If you plan on setting up your own online school or perhaps thinking of revamping an existing one, then it's important that you get yourself responsive education landing page templates. This will help you create a website that can cater to the various needs of the different students that will soon be enrolling. You should also aim to get the best one available as well.
Roadlaw WordPress Driving School Theme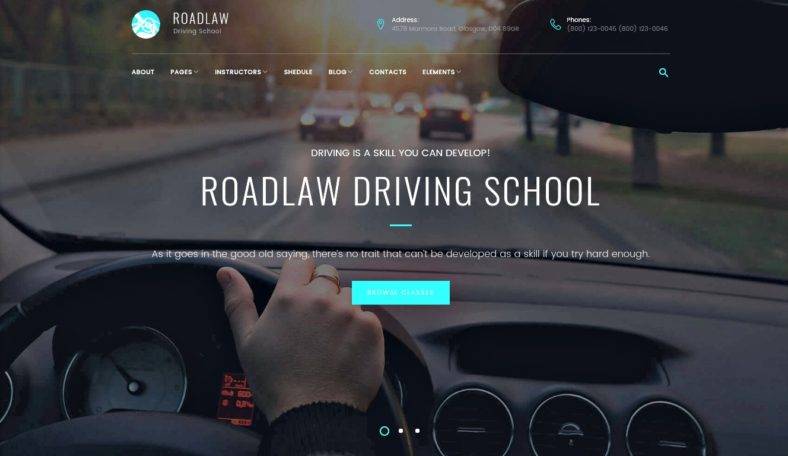 Now, the template above isn't actually suggesting that the student won't have to visit the actual driving school. Learning how to drive in real life is still a very important process in the driving education. However, RoadLaw does make enrolling for the school easier and provides your customers with a very convenient option of signing up. This responsive website theme can be viewed on any type of device, be it mobile, tablet or computer. Aside from that, it also has call-to-action buttons for times when the going gets tough. The theme is also 100% customizable and you can tweak it as much as you want so that it actually meets your requirements.
Longriver University WordPress College Theme
Longriver University is providing potential students a convenient way to enroll without having to travel all the way to the institution. This education WordPress theme is one of the best out there in the market. It is jam-packed with features that provide ease and comfort for both you and your prospects. It is integrated with numerous Google Fonts, giving you the freedom to choose from any design you want. It's SEO friendly, embedded with Cherry Plugins. Building the page is very intuitive and easy. You just have to drag-and-drop the design or control elements you need and—voila!—you get an amazing theme.
Spello Educational Template for WordPress
Spello is considered as one of the top online education WordPress templates in the market. It's not surprising to see how it would get so much attention and praise. Some of its features include an admin panel and 100% responsiveness to multiple devices. It is also search engine friendly, which means that there's a higher chance that your website will come out on top when people search for certain topics. Aside from that, it also offers multiple layout option that will prove to be very handy during the process with which you can customize the theme to suit your ideal.
Education Hub WordPress Theme
Education Hub is a very efficient education theme and can be used as a charity WordPress theme. It will be of tremendous help for your website as well. It runs on CherryFramework 4, which provides a load of tools like widgets and shortcodes. It is also multilingual, thanks to its available WordPress Multilingual Plugin. It has cross-browser compatibility, which is perfect for the site because people have different preferences when it comes to the type of browser they use. It's 100% responsive as well, making it compatible with any type of device. This also adds another advantage to your site as people may use a tablet or mobile device if they do not have access to a computer.
Smart School WordPress School Template
Smart School stays true to its brand name, as it does provide students and prospects, an astute way of handling their academics. On the other hand, the theme has a lot of functionalities that can be of great help to you. Things like the content module, where you can add distinct buttons like audio, blog, call-to-action, image, and map. You can also let the students supervise their appointments, thanks to the theme's Appointment Manager option. It even has a Timetable Plugin, where students can track their activities and organize them. This is truly a magnificent education blog theme.
Hot Academy WordPress Educational Template
Hot Academy provides its users with a plethora of features, making it one of the most competent education WordPress theme for July 2016. First of all, it's 100% responsive for all devices. You won't have to worry about what type of device your visitor is using because it designed to cater to all of them. You can conveniently add an unlimited number of widget positions, using the theme's Layout Editor of Sparky Framework. It has cross-browser compatibility and has been successfully tested for Chrome, Safari, Firefox, Opera, and Internet Explorer version 8 and above. It also has support for right-to-left, languages.
Ethic WordPress Course Template
Ethic is not just dedicated for a single function and purpose. In fact, it is one of the numerous multipurpose education templates, and WordPress theme of the month, out there. It will help you manage and make sure that it's a clean, professional-looking website. It is filled with numerous plug-ins like bbPress, BuddyPress, and Visual Composer, all of which helps to improve the overall quality of the site. It's also 100% responsive for multiple devices and comes with 7 homepage versions you can choose from. It also has an event calendar, which students could consider as an amazing bonus since they'll surely be attending numerous events.
IT Courses WordPress Theme
IT Courses is considered as one of the top WordPress education website templates in the market, especially for IT-related endeavors. The theme has Wordfence, a WordPress security plugin, integrated into its system to help protect sensitive information. You can also customize components of the theme like footer, header, and logo. It has a gallery folder that you can use to store certain pictures for your site. It also has RTL language support and cross-browser compatibility. Google Fonts is also embedded in its system, providing you with various font designs and most importantly, it is 100% responsive for all devices.
NT PRISKUL WordPress Kindergarten Theme
NT PRISKUL is a responsive theme that was made for kindergartens, colleges, universities, and schools. With that being said, if you're looking for educational themes for schools and universities, then this is definitely the theme for you. This WordPress theme comes in with a drag-and-drop option for the layout, reliable shortcodes, and is built on Hybrid and Bootstrap CSS framework. It comes with different pages that also have distinct functions, all of which can be used by you. For example, you could use the class page to explain what goes on within them or provide only a visual reference.
High School WordPress Theme
High School is specifically designed for individuals who are currently in high school. If you plan to handle high school businesses, then you should definitely keep things in check. Parents would usually enroll their sons and daughters to a prestigious school. This is where the beauty of the theme comes in because it helps you appeal to the visual side of the parents. With its professional and minimalistic design, parents would definitely trust your site on the get-go. It's also 100% responsive, multilingual, SEO friendly, and could serve as an effective teacher WordPress theme. It also has an auto-updater, which automatically updates the theme if necessary.
Derivation Educational Template for WordPress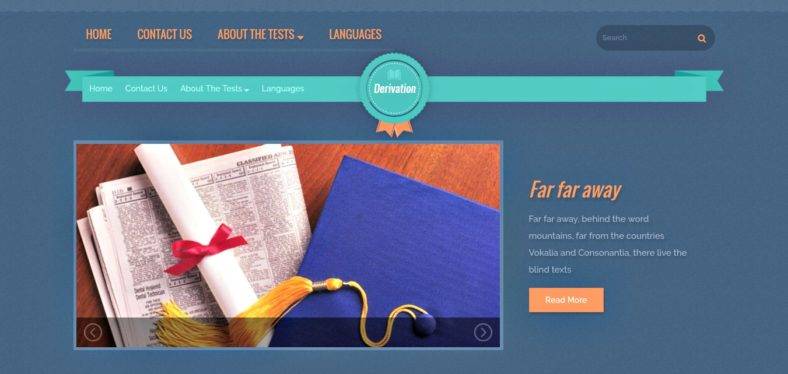 Derivation was created with the aim of helping you make your own education website. It's mostly aimed as an extracurricular activity site, where students could check the various activities that they could enroll themselves into. It has a responsive web design, prevents spams using Antispam without Captcha plugins and runs on SMT Framework 2.0. The design options, like color and images, can be used for both kids and adults alike. You can say that the template is an effective college WordPress theme, as well as a decent theme for students. It's definitely a theme that's worth getting and trying out.
StudentChat WordPress School Theme
The StudentChat theme was made to allows students to improve the quality of communication between education oriented organizations. You can use this theme to keep a record of the top-notchers and academic achievers, as well as post the latest updates in your school. It has a dynamic content loader, which means it optimizes the loading speed and helps reduce the time it takes to fully load a page, it has shortcodes at the ready and you can share any post to social media networks using the social share bar. This theme is perfect for high school students and can be used as the perfect high school template.
ABClore WordPress Elementary School Theme
If you plan on making a website for an elementary school, then ABClore is the perfect school template. It has a very simple design and does not deal with very complex designs. It aims to keep things simple so users won't find navigating your site confusing and was one of the WordPress themes for December 2016. The theme has an option to translate any language if the situation calls for it, and it is also SEO-optimized. It's also designed to be 100% responsive so you won't have to worry about what device your visitor is using because the theme would be able to handle it. You can also customize the sidebars to your liking.
OneLap WordPress Medical Education Theme
OneLap was designed to be specifically made to host seminars and lessons for medical practitioners. It is a special type of education theme, as it mainly falls into the category of medical school website templates, which is quite rare. The theme itself has a bunch of features such as a contacts page, slider ready and advanced editor options, all of which is designed to improve the site's performance. It is also compatible with the latest versions of WordPress and is 100% responsive, which means it can be accessed using any type of device, be it on a mobile phone, tablet or computer.
Education WordPress Theme
Education is one of the simplest WordPress education themes you'll find here. But don't let its simplicity fool you because it is jam-packed with features that make it out perform other website templates. One of the best thing about this theme is that it very easy to use. It doesn't boast complex codes or navigation, but it rather thrives on being simple and very user-friendly. Aside from that, you can also multi-color related posts, so you and your visitors won't have a hard time trying to look for a related content. It also has Google Maps Shortcode integrated into it, which helps with location related tasks. It can also act as an online library website templates too.
Education Theme
When it comes to sporting a compact and functional website template, nothing quite beats Education Theme in that area. What makes it so efficient are the features that the developers and designers integrated into it. Things like cross-browser compatibility, sliced PSD, a social options button, and a couple of custom page templates are only a few of its features. It's also SEO-friendly, has numerous Google Web Fonts, has advanced theme options, a drop-down cart, is 100% responsive, and is optimized for numerous devices. It's certainly one of the best school WordPress themes that you'll ever find.
Educate Education WordPress Templates
Educate is an efficient and responsive WordPress theme that gives you the freedom to fully control your website and build your own layouts. The best thing about it is that you won't need any form of programming to successfully make your site. Creating a school website has never been this easy and we have the theme's drag and drop page builder to thank for that. It has a powerful admin panel that gives you the freedom to access advanced settings in your site, giving you the opportunity to further enhance numerous components like side bars, headers, footers and color schemes.
Lacero is a WordPress theme that is 100% responsive and is specifically designed to be accessed using multiple devices. The website template is built using Bootstrap 3.3.5, which means it has enhanced performance and major bug fixes, compared to the previous versions. It has custom widgets and is integrated to Google Maps, which makes tasks about location easier. You also have numerous Google Web Fonts that you could choose from to help you make your site's design unique. It also has the Contact 7 form plugin and overall, it's very easy to navigate. It makes a decent kids WordPress theme for elementary students.
SKT Education Template for WordPress
SKT Education packs a lot of punch and it certainly proves why it should be a theme that anyone shouldn't simply shrug off and ignore. With both its header and footer, sporting 4 different variations, anyone would definitely enjoy customizing this theme to suit the needs of their site. This theme has a more futuristic approach, since it is compatible with any kind of page builder, increasing the rate of customization into pretty high standards. Documentation is full and complete, along with step-by-step procedures. You can use hundreds of shortcodes to help make your template become the fastest WordPress theme.
Play School Resposive Education WordPress Theme
Play School offers unlimited possibilities for its users, given the fact that it is a multipurpose theme. It is a theme that can be used for any type of school, university, or online courses. It sports 5 various header options, in case you'd want to change it. It is SEO-friendly and has its cache plugins tested as well. It supports RTL languages and is multilingual, with translation options always at the ready. You can add animated blocks in the theme, which will work like flip boxes. Once you have it, you will definitely be convinced that it is an amazing kids website theme.
Online Coach WordPress Educational Theme
Online Coach is a responsive and user-friendly theme. It has features like multilingual plugins, over 580 available icons, 100+ shortcodes and is coded with HTML5 & CSS3. You can also do a lot of things to the theme. You can change the color using color pickers. Another thing that you could do is alter text, images and other components, to make them fit your liking. It is also an SMO, short for Social Media Optimization, and SEO friendly, highly increasing the likelihood of your site getting noticed. It's safe to say that this is one of the most effective HTML5 website templates out there.
Kraft Educational WordPress Template
Kraft is not your average and ordinary website template. It is a multipurpose responsive WordPress theme that is jam-packed with an abundance of features that you won't usually find on other themes. Its default slider alone has pause time handling and has 12 animation effects to come along with it. It has 500+ font icons and has over a hundred shortcodes embedded in its contact form. It's compatible with numerous plugins and one example is WooCommerce, which gives you the ability to create an online shop. It is also a multilingual WordPress theme that supports RTL, Latin and Cyrillic sub sets.
SKT Clean WordPress Theme
SKT Clean is the simplest theme on this list and it is also one of the many free new WordPress themes for January 2017. IT has the most basic functions of being able to edit the texts on the theme, change the fonts and is 100% responsive as well. It has 2-page templates, 3-5 "more slides" and is capable of uploading a logo. It has minimal graphics, which is best for those who prefer a minimalist approach to their themes. Icons for social media sites and networks are available too. It's also compatible with a limited number of shortcodes plugin and it is coded with CSS3 and HTML5.
EasyEdu Responsive Education WordPress Theme
If you're looking for a responsive learning management system, then EasyEdu is definitely for you. You can use the theme to create an online website for universities, schools, and online courses. If it's for an online course, you can showcase the teachers that you can display their different fields of specialization. You can also add events and blogs for the theme if you're aiming to create a school oriented site. Aside from being responsive, the theme also has drag-and-drop page builder options, is SEO friendly and has a 24/7 support team. With so many functionalities, you could say that it's like one of those multimedia WordPress themes.
Eduhub Responsive WordPress Template
EduHub is a powerful WordPress education theme that can handle multiple functions and be used as a courses hub, an online learning system, and a shopping center. The theme lets you customize the various elements by providing you with hundreds of fonts, background patterns, and theme settings. It's also mobile friendly which can come in pretty handy for you and your visitors. It also has an event calendar, which is one of the most important aspects when it comes to education themes and it has numerous shortcodes that you can use as well. EduHub is certainly a professional theme that everyone should get and it was one of the many WordPress theme for February 2016.
Academia Responsive Education Theme for WordPress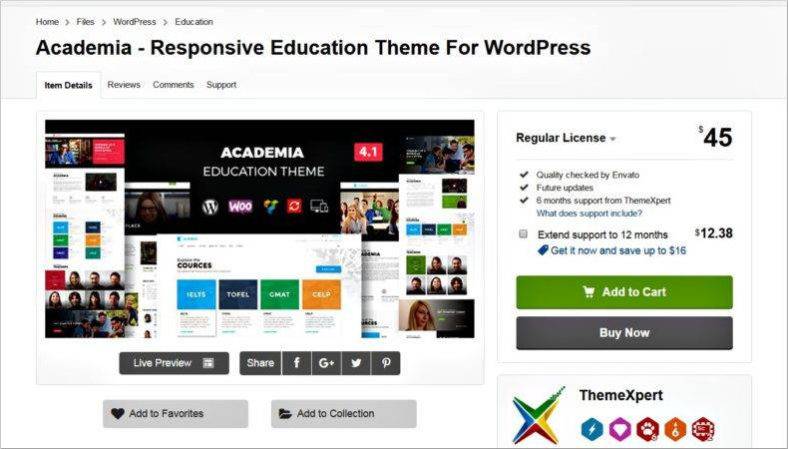 Academia is an educational theme that mainly focuses on the aesthetics and design of the site. Its users can choose from an unlimited amount of colors and its graphics are anything less than high definition. But aside from the visuals, it does have a lot of features that are pretty useful. Like how it supports RTL language and is translation ready at the same time. It has multiple header options, a drag-and-drop builder function and is SEO-optimized. Additionally, it has a support team that users can contact for any issue. It could also be used as a music school theme for the many musical schools.
University Responsive Education Theme for WordPress
University is a customizable, simple, direct and brilliant WordPress theme that any web designer, or site owner, can definitely use. If you'd have to make a list, then this theme will definitely be a part of the 40 educational WordPress themes for schools and universities. Why? Because it has features such as unlimited sidebars, WPML translation ready, shortcodes builder, Google Fonts and advance page builder. Not only that, it is also fully responsive and is designed to be compatible with multiple devices, such as mobile phones, tablets, and computers. It is certainly an awesome theme you wouldn't want to miss out on.
Universe WordPress Theme
Universe is a modern, responsive WordPress theme, designed for educational websites and colleges. It is coded with all of the available WordPress standards one can find. It is fully responsive and is also retina-ready, which will make it look elegant regardless of what device you're using. It has multicolor schemes and is compatible with the latest versions of WordPress. It is also multilingual, integrated to Google Maps and is coded with SEO best practices. It has over 600 Google Font and 5 different custom post types. It can certainly be considered as one of the best WordPress themes available in the market.
Making your own educational website certainly has its own challenges. You may even have to start from scratch a couple of times. However, as long as you haven't reached the main goal yet, then you should never stop. That's why things like WordPress theme and education Bootstrap theme were created to help you in your endeavor.
We're certain that you won't have as many problems with your journey in making an education website anymore. Why? Because you already have the necessary themes at your disposal, and all that's left for you to do is to try them out. So go ahead and take them for a test run.