Here's how you can make your WordPress blog function like pinterest, with the help of some trendy Pinterest like themes.
Pinboard
This theme is for all those bloggers who are big fans of pinterest. Pin board works almost like pinterest and features the infinite scroll- loading up new posts when the user reaches the bottom. Suitable for the desktop and mobile phones such as blackberry, android or iPhone, you'll not miss Pinterest one bit when you have this one installed. . Users can also sign up and post!
Pinblack
If you're a photographer looking for a theme that best showcases your work, pinblack is the theme for you. The theme contains all the integral WordPress features. It is responsive and adjusts its size depending upon the size of the browser.
Pintores
This wonderful theme lets you style your blog by uploading all sorts of media. The theme supports all post formats enabling you to post videos, pictures, songs, quotes, links as well as normal posts. Pintores also has options such as marking your favorite items and changing the color of the theme.
Grid
Grid is a fast loading theme with an awesome silver/grey design. It has a four column layout with a widget ready side bar. It is also compatible with WordPress 3+. The best part about this theme is that it is absolutely free.
Ipin pro
This theme has the same look and feel as pinterest. It lets it users repin and follow other users. Ipin has one distinctive feature and that is letting its users create a social network similar to pinterest. Users can login via facebook or twitter and then create boards and uploads from their computers or the web.
Pinshop
This theme is a dream come true for people who love shopping. Pinshop is a combination of the best elements of pinterest with a regular shopping website. All the products are displayed on a single page and the user can blissfully navigate through instead of opening multiple pages. It has a fixed top bar and shopping cart where products can be directly added.
Video grip
This amazing theme comes in two colors- dark and light. It showcases all kinds of media files and is perfect for a multimedia website. One unique feature of this theme is that it can be installed automatically making it simpler and easier.
Suburbia
The layout of this theme is very easy to use and is designed in a simplistic way. Suburbia is especially suitable for magazines. This does not mean that it is to be exclusively used for magazines; it can also be used for blog websites and other different kinds of projects. The theme also has a Google linked search engine.
Modern Grid WordPress Theme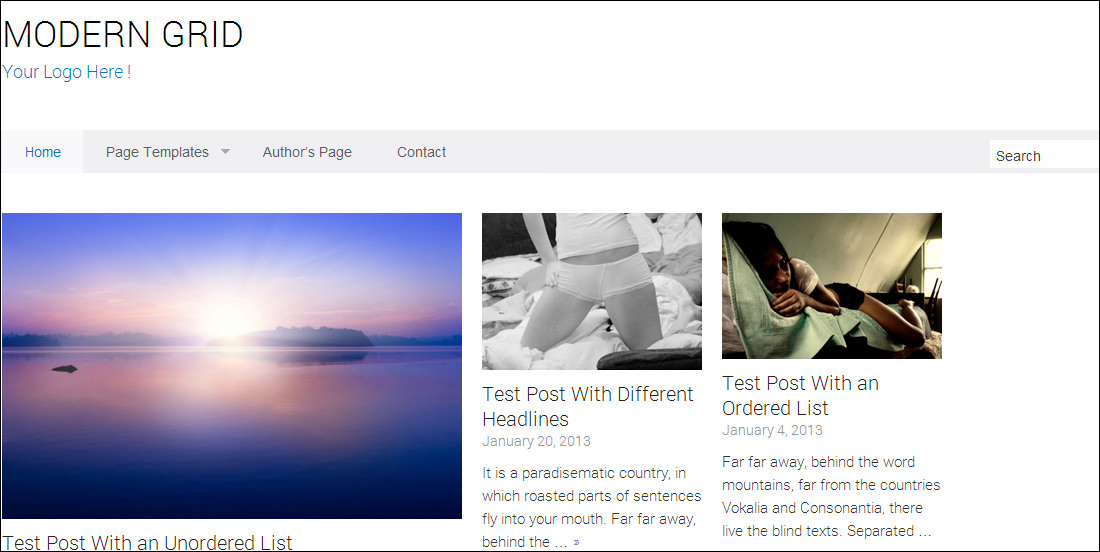 This theme can be used for sites which are about travel, fashion, entertainment, news or any other topics. It is built like pinterest and is a responsive and clean theme which allows you to upload videos, images, quotes, links etc.
Photum
This neutral theme lets you turn your site into a clean and crisp portfolio which lets your work stand out excellently. This is a free theme designed by PhotographicBlog.
TheStyle
Another great theme created by elegant theme, helps create an amazing visual impact on the readers. TheStyle offers the users a highlight effect which highlights the post that the readers want to read by rolling over their mouse on the post.
Zoho
Zoho is a fun filled theme packed with options which lets its users choose from unlimited color schemes, 16 pattern options, 11 page templates and lets you share your work on social networking sites. The theme helps you organize your work neatly.
Graphic
An innovative free theme created by dessign which aligns your posts around the featured section which is displayed in the middle. It is compatible with all leading internet browsers.
EcoStrips
This fun theme has one unique feature which lets its readers filter posts, enabling them to view the content that they want to read. EcoStrips homepage features all the posts in a pinterest like fashion and is suitable for any blog.
Notebook
This theme lets the users add standard, image and video posts easily. It uses post formats and CSS3 animations which gives an amazing first impression. The blog can be customized by different fonts, colors and backgrounds. Here's the link, visit here and learn more about the tremendous features of the Notebook theme.
Remal
This is a grid based theme which is overloaded with options. The users have unlimited colors and backgrounds to choose from. This theme offers a wide array of post formats like standard, image, gallery, audio, link and video. It is also connected with social networking sites.
Shaken grid
An extremely easy to use theme, shaken grid lets you customize and upload your logo without any codes. A user can post a video simply by copying the URL of the video and pasting it. An entire gallery can by created by uploading pictures. In addition to the basic features like compatibility with different browsers, this theme lets its users change the post box size and even hiding post elements like title and content.
Newsy
This theme has 11 different layout options and 10 color variant skins. It is a 3 column news and editorial theme which has various advertising display options.