There are only a few weeks left before 2018 arrives with a bang. The next year is full of hope for the future and numerous possibilities for prosperity. Business owners, for example, are surely aiming to earn bigger profits in the year to come.
The year 2018 can also be a good start for building your own business. Since more and more online shops are popping up on the Internet, it is time to seize this opportunity to make your own website. To help you out, we have collected 25 themes that can suit a variety of business needs, so check them out now.
Digital Entrepreneur WordPress Theme
Multipurpose Home Services WordPress Theme
Romantica Theme
If you are looking for a theme that is clean and trendy, the Romantica theme is the one for you. The simplicity of Romantica fits a wide variety of creative entrepreneur and blogger needs. Romantica gives a lot of room for flexibility with its design. It has a chic and professional feel that never goes out of style. The theme is responsive and has six layout choices. It is compatible with WooCommerce as well.
Prosperity Theme
The Prosperity theme is highly customizable so you can design it whichever way you want it to look. You can add your own logo and change some colors. It is attractive and fits all screen sizes upon access. The theme also supports Search Engine Optimization (SEO) features.
Anna Wolf Theme
For a more professional and corporate feel for your online shop, the Anna Wolf theme fits just right. The landing page is cool and classy without losing its professional touch. It has a drag and drop feature for to make it easier to set up and edit the site. The theme has six layout choices and six color options (blue, black, grey, dark grey, mustard, and green). Anna Wolf has a full brand suite, so your site looks cohesive and stable. It is also SEO-ready.
Headstart Theme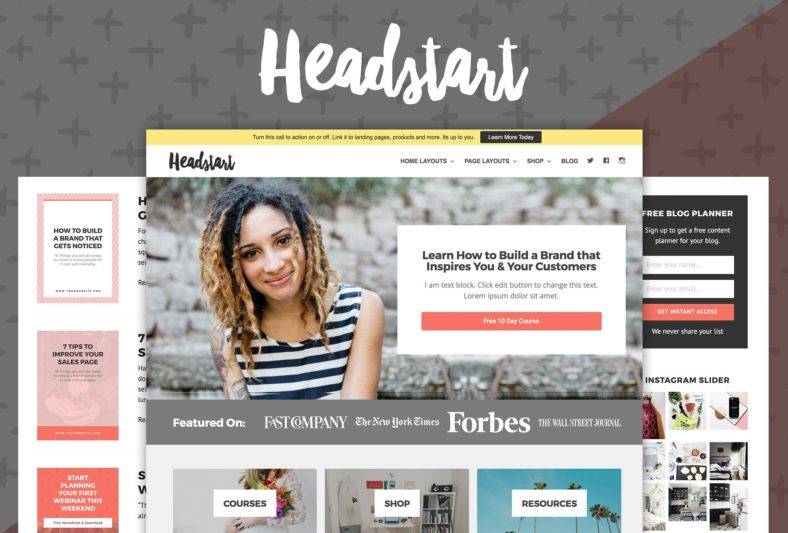 The theme is easy to use to promote your brand. It has a clean and modern design that is viewable on any screen size. It comes with a full-width layout and a feature slider that showcases your latest and most unique content. The Headstart theme also has unique sign up and Instagram footer elements.
Jacqueline Theme
Jacqueline is the theme that may look girly, but it also suits professional and business needs at the same time. It is stylish and trendy, fitting the needs of a women's clothing online shop or a cosmetics shop. The theme has customizable colors and it is compatible with WooCommerce. It is coded to be SEO-ready and features a set of social media icons.
Feminine Genesis Theme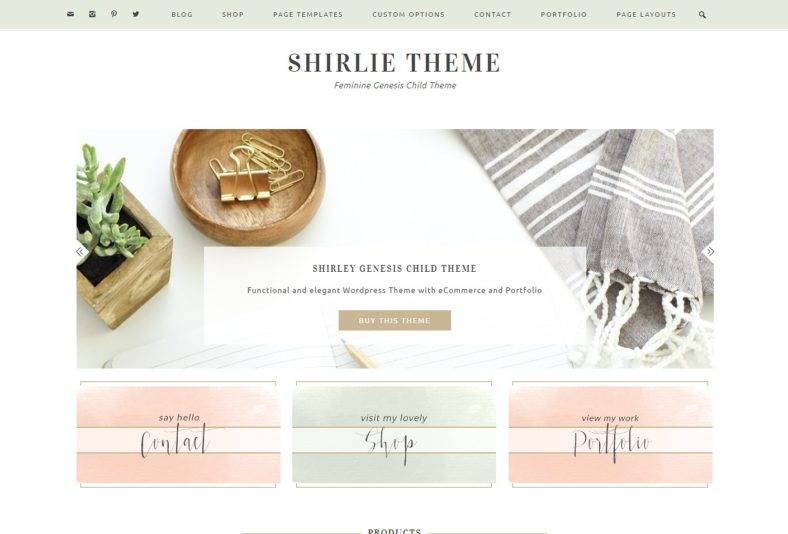 This theme is the ideal choice for photographers, bloggers, creative entrepreneurs, and event planners. Its feminine feel can be used for websites, online shops, blogs, and portfolios. A slight change of colors to match your branding can be done to make it look even better. The theme is also mobile-ready and SEO-friendly.
Paloma Theme
The Paloma theme has a minimal and subtle design with a business-like vibe. This can double as a theme for business as well as for photographers and creatives. It has a full-feature page builder that highlights your greatest content. It is compatible with WooCommerce as well.
Girl Boss Theme
Ever heard of the Netflix series "Girlboss"? The series is based on the experiences of real-life fashion mogul, Sophia Amoruso. The theme bears the same name as the series, and it is as girly as it can get. It is simply perfect for a women's clothing online shop. It has an easy page builder and feature slider that shows the latest content.
Presenter Theme
The theme is designed for entrepreneurs who want to present their products in a clean and efficient way. It is bold and trendy, and optimized with SEO to suit the needs of business owners. The theme is multipurpose, too, so it can fit a variety of needs.
Narya Theme
If you are a food enthusiasts or you are planning to put up a restaurant, the Narya theme is the solution you need for your website. You can create a beautiful gallery of your food blog photos. With this theme, you should throw in attractive content. This theme highlights content together with its sleek design. It is fast-loading and has a written help file if you are having a hard time editing or managing it.
Britonic Theme
The theme is designed for fashion designers. It is fully responsive and looks great on any mobile device.
Food Theme
This theme is developed for a food website, as the name suggests. With this theme, you get $150 of premium plugins, icons and images, and other features. It suits candy shops, pizza parlors, ice cream shops, etc. The Food theme is compatible with browsers like Internet Explorer, Opera, Safari, iOS, Firefox, Chrome, and Opera Mini.
Architect Theme
For interior design and architectural firms, the Architect theme is a perfect one if you are planning to expand your company's online presence. It has five layout options and it is highly customizable.
Wedding Theme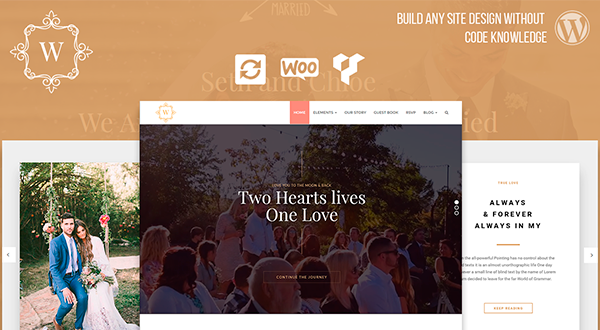 For those who are in the business of organizing weddings or selling wedding-related items, this theme is for you. It is very responsive and its layout can be boxed or full-width. The theme can be viewed on any screen size, so it is easy and convenient for users to access the site. It is also a multilingual theme.
Medical Theme
The theme has a clean and modern design that fits the needs of people in the medical field. This can also be used for veterinary, pharmacy, and medical laboratory websites. It is compatible with WooCommerce.
Edge Theme
This theme is compatible with various plugins for improved functionality of your website. For improved typography, you can choose from over 800 Google fonts for your theme. The theme comes with unlimited colors,  so you can change the theme's look according to your taste. It also includes social icons so customers can easily contact you.
Master Theme
Master supports seven different post formats (standard, image, gallery, video, quote, audio, and link). The admin panel of this theme gives you full control over customizing layouts, colors, and fonts. It is fully responsive and suits any type of blog.
Ink Theme
The Ink theme has a wide range of blog collections which you can use for your site. It is minimalist and helps you write with so much ease. The theme fits all screen sizes, so it is easy to browse it anywhere.
Structure Theme
The theme's minimal appearance offers versatility for any kind of business. It has a responsive design and it is compatible with major browsers such as Chrome, Safari, Opera, and Firefox. With the WordPress multilingual plugin, the theme can be translated into any language. It has a simple and fast setup and it is compatible with WooCommerce.
Moscow Shopify Theme
This theme has two versions of the home page and a multilevel menu. It is compatible with major browsers and has a minimal color palette, which makes the template clean and classy. The theme is SEO-ready with multilevel navigation and a grid layout.
The theme is especially designed for those who own barber shops, beauty centers, and hairdressing salons. It has a full slider and theme customizer to beautify and improve your theme. The design is responsive and coded in HTML5 and CSS3.
Spark Theme
The Spark theme is usable for any kind of business and can be built without any coding. It is a one-page WordPress theme. It's highly customizable and can have a boxed or full-width layout. For its extensive typography, the theme includes more than 800 Google fonts. It also works well with the WooCommerce plugin.
Mechanic Theme
This theme is the best solution for those owning an automobile business. It is built exactly for the purpose it serves. This can be used for auto blogs and industrial websites. It includes social icons like Facebook and Twitter, which leads to the company's official pages on those platforms.
Arc Theme
For IT companies, this theme is a big help. It is easy to customize and can double as a corporate or entrepreneur website. Its versatility also makes it perfect for corporate blogs, freelancers, designers, web studios, and other creative agencies. The theme is fully responsive and is coded in HTML5 and CSS3. It is also accessible in major browsers and features SEO support.
Setting up a website takes time, effort, and a lot of energy. But if you purchase any of the themes we have showcased, it makes your work a whole lot easier. All you have to do is pick the right one and maximize it to the best of its abilities, then you and your beautiful new website will be all set to conquer the challenges of 2018.