Elephants could be your spirit animal. They intrigue you, or you just plain love them. Elephants are large plant-eating mammals found in Africa and Asia that could stand approximately four meters or thirteen feet in height. They are one of the majestic living giants that roam around our planet
With long, huge legs; powerful trunks that curl; and tusks that look like they're made from metal, there is no question these animals are one of the best subjects to make in art form. That is why we have here some beautifully created artworks of elephants that you can use.
Try also some 3D Wall Art Ideas.
Pink Colored Elephant Art
Floral Elephant Art
Art of Elephant Sculpture
Red Colored Elephant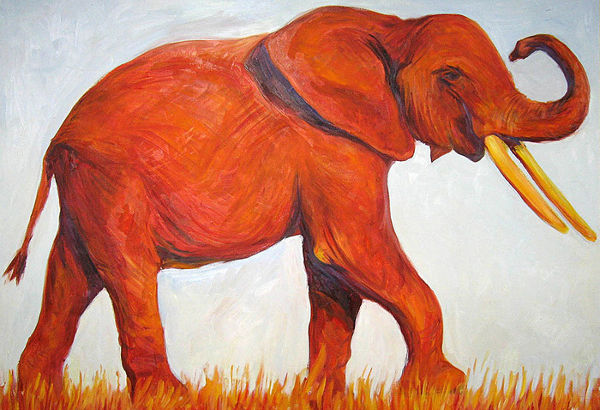 Creative Fantasy Art of Elephant
The Power of an Elephant
There are a lot of elements the elephant is famously known for. It is the animal symbol of strength; with large structure and physical strength, there is no animal who can match its power.
A symbol of honor. The elephant walks on the field with dignity as it gazes upon smaller animals on its feet. The stature it makes shows respect.
A symbol of stability. The elephant is large and robust. Even just looking at one, you can tell it is not easily defeated and dropped to its feet.
A symbol of patience. Patience is a glorious virtue to have. Because of its size, an elephant usually takes its time as it paces around the field—slowly but surely, not rushing.
The Elephant in Culture
The Hindus look upon the elephant symbol in the form of Ganesh, an elephant-headed god, for fortune, wisdom, and blessings. Because it is believed that he possesses the power, his image can be found everywhere and in many forms to be worshiped by followers. Somehow, this belief is carried out until this day, which is why many encourage art forms of elephants in their home. Which is why we have provided some that you can use for your own purposes.
Try looking at these artworks and maybe your favorite type of art design that is incorporated with elephants will be your next most favorite thing.
If you're looking for more artwork with no direction as its theme, check out our website's collection of doodle art designs to find inspiration for your next project.
Elephant Tattoo Art
Elephant Fantasy Art
Watercolor Elephant Art
Furniture Design Elephant Art
Modern Art of Elephant
Why You Should Use These Artworks
Here are some ideas to give on why you should use them.
All the templates we offer on our site are pretty, artistic, unique, and has a wide range of applications:
Decoration on the wall, background or wallpaper. With all the qualities that is posted above about elephants and the message behind them, there is no questioning an elephant art form can be a treat to have. It won't hurt to have one.
An addition to your art collection. You may be one of those art lovers. Well, these artistic designs can be great additions to your growing art collection.
An addition to your elephant collection. If you have one, of course! There is no doubt this large but loving-looking creature could attract fans.
For card covers as design. To give to a friend or loved one who adores elephants. This would definitely make their day.
For banners and posters. If you are planning on throwing a safari- or jungle-themed party, you can never go wrong with elephant art as decorations.
So are you now ready to express you love for these gentle giants in the form of art?
If you are a fan of graffiti and everything urban, take inspiration from this gallery of street art designs from our website.