Bohemian-themed weddings are one of the most popular concepts soon-to-be-couples are going for nowadays. The style is beautiful and easy to pull off since flowers, vines, and other natural elements are already commonly used in every wedding theme. All you have to add are a little bit of magic and fantasy, and you will definitely have the perfect wedding of your dreams.
Here is a list of bohemian wedding templates you can use or find inspiration from for your big day. With lots of gorgeous elements and stunning vector designs, these wedding templates can also be used for other types of wedding themes, from vintage to modern, or classic to rustic. All these items are easy to edit and print-ready, so you do not only save time and energy, but money as well.
Do not hesitate to browse through these templates and you are guaranteed to find just the right design that will reflect your personal style and set the tone for your wedding celebration. The collection offers a variety of styles for any bohemian-themed events, so make sure you grab one of these templates and do not forget to hit that download button.
202+ Wedding Templates in Word, Google Docs, Apple Pages, PSD, InDesign, Publisher, Illustrator, Google Sheets - START DOWNLOADING
Summer Floral Wedding Templates
To start with, here is a set of Summer Floral Wedding Templates which include 20 different designs for various purposes such as wedding invitation cards, RSVP cards, Thank You cards, wedding envelopes, banners, labels, postcards, and others. Bohemian weddings set during the hottest time of the year should incorporate bright and bold designs such as the daisy-inspired illustrations on these templates. It is clean and elegant, and will surely appeal to your guest.
Garden Wedding Templates
If you are looking for a more subdued and laid-back feel for your bohemian wedding collateral, then go for this Garden Wedding Templates bundle with a cool lavender color palette that is easy on the eyes. Aside from the standard templates you need such as the wedding invitations, Save the Date cards, RSVP cards, and others, the package also comes with 20 various templates including wedding bathroom signs, a door hanger, seating chart, labels, and so much more.
Pink Floral Wedding Suite
For a sweet bride and handsome groom, here is a beautiful and gorgeous Pink Floral Wedding Suite with templates that you can use for your wedding. The design features a bunch of cherry blossoms over a clean and elegant layout enhanced with some beautiful typography. If you are feeling overwhelmed by the many choices of bohemian-inspired wedding motifs available and confused about what to choose, these templates can be your safest and best choice.
Fall Wedding Templates
On the other hand, here is a rather simple and more natural wedding template for couples who want to get a little bit closer to the environment during their special day. This collection of Fall Wedding Templates are designed with pretty leaves on gorgeous boughs which are quite unique and one-of-a-kind. Just like all the templates so far, this package also consists of 20 design pieces for every wedding material, so you will have everything that you need.
Burgundy Floral Wedding Package
Speaking of personality, the Burgundy Floral Wedding Package you see above gives off a special characteristic that is not just strong and bold, but also elegant and sophisticated. These templates suit couples who are adventurous, free-spirited, and life-loving. The wildflowers and dark greenery in the design are perfect for outdoor weddings with a bohemian or hippie theme. It comes in different design formats, so it is easy to modify and personalize.
Floral Wedding Suite
Another gorgeous wedding template that you can use for your bohemian wedding is this Floral Wedding Suite filled with a complete set of wedding collaterals. Unlike the previous dainty flower illustrations of another collection, this template comes with a large image of a daisy which adds more personality to the design. It exudes more fun and excitement, which is pretty much what you will have at your wedding ceremony and after-party.
Wildflower Wedding Invitation Suite
Bohemian style does not only mean floral designs but also includes leaves, twigs, lace, and anything vintage-looking; just like the Wildflower Wedding Invitation Suite you see above. The templates included in this package are a wedding invitation, RSVP, Information card, Save the Date, Wedding Program, Menu, and Thank You cards, among others. The elements are hand-drawn vectors which give off a real gypsy feel.
Wedding Invitation Card Template
This beautiful and elegant Wedding Invitation Card Template has the perfect design for any garden wedding or bohemian-inspired parties. It has a classic layout similar to other modern wedding invitations but with a beautiful rose vine illustration and a beautiful border background with floral patterns. The template is easily editable as all the elements in the design come in organized and separated layers of print-ready PSD files.
Boho Style Wedding Invitation Set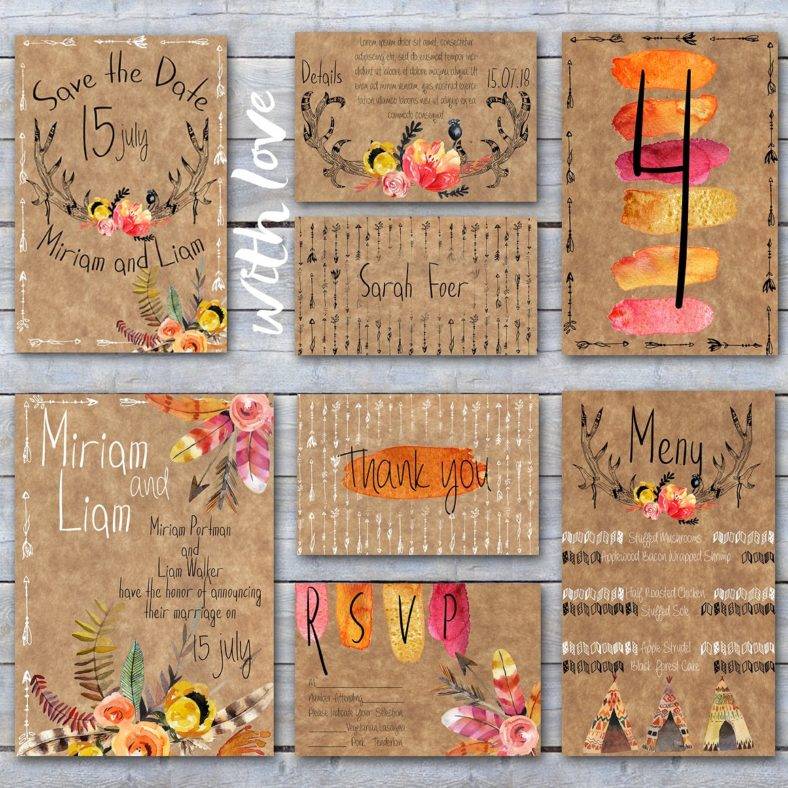 With hand-drawn wildflowers, feathers, horns, and arrows painted with watercolors on a craft paper canvas, you have got yourself a lovely and unique wedding design for your bohemian-inspired wedding. This Boho Style Wedding Invitation Set comes with eight PSD layered cards for different wedding purposes, with free fonts and highly customizable elements. All the pieces come with 300 DPI image resolution, so images look sharp and crisp.
Vintage Wedding Invitation Set
A very simple but very attractive Vintage Wedding Invitation Set, this design is composed of classic fonts with an occasional dab of scripts and branches of leaves for the heading and other decorations. It is then printed on craft paper or cream-colored paper stock for a rustic glam style and modern classic style, respectively. The set includes five high-resolution templates that include an invitation card, RSVP card, details card, monogram, and date seal or tag.
Boho Feather Invitation Suite
Next is a uniquely gorgeous and highly creative group of wedding templates that suit any bohemian, rustic, vintage, or fantasy wedding themes. The Boho Feather Invitation Suite features hand-painted feather images integrated into each item of the package, along with an editable typography and color scheme. The collection includes a wedding invitation, RSVP, Information, Save the Date, Program, Menu, Thank You, Table number, and Place cards.
The Boho Wedding Invitation Suite you see above features a clean and elegant design with beautiful pink flower illustrations which are perfect for various wedding themes such as boho, rustic, and garden weddings. The elements of this template—fonts, color, size, and text placement—are all easy to edit. It also allows you to choose between two backgrounds, either the wood grain texture or watercolor paper texture.
Wedding Invitation Eco Style
With an eco-friendly style and watercolor-painted illustrations, this wedding template is perfect to use for any environment-themed weddings. Wedding Invitation Eco Style comes in a set of six which includes an invitation card, a couple of Thank You cards, a dress code card, an RSVP card, and a wedding menu card. It uses free elegant fonts and stunning watercolor illustrations that perfectly match a cool and sophisticated bohemian celebration.
Printable Wedding Suite Bundle
For a more sophisticated wedding celebration, consider this gorgeous Marsala Wedding Suite Bundle which comes with a full set of high quality and extremely editable templates. It features gorgeous fonts and bold graphic colors that beautifully complement each other. This bundle includes an invitation card, RSVP card, information card, Thank You card, Wedding Program, menu card, table numbers, and place cards, among others.
Mythical Feathers Wedding Suite
Another creative bohemian concept uses feathers as a symbol of the free spirit and the mysterious characteristic of nature—just like how it is used in this Mythical Feathers Wedding Suite. If you are looking for a fancy and elegant design for your gypsy-themed special occasion, then this template is just the right one for you. The suite includes a wedding invitation with a bonus back page design, an RSVP card, Information card, Save the Date card, Program, Menu, Thank You card, table number, and place card.
Wedding Invitation Template Set
Another wedding template for your bohemian-inspired special event is the Wedding Invitation Template Set you see above. The set includes seven print-ready PSD files with organized layers for easy customization. These files contain an invitation card, Save the Date card, RSVP card, Thank You card, menu card, wedding table card, etc. The set has a one-of-a-kind design that you and your guest will surely love, with its dark chalkboard background and pink hand-painted decorations.
Floral Wedding Invitation Suite
Here is a Floral Wedding Invitation Suite that is designed with bright and bold bohemian elements and proportionate floral compositions which include flowers, branches, and hand-lettered fonts. It comes with eight essential wedding cards with editable texts and layers, while some of the themes have both front and back designs. Perfect for any kind of wedding, from a bohemian or garden wedding to a highly luxurious or royalty-themed wedding.
Boho Wedding Invitation Collection
This Boho Wedding Invitation Collection is a stunning bohemian-themed or inspired design with gorgeous elements and a beautiful color scheme of peach, light pink, and dark brown. It includes a wedding invitation card, details card, RSVP card, Thank You card, a favor tag, and a belly band. It comes in six PSD files with customizable texts and colors in 300 DPI CMYK color mode. This is definitely a perfect and great choice for your beautiful wedding.
Modern Floral Wedding Suite
On the other hand, here is a Modern Floral Wedding Suite that has a trendy flat design which is the current fad in the design world. This template looks great in both light and dark backgrounds as it comes with two versions—white and charcoal skins—to choose from. All the elements in this template are hand-drawn vectors while all the text and font colors are easily editable. It comes in 300 DPI Photoshop format with AI files for the vector graphics.
Floral Wedding Invitation Template
This Floral Wedding Invitation Template is a unique and trendy wedding template with a bright and colorful floral design that perfectly suits any bohemian-themed wedding as well as many other occasions. It comes in a fully editable and print-ready Adobe Photoshop file in CMYK color mode and 300 DPI image resolution, making it high quality and excellent for any wedding design project. Also, the fonts used in this template are free.
Boho Wedding Invitation Template Set
To end this list, here is a dark-themed Boho Wedding Invitation Template Set with a unique black background which helps all other elements to pop out. It looks fancy and elegant at the same time, making it perfect for many types of wedding themes. The set includes an invitation card, RSVP card, and information card where texts, fonts, and text boxes are easy to edit so you can add your personal details seamlessly using the custom fonts of your choice.
Wedding invitations are not just the wedding collateral that you need to make your special day a memorable one. They are also not just for you but also for the guests who are sharing this unforgettable event with you. You are going to need other pieces of information to make the ceremony organized and well-enjoyed by all. Whether you are having a small or big event, you need programs, signage, table pieces, labeling banners, favors, and other stationery that need to be coordinated in order to set the tone of the event as well as keep things cohesive.
There are a lot of things you need to consider when choosing the right theme and design for your wedding collateral. First of all, you have to consider your personality as a couple. Your wedding paraphernalia should then reflect your combined personalities. Once you have chosen the perfect concept, then you can apply these to all paper collaterals you need for your special day.
There are many benefits you can get from using a template just like the ones you see above. Aside from sparing you the grueling brainstorming process of how the designs should look like, using a template will help you stay within your wedding budget and have more time to handle other wedding preparations. So, do not waste your time and get one of these templates now.