Brushes are one of the most useful tools in Photoshop that helps every designer create digital works of art. Using Photoshop brushes allows you to create images without drawing your design elements one by one using your line and pen tools. That's why it works great with geometric shapes. Geometric brushes are fantastic to use in geometric design ideas, whether you're going for the minimalist or an avant-garde look.
So we have gathered some of the best geometric brushes for you to download and use for free. You can choose from a variety of brushes available on this page from the abstract to the hand drawn. These brushes are free for personal use, but you may have to check on the author if they are for commercial use. More information is found when you click on the Download button. So, have fun with these brushes!
Abstract Geometric Brushes
Download
Lowpoly Geometrical Brushes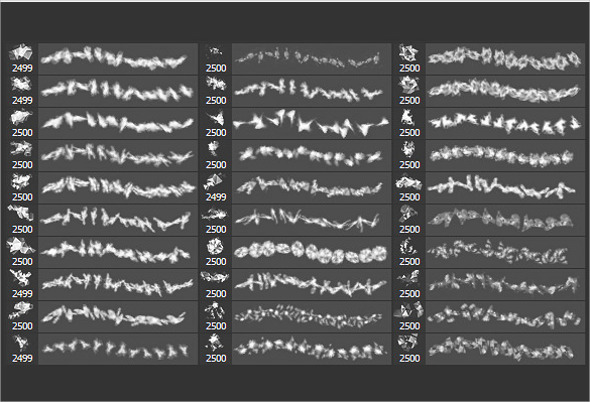 Download
Geometric Tattoo Brushes
Download
Geometric Pattern Brushes
Download
Why Use Geometric Brushes?
There are several reasons behind the popularity of geometric brushes in Photoshop among graphic designers. Some of them are the following:
Easy handling. It is easier to maintain symmetry and proper measurements of geometric shapes when you use these brushes instead of drawing squares and circles directly onto your work space.
Uniformity. If you are making a series of different or identical shapes, using these brushes would ensure that your next triangle or hexagon is similar and identical to the previous one.
Perfection. Aside from making sure that your geometric shapes are uniform in size and dimension, these brushes let you have the perfectly flawless output just like how you want it to be.
Visual enhancement. Even if you do not use these brushes as a major design component, they surely add a little extra "oomph" and visual interest to your design without drawing attention.
Strong appeal. Though these designs seem elementary, they can look highly appealing and elegant when used appropriately and integrated wisely. It can also give a sense of class and professionalism.
Finding the right design element to lure audiences has never been too difficult for graphic designers since the existence of geometric brushes. As the design industry is being saturated with unique and creative ideas, geometric shapes still stand and remain relevant. For more specific geometric pieces, check out our collection of triangle brushes too!
Geometric Shapes Brushes
Download
Geometric Photoshop Brushes
Download
Polygonal Photoshop Brushes
Download
Hand Drawn Geometric Brushes
Download
Tips for Using Photoshop Brushes
In Photoshop, you can do a lot more than just paint. Here are some tips and ways on how to use your Photoshop brushes to its fullest extent.
Brush settings. There are a number of brush settings available in Photoshop that you can always play around and customize your brush style with, aside from getting familiar with the basic ones.
Brush tips and shortcuts. Using brushes with just your mouse can be a daunting task, so we suggest that you use shortcuts in order to draw a straight line or soften and harden the edge of the brush.
Use help. The Help tab is available in Photoshop to let you do a vast number of things. It doesn't hurt to strive to learn more every now and then, and just like any creative endeavor, there is no limit in using these geometric brushes.
Create your own. Aside from it being an exciting activity, creating your own brushes can also provide a sense of ownership, and it will help you create digital art masterpieces entirely your own.