When planning for a baby shower, one of the most important pieces of stationery that new parents should make sure to have is a baby advice card. If you are not familiar with the term as most new parents are, make sure to continue reading this article as we will provide different examples of baby advice card templates that any new family can use for their own baby shower party.
What is a Baby Shower?
A baby shower is a gathering usually hosted by a close friend or relative of parents who are welcoming a new child soon. In this type of gathering, guests are expected to give gifts that will benefit the child when he or she is born. The baby shower party host or the parents, in turn, provide food and drinks for the guests all throughout the event.
When baby shower is held for new or first-time parents, the guests will often give verbal advice regarding childcare. To organize all these pieces of advice, parents and party hosts have come up with baby advice cards or new parent advice note cards where the guests can write down their parenting advice. By having a written record of the different pieces of parenting advice, the new parents can refer back to them at a later time and apply the teachings when raising their new baby.
Sometimes, the parents also use this event as the venue to announce their child's gender. That is why baby showers are often called gender reveal parties or events. Other terms for baby showers are diaper showers and grandma's shower.
Look At These Beautiful Baby Advice Card Templates
Embedded below are various examples of printable baby advice card templates. Look at each card template design closely and choose the one that best complements your baby shower theme. Also, do not forget to install a compatible and exceptional software program that will allow you to easily edit the card template of your choice.
Advice & Wishes for Baby Card Template
Colorful New Parents Advice Card Template
Floral Wishes For Baby Advice Card Template
What is a Baby Advice Card Template and Why Use Them
A baby advice card template basically is just like a regular advice card. But what sets it apart from other kinds of advice cards is that in a baby advice card, you are instructed to provide pieces of advice about childcare, child-rearing, and other parenting tips. This type of advice card is usually used during baby shower parties and gender reveal parties.
In the same vein, creating a baby advice card is just like creating a regular greeting card. However, in this article, we focus mainly on the use of pre-made digital card templates for creating a baby advice card. More reasons and advantages for following this card-making method are listed below. Read on…
1. These card templates are easy to edit.
One of the main advantages of using pre-made baby advice card templates is that most the behind-the-scenes aspect of creating a digital card template has already been taken care of. To illustrate, when you purchase an advice card template, the formatting, layout, images, text, and other graphic design elements are already created. All you have to do as the end-user of the card template is to add in your party details into the template and you can already print it out.
This also means that you do not need to learn complicated editing tasks from Illustrator or Photoshop tutorials. If you use pre-made card template, you can make the edits easily and quickly as long as you have a compatible software tool.
2. These card templates help you save time.
Pre-made advice card templates can also be used to help you save time. If you are a new parent and you are assisting your friend in planning your baby shower, the task can get stressful quickly. By using these baby advice card templates, you are setting yourself for success since you will not deal with the entire task of creating an advice card from scratch. In fact, you may even have more time to do other things for the party like arranging for logistics and sending out party invitation cards. For more information on how to design your own party invitations, check out the linked article.
Greenery New Parents Advice Card Template
Balloon Baby Advice Card Template
Paper Style Baby Advice Card Template
3. They cost less than hiring a professional graphic designer.
Another advantage of using pre-made printable advice card templates for your baby shower is that these card templates only cost a fraction of hiring a professional graphic artist to design your own baby shower stationery templates. In fact, the use of printable card templates may even cost less than creating handmade card designs yourself.
So if you want to stick with a budget or just do not want to spend that much for a baby advice card design, it is best to rely on using printable card templates instead. This way you will have peace of mind when it comes to all the expenses of hosting a baby shower party.
4. They allow you to practice your graphic design skills.
When you purchase a pre-made baby advice card template, you should know that most of these printable templates still need to be edited by the end-user after purchasing the template. You do not have to make major or difficult edits since all you will need to do is add your own party details to the template.
If you already know how to edit and use different kinds of graphic design software programs, this task will be a piece of cake for you. In this case, you will also have more opportunity to further apply and, hopefully, enhance your own editing and graphic design skills. So, if this particular benefit appeals to you, make sure to use downloadable templates when creating your baby advice cards.
5. You can use these advice card templates again.
Printable templates, by definition, are digital files that will contain a blueprint of how a certain graphic design template is created. This also means that these files will be stored as a digital file for eternity unless your storage device is corrupted or if you intentionally delete the template file.
So when you use a printable baby advice card template, you can reuse the template for another time. Perhaps your friend is having a child and you are tasked to plan the baby shower party. Or, maybe you will be expecting another child in the future and you can definitely reuse the advice card template for your own baby shower party.
We hope that the different reasons listed here will help convince you into trying out the use of baby advice card templates. Also, check out this article for more information on different baby shower invitation templates.
Nautical Baby Advice Card Template Set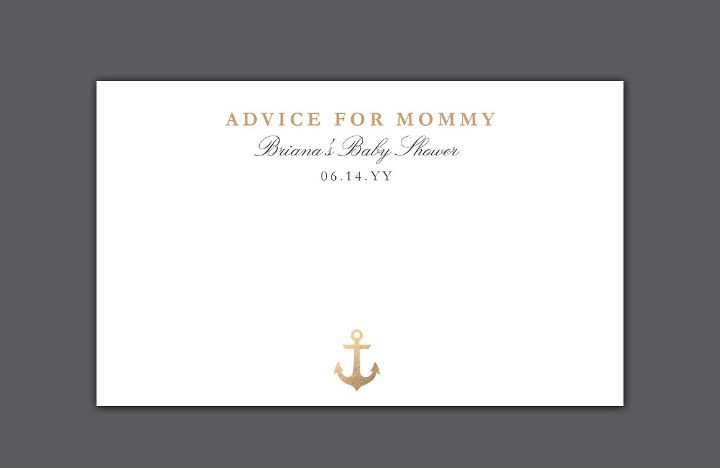 Navy Style Baby Advice Card Template
New Parents Baby Advice Card Template
Pink Floral Baby Advice Card Template
Pink Watercolor Flowers Baby Advice Card Design
Baby Advice Card Template Selection Guide
Planning a baby shower involves a lot of things. As the person-in-charge of the party, it is your job to choose the advice card template design that will be used for the party. And to help you with this task, we have created enumerated the different factors to consider before you finally select and buy that baby advice card template. Read them below.
1. Baby Shower Theme or Motif
The most important criterion to consider when choosing a baby advice card template is your baby shower party theme. A baby shower can have different themes and it will largely depend on the parent's preferences and the gender of the baby.
So if, for example, you are having a unique baby shower like a Disney-themed baby shower, you should look for baby advice card templates that already follow a Disney theme. By doing this, all the design elements used on the party will mesh well together. The parents and the guests will definitely appreciate this since it signifies how much effort went into planning the whole event.
2. Editing Skills
The next factor to consider before purchasing a baby advice card template is your own graphic design abilities. Most advice card templates need to be customized after you download them. This way, your advice cards will have your own party details and will make it appear more personalized.
3. Budget
Another factor to consider before buying a pre-made baby advice card template is your own budget. It is true that advice card templates only cost a few dollars. However, you should also factor in the cost of printing out the template. And depending on your printing preferences, the total costs can quickly add up. You may also read about how to create a budget plan here.
So before you buy a card template, always calculate how much advice card templates you need and how much will the total printing cost. This way you will have a good idea if you will be exceeding your allotted budget or not. And if it seems that you will go over the budget, you will be prepared to look for other options or source the money through other means.
4. Template Editing Options
Finding an advice card template that allows you to make edits on the template itself after purchasing it is very important. This especially applies to those who already know how to use different graphic design tools and would like to further customize their own baby advice cards. If you belong to this category, make sure to choose an advice card template that is available in template file formats that usually offers flexible editing options. Photoshop, InDesign, and Illustrator templates are examples of these template file formats.
Rustic Wood Baby Advice for New Parents Card Template
Sweet Baby Shower Advice Card Template
Twinkle Little Star Baby Advice Card Template
Woodland Pink Baby Advice Card Template
Have You Chosen a Baby Advice Card Template?
Planning for a baby shower party entails a lot of things. But despite how stressful it can get, never forget to include baby advice cards in the list of items to have during the actual baby shower. Doing this will prove helpful to the parents when they begin caring for their new baby. The different printed advice cards may also be gathered together in a bound book so that the parents and family members can browse through it later on.
For more baby shower party suggestions, do not forget to browse through the site. Do not forget to share this article with your social media friends and followers. And if you are a new parent looking for baby advice card template examples, best wishes for the new addition to your family!