Cards are one of the most common print marketing materials. They come in many shapes and sizes, making them easy to create and distribute. But for any card type to make a dent as a marketing or promotional tool, it needs to embody the key traits or elements of good card design.
And that is what this article is all about. Here, we will teach you how to incorporate the basic card-making elements to create effective and visually pleasing card designs. Also, we are sharing multiple examples of downloadable card templates in Word file format. Whatever kind of card you are thinking of creating, we have a free card template (or two) for you.
Elements of A Good Card
Shared below are the core design elements or qualities that effective card designs should embody. Study each characteristic so that you will learn how to incorporate or look for them in card templates that you create or select.
1. Relevant Wording or Content: Whether you are creating a membership card or a greeting card, the type of data or wording used in your cards help make it functional and effective. To illustrate, a membership card is useless if it does not contain an individual's affiliation information. Research and decide on what specific information is needed for the specific card you are making.
2. Paper or Printing Type: To create effective cards, they should be printed on durable and on the right type of paper or printing material. For example, ID cards are best printed on plastic or PVC laminate materials while place cards are best printed on thick cardstock. Choose your printing material well depending on the type of card you are making and the kind of inks you are using.
3. Card Layout: The layout or arrangement of all the text and visual elements used in a card design affects how readable and appealing a card becomes. Choose simple and organized layouts that allow the human to naturally skim over and understand what the card is all about.
4. Color Choice: Do not forget to factor in the colors used in your card design. Opt for neutral color combinations if you want to create formal cards. Go for bold or lively colors if you are making invitation cards, business cards, or greeting cards. It also helps to check a color chart first to determine what specific color combinations work well together what doesn't.
5. Typography: The font styles and their formatting greatly affects what kind of impression a card creates. If making a professional business card, it makes sense to use typefaces that exude elegance and/or simplicity. On the other hand, if you are making a kid's birthday party invitation card, you can do away with using funny-looking and less formal font styles.
12+ Card Templates in Word
Take a look at all these card templates in MS Word file format. From editable pet memorial cards to simple appointment cards, we got it all for you!
Pet Memorial Card Template
Details
File Format
&nbsp
&nbsp
&nbsp
&nbsp
&nbsp
Size: 5 inches by 7 inches, 4 inches by 6 inches
Memorial Card Template
Details
File Format
&nbsp
&nbsp
&nbsp
&nbsp
&nbsp
Size: 5 inches by 7 inches, 4 inches by 6 inches
Rose Gold Business Card Template
Download Now
Lawyer Business Card Template
Download Now
Company Blank ID Card Template
Details
Size: 2.13 inches by 3.39 inches
Football Team Card Template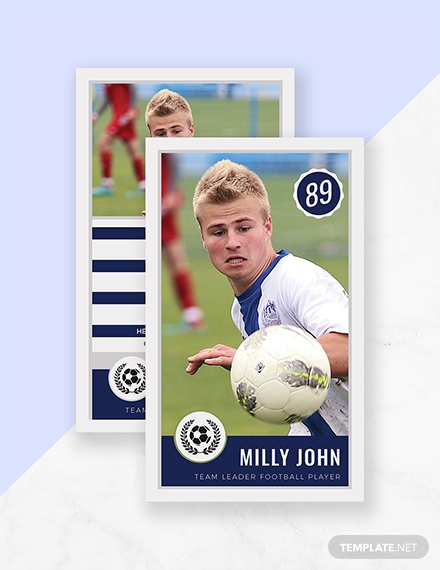 Details
File Format
&nbsp
&nbsp
&nbsp
&nbsp
&nbsp
Size: 2 inches by 3.5 inches
Golden Membership Card Design
Details
File Format
&nbsp
&nbsp
&nbsp
&nbsp
&nbsp
Size: 2 x 3.5 inches
Baby Naming Ceremony Invitation Card
Simple Appointment Card Template
Thank You Card Template
Watercolor Place Card Template
Details
File Format
&nbsp
&nbsp
&nbsp
&nbsp
&nbsp
Size: 2.25 inches by 3.5 inches
Welcoming Housewarming Invitation Card
How to Create An Excellent Card
Compiled below is a step by step guide on how you can create any type of card. Read all the steps carefully and do not forget to bookmark this article.
1. Decide on what type card you need to create.
2. Choose a layout design.
3. Write down the information or wording you wish to write in the card/s.
4. Compile and save all the images, fonts, illustrations, headers, business logos, and other branding elements you want to include in the card design.
5. Or, you can download a pre-made card template in your preferred file format.
6. Open a graphic design software like Adobe Photoshop or Microsoft Word.
7. Start with a blank card template or use the printable card template you have downloaded earlier.
8. Make all the edits you want for your card design. Incorporate all the layout, image, text, and logo elements that you have compiled at the start of the card-making process.
9. Once you are satisfied with the card design, evaluate it for the last time. You may also have another person proofread the card wording and check for any formatting issues.
10. Save the card template file and start printing!
Types of Cards
Cards are categorized according to their end purpose. In the list below, we share what these different card types are.
Business cards
Greeting cards
ID cards
Membership cards
Table Place cards
Trading cards
Card Sizes
Listed below are the corresponding printing sizes for the different types of cards shown above.
Business cards: 3.5 inches by 2 inches
Comment cards: 8 inches by 11 inches (resizeable)
Greeting cards: 5 inches by 7 inches (resizeable)
ID cards: 2 inches by 3.5 inches
Invitation cards: 5 inches by 7 inches (resizeable)
Membership cards: 3.5 inches by 2 inches
Rack cards: 

4 inches by 9 inches

Table Place cards: 2.25 inches by 3.5 inches
Trading cards: 2 inches by 3.5 inches
Card FAQs
What is a card template in Word?
A card template in Word is a preset graphic design file made using the word processing software tool Microsoft Word. It is pre-formatted with all the text, WordArt, layout, images, illustrations, print bleeds, and margins needed for making any kind of card design. Templates created using MS Word will be stored with either a .DOC or .DOCX file extension name.
Are funeral cards considered greeting cards?
Funeral cards are considered sympathy cards. Therefore, they can still be classified as a type of greeting card.
What other software programs can you use to make card templates?
Aside from Microsoft Word, any kind of graphic design and editing software tools can be used to create any kind of card design. A few examples are Adobe InDesign, Illustrator, Photoshop, Microsoft Publisher, and Apple Pages.
Different types of cards require a different set of card-making skills. Knowledge of the core card design elements shared in this article will help steer you in the right direction. Also, do not forget that the rest of our site is a rich resource for more downloadable free and premium graphic design templates. So check them out!