Not everyone can come to a restaurant at any time. Yes, takeouts and deliveries maybe valid options to bring food offsite, however, if the number of people that needs to eat or if the number of orders that needs to be brought is huge, then catering will be a better option. Catering is a business related to the food industry that aims to provide food service at a remote site.
Some of the sites that a catering service can also serve food in are hotels, hospitals, pubs, aircraft, cruise ship, parks, film shooting sites or studios, entertainment sites, or event venue. Catering is ideal for these sites as caterers can provide a variety of food on that very site while simultaneously serving a huge number of people. Some foods can be served fresh or out of the oven too. you may also see rack card templates.
Catering Rack Card Template
Catering Menu Rack Card
Food Catering Rack Card
Catering Delivery Rack Card
Corporate Event Caterer Rack Card Template
Healthy Salad Catering Rack Card
Starting a catering service from scratch is not as easy as serving appetizers on the table. First of all, there is the competition. Not only will you have to face businesses who are sitting at the same table as you, but you will also have to face catering businesses who are already sitting on the big table. People who seek out caterers almost always seek out those that are already tenured. Thus, reputation in the catering business is just as important as other business.
There is a reason why most catering businesses start out as or are combined with a restaurant business. Not only is the idea logical (as they are both services that provide food), the restaurant and catering business can also work in tandem to bringing up and establishing each other's reputation. Serve enough good food in your restaurant and surely there will be a customer who will like it very much that so much so they will want to eat your food while doing business. Serve enough good food during your service as a caterer and surely there will be one who will miss that food enough to go to your restaurant.
Rack Cards for Catering Services
Catering and restaurants are like brother and sister as both came from the same food service industry. As such, you can utilize rack cards for your catering service in the same way that you use a rack card for your restaurant. First of all, rack cards are mainly used for advertisement and promotion. These cards can be strategically placed as to make it known to the world (at least in your local world) that you have a catering service.
If you have a restaurant, you can either place it in your tables, near the cashier, or wherever it is in your restaurant that has a lot of people as to let them know that they can avail of your services on remote places. Another thing that you can use the rack cards for is as a sample menu. Menus are useful in letting people know what food it is that you are catering for the day.
On-site, most catering services operate in a self-service manner. By providing a menu on the table, you will be giving them a heads up of what food is on the table and allow them to plan ahead as to which one they would want to eat. It helps in trimming down long lines and allow for more time for people to eat. You may also see business rack card designs.
Catering Business Promotion Rack Card
Vintage Catering Bakery Rack Card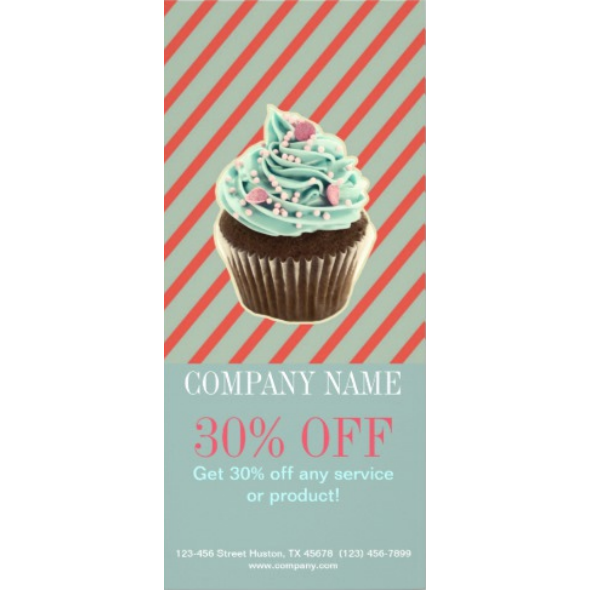 Elegant Catering Rack Card
Dinner Catering Menu Rack Card
General Tips for Designing Your Rack Cards
Rack cards are named as such because they have to fit in a card rack. As such, rack cards have a fixed size. This fixed size only allows for a specific selection of which information you can place. A rack card may not be able to carry the same amount of information that a brochure can, but with the proper design, you will be able to convey any information you need effectively. All the design elements that are found in your rack card, from the pictures to the background color, to the layout, all these things will give your audience an overall view of your business.
1. Augment the design with the proper use of pictures and colors
Traditionally, rack cards will be placed in a card rack along with other rack cards. In order for your rack card to rack as many positive feedback as it can than the other rack cards in the card rack, you must be careful in selecting which color or pictures you are going to use. Select pictures that suit your catering service well. Select those that carry your identity while being able to please the eyes of your audience. Remember, if your rack cards will have a lot of competition and it only takes a few seconds for the audience to judge which to pick up. Make those seconds count. You may also see business rack card templates.
2. Brand your work
As it is true to all promotional materials, your rack card should scream your identity. Even if people will not pick up your rack card, they will still be able to see it. While it takes less money and time to just make a hodgepodge rack card design, doing so will risk confusing your audience. Consistency is key in brand recognition including those of your promotional materials. You may also see InDesign rack card templates.
3. Focus your content
Aside from its overall design, the content found on your rack card should also be consistent. Afterall, the pictures and colors you select for your rack card are used just to get your rack card to the audience's hands. It is the content of your card that is its meat and bones. The message found on it should not be confusing and as such it must deliver only one message. If you want your rack cards to sell and promote a new food item, focus your message around that. As much as possible effectively deliver your message in five words or less. If you cannot do that, try to sharpen and refine your message. You may also see best rack card templates.
4. Fuse the old and the new
Rack cards, and print advertising in general, often find competition with online marketing. However, things do not need to remain that way. Especially not if they are promoting the same thing. Your catering service probably has its own website. If you do, you can use your rack card to direct traffic to your website. You can either place your website's address in the rack cards along with some call to action like "Visit us at (website)" or you can utilize QR codes. You may also see real estate rack card templates.
QR codes are the better option. Not only are they visual, they are also quick to use. With the quick click or scan on the camera, your audience will be whisked away to your business' website and be able to read additional information that your rack card could not carry. Furthermore, QR codes can also help you track how many customers have visited your site, thus providing a good way to monitor the effectiveness of your rack cards. You may also see medical rack card templates.
5. Have a flexible and multipurpose design
When printing rack cards, it is advisable to avail of any promos and incentives that the printing company offers. As such, it will be a smart idea to design your rack cards in a way that they can be multipurpose or flexible. A good rack card design means that it can be used for different purposes and scenarios. For a catering service rack card, you can use the race card as a menu especially if your menu is consistent. You may also see cleaning service rack card templates.
6. Remember your basics
No matter how good you design your rack cards, no matter how striking your photos are or how enticing the promos you are promoting, your rack card will be utterly useless if you cannot provide your business information. Your rack cards main aim is to turn potential customers into paying customers. Enticing them is not enough. You must provide the way for them to become one. This can be your business contact number, website address, email address or a small map of your business location. You may also see daycare rack card templates.
7. Proofread
Last but definitely not the least is to proofread your rack card. Rack cards can be costly to print. It would be a shame if you print the wrong information in your rack cards. Always check and double check before printing to avoid wasting your money and resources. Always check and recheck to make sure that all information is correct and relevant. You would not want to give your potential customer to a rival establishment just because of a number misprint. How can your customers even trust you to serve your food if you cannot even properly do your promotions right. You may also see minimalist rack card templates.
Modern Diner Catering Rack Card
Modern Catering Food Service Rack Card
Conclusion
Just as with other types of rack cards, catering rack cards are mainly used to bring attention to your catering service. As they are both used to promote businesses in the food service industry, catering rack cards may have some parallels with restaurant rack cards. As such, catering and restaurant rack cards make look the same especially in establishments that offer both services. As with all types of rack cards, a rack card's design is crucial in order for it to do its purpose and that purpose is to be read by the audience.