When it comes to gift-giving during the holiday season, creating and sending out personalized Christmas postcards can be a unique and memorable thing to do. After all, postcards are usually just sent out when a person travels to a new place and he or she wishes to send short messages to loved ones along with a quaint scenic image.
Imagine the surprise from your friends, relatives, and colleagues when they receive your Christmas family postcards this holiday season. So if you wish to start this cost-effective yet creative holiday tradition, read the rest of this article as we share numerous tips and guides on how to design your own Christmas postcards.
45+ Christmas Templates in Word, PSD, Google Docs, InDesign, Apple Pages, HTML5, Publisher, Illustrator - START DOWNLOADING
Elements of A Good Christmas Postcard
A postcard can be any piece of paper or cardstock filled with a short message (and postal markings) on one side and either an image, graphic illustration or lettering on the other side. Anyone can create a postcard design by knowing only this definition. However, if you want to make truly captivating and memorable postcards for your family or for your business, then pay attention to the set of design elements or characteristics that we are sharing below.
1. Theme: Whether you are using a postcard template or you are making a postcard design on your own, it is important to make sure that your chosen Christmas postcard design follows a design theme. A theme helps unite all the design and text elements used on the postcard itself. To illustrate, if you want the card recipients to reminisce the old times, you may opt to create retro-themed Christmas postcard.
2. Visual Hierarchy: This refers to the layout or arrangement of all the design and text elements used on your postcard design. There should be an intuitive and unforced visual flow when looking at each design element. To apply a good visual hierarchy in a postcard design, you need to determine what specific design elements (images, text, illustrations, call-to-actions, etc) you want to emphasize and which ones you want the card recipients to see or read first.
3. Mailing Markings: Another essential design characteristic that should be present in a postcard design is its postal or mailing markings. Remember, a postcard is meant to be sent through the mail and the post office will have to mark and/or put a stamp on it. Facilitate this process by including all the necessary mailing markings on your postcard design right before printing them out. Failure to do so may result in your simple Christmas postcards not being processed at the post office.
4. Paper Size and Type: When creating or choosing a Christmas postcard design, you should also consider the type and the size of the paper used for printing your postcards. The thicker and more luxurious the type of paper you choose, the more durable and professional-looking the end result will be. Some countries or states may also have a predetermined postcard paper size so you may also have to consider following them or your postcards will not be sent out on time.
5. Business Branding Elements: This last essential postcard design characteristic best applies to those who are creating business postcards. An effective Christmas postcard for a business is one that subtly adds their brand name, logo, or even a letterhead design on the postcard itself. This small action can help increase brand recall. And from a customer's perspective, any kind of official business marking on a piece of direct mail marketing can help increase the perceived credibility of the brand.
Did you take notes? We hope you did! If not, do not forget that you can always bookmark and refer back to this article when the time comes for you to design or choose your own Christmas postcards.
11+ Christmas Postcard Templates
Take a look at all these Christmas postcard templates that you may use as a base design template this holiday season. All of these templates are fully customizable so you can personalize them according to your preferences.
Christmas Postcard Invitation Template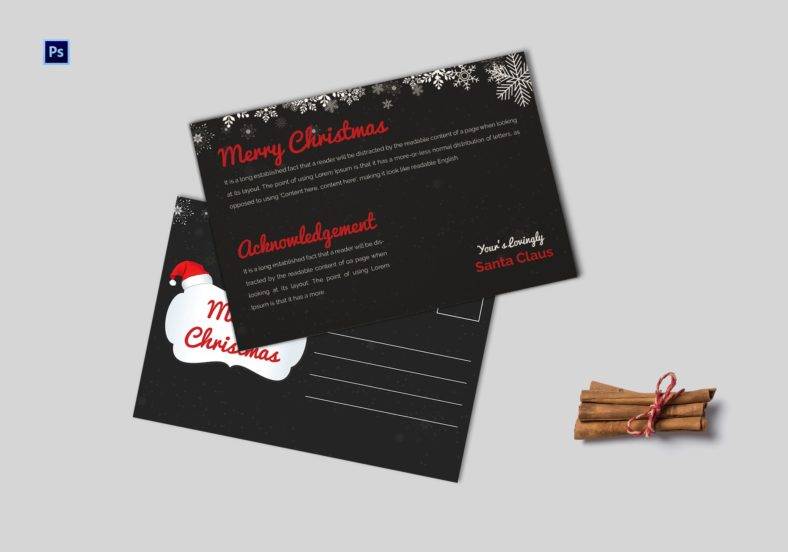 Download Now
Christmas Tree Postcard Template
Download Now
Vintage Christmas Postcard Template
Transparent Christmas Postcard Template
Snowflake Christmas Postcard Template
Simple Christmas Postcard Template
Modern Christmas Postcard Template
Merry Christmas Postcard Template
Creative Christmas Postcard Template
Christmas Party Postcard Template
Chalkboard Christmas Postcard Template
Blank Merry Christmas Postcard Template
Steps to Designing A Good Christmas Postcard
And here it is! Your most-awaited step by step guide on how to create your own Christmas postcard design using any graphic design software. Read and study each step so that you will know how to execute them properly. Read on…
1. Determine what type of Christmas postcard you want to create: Do you need to send out your annual family Christmas postcards? Or do you need to create holiday postcards for your restaurant or business? Asking yourself these questions constitute as the first step in making a good Christmas postcard.
2. Gather all the design and text elements you want to use for the postcard: Download and save all the images, font styles, layout styles, header designs, etc that you want to include in your own postcard design. Save them in one folder so that you can easily retrieve them later on.
3. Open the graphic design software of your choice and start creating: Start creating your own postcard template using any graphic design software program of your choice. You may choose from Adobe Photoshop, Illustrator, InDesign, Microsoft Word, or Microsoft Publisher.
4. Or, use a pre-made printable postcard template: Instead of making your own postcard template, you may use a pre-made printable postcard template. This way, you do not have to create the postcard design from scratch.
5. Finalize the changes: Edit the template design until the end result fits your preferences or design goals. The best Christmas postcard designs are those that you are able to personalize or create following your own inner creative prowess. Check for errors and then save the final design template
6. Print out your Christmas postcards: It's now time to print out your Christmas postcards! Do not settle with having a standard postcard design. Incorporate new printing techniques so that your postcards will look fresh and more unique. Ask your local printer what new printing methods they have.
Types of Christmas Postcards
Christmas postcards may be categorized according to the end goal of your sending out a postcard. Learn what the different holiday postcard types are below:
Christmas Event Postcards: Event postcards for Christmas are those sent out to inform others about an upcoming holiday event. This type of Christmas postcard may also act as an invitation card.
Christmas Invitation Postcards: As its name implies, these are postcards that double as invitations for a Christmas party or event. The Merry Christmas invitation postcard is a good example.
Regular Christmas Postcards: The standard postcard for Christmas is the one contains the traditional greeting or message for family members, friends, and colleagues. This kind of Christmas postcard will usually include a photo of the person or family sending it.
Business Postcards: This type of Christmas postcard is the one sent out by business establishments and companies. Small business postcards may be sent out to current customers as a customer engagement tool or it can also be used to generate new customer leads.
Christmas Postcard Sizes
Most of the Christmas postcard templates included in this article follow the 6 inches by 4 inches printing size. Creators and template end-users may still resize any template of their choice and then follow different printing sizes like the US, A5, or A6 paper sizes.
Christmas Postcard FAQs
What is a Christmas postcard template?
A postcard template is a pre-formatted graphic design file created any kind of editing software like Adobe Photoshop, Illustrator, or even Microsoft Word. This pre-formatted file will contain all the images, font styles, placeholders, layout, text, illustrations, print bleed measurements needed to create a postcard design. And when this postcard template specifically follows a Christmas or holiday theme, it is called a Christmas postcard template.
When is the best time to send out Christmas postcards?
To make sure that your postcards arrive at its recipient's doorstep before Christmas, it is best to send them out at least two to three weeks before Christmas.
What to write in a Christmas postcard?
There is no hard and fast rule when it comes to writing a simple Christmas postcard message. Just keep it short and true to what you feel. Also, for those who are concerned about privacy, remember not to disclose personal identification information on your postcard messages. This includes bank account numbers, social security numbers, and even PINs.
How to print postcards?
For professional quality Christmas postcards, it is best to print them out at your local print shop. You may still achieve high-quality prints using home or office printers but you need to pay special attention to the printing method and type of paper you use. In addition, most postcards are printed on both sides and double-sided printing may be a hassle when using home printers.
All the free and premium Christmas postcard templates embedded within this article can help you quickly and easily make your own simple Christmas presents. Do not feel ashamed with just gifting a simple postcard. Remember, it's the thought that counts. Your family and friends will appreciate whatever you send their way as long as it came from the bottom of your heart.