How much does your dad mean to you? For me, he means everything, and I am very thankful for having him in my life. If you think you feel the same way, then don't hesitate to tell him how you feel. There's always a saying that the more you wait, the greater the risk that you may not have any chance at all, so do it now. You may also see free animated birthday cards.
In addition to that, if your dad is about to celebrate his birthday, you can take advantage of what we have in this article. We have here a collection of dad birthday card design templates that you can download, edit, print, and give to your dad. There are over twenty designs here that you can choose from, we hope you'll be able to find what you need. You may also see birthday templates.
120+ Birthday Templates in Word, PSD, InDesign, Apple Pages, Publisher, Illustrator - START DOWNLOADING
Retro Dad Birthday Card Template
Let your dad know that they are indeed the best in the world with this retro-inspired typographic birthday card template.
Sweet Birthday Message Greeting Card Template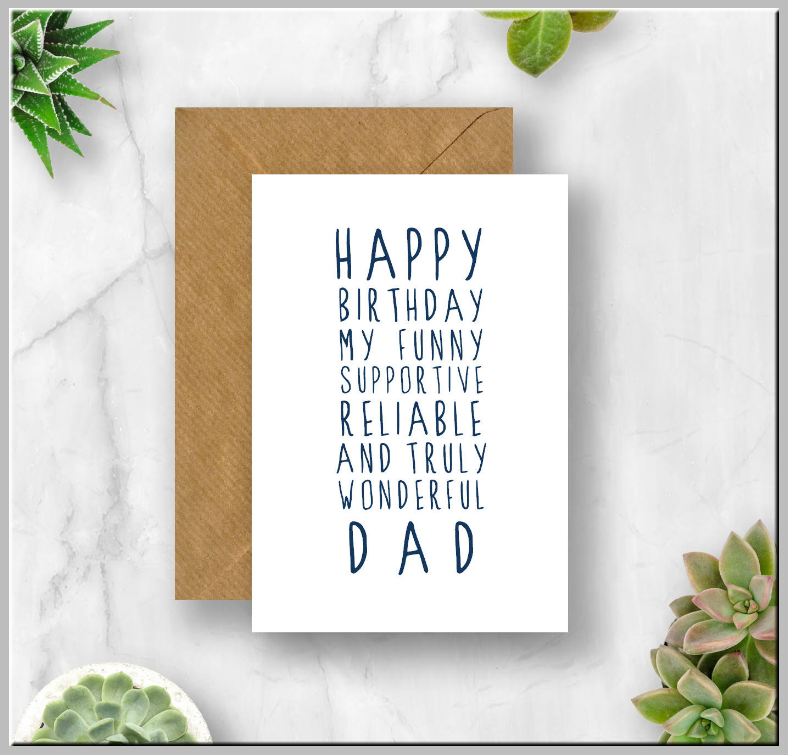 Words will never be enough to show your dad how grateful you are for everything that they've given to you ever since you were born, but you can start that off by using the birthday greeting card template above. On his birthday, you may want to switch roles and provide him with everything he deserves, and we're not even talking about material things. From the day you were born, your dad has given you all the love that you need, and now it's time to repay them with the same amount of love, or probably more. You may also see sample birthday templates.
What Is a Birthday Card?
Basically, a birthday card is a type of greeting card that is given to a person who is celebrating their birthday. But before we dwell more into that, let's define first what a greeting card is. A greeting card is a form of document that contains a message and is either given by hand, sent by mail, or also sent electronically via the internet. And unlike any form of a letter, a greeting card is actually printed on a card stock and contains some images or illustrations.
Greeting cards come in all sorts of shapes, sizes, and colors, and they also are meant for various types of occasions and celebrations. There are greeting cards meant for holidays such as Christmas, Halloween, or Mother's Day, and there are also greeting cards meant to simply convey well wishes and positive vibes. In this article, however, we will be focusing more on greeting cards meant for birthdays.
Now, back to discussing about birthday cards. Just like any other greeting card, these also come in different shapes and sizes, as well as different themes. Some birthday cards are formal or serious, while some also contain a little bit of humor. And in relation to today's digital society, birthday cards also come in electronic form, which means you can now send birthday cards through the internet. But then again, a lot of people still prefer the traditional, handwritten form of birthday cards.
Funny Dad Beer-Day Card Template
Since birthdays are special, they should always call for a celebration no matter how small it may be. Raising the beer mug and making a toast in honor of your dad is a good enough gesture to make his birthday special. Check out the cute artistic card template above.
Ridged Pattern Dad Birthday Card Template
Tell your dad how thankful you are for everything that he has taught you over all these years with this birthday card template, it takes a lot of wisdom when giving advice to someone. Of course, the pre-written message on this template isn't enough to express your gratitude, so make sure to write your own heartfelt message on the inside page of the card.
Best Dad Fathers Day Birthday Card Template
Letter Characters Dad Birthday Card Template
What Are the Types of Greeting Cards?
While you can never go wrong with greeting cards—and they are also the safest choice to give if you can't think of any other thing to give to a person during an occasion—there are actually various types of greeting cards that you can choose from. Previously, we mentioned the different occasions wherein greeting cards are typically used. This time, however, we will be talking about the different forms or styles that you can choose from if you decide on making your own greeting cards. You may also see blank birthday templates.
1. Flat Greeting Cards. From the sound of it, you'll already have an idea as to how this type of greeting card looks. "What you see is what you get"—this greeting card already contains everything that's relevant, from the images down to the message itself, and it could either be found on just one side or both sides of the card stock. The advantage of using this type of greeting card is that they are highly inexpensive, and they can be mailed without the need of an envelope. Flat greeting cards are usually used by people for sharing photos or artwork with the inclusion of a very short message. You may also see sample card templates.
2. Folded Greeting Cards. While we can't really say that this type of greeting card is expensive, but when compared to the flat type, this one is a bit more costly. The reason behind that is because you will need to use a card stock that's twice as big as the one used to make flat greeting cards. Another is that folded greeting cards usually need to be placed inside an envelope before they are given or sent. However, the beauty with folded greeting cards mostly lie in its element of surprise, with the thrill starting from the opening of the envelope to the unfolding of the card. You may also see e-mail birthday cards.
Blue Modern Papa Birthday Card Template
Call him dad, daddy, papa, or for a more formal term, father, but however you call him, he and your mother are indeed the first best friends that you make once you are born, so be sure to treasure that friendship always. This sample birthday card template is very simple, yet it is enough to set the mood on what you want to say to your papa for his birthday.
Daddy Kitty Birthday Card Template
For a more artistic approach, check out this cat-themed birthday card template. Here, it shows a papa cat receiving a flower from his child for his birthday. No matter how simple this gesture is, it does mean a lot to your dad. You may also see printable birthday cards.
Balloon Heads Dad Birthday Card Template
Speaking of artistic, here is another highly creative birthday card template that you can download and use. Another way that you can use this design is you can also take inspiration from its elements, you may want to give your dad a handful of balloons that contain either his image or some face illustrations.
Multipurpose Retro Happy Birthday Card Template
Spanish Dad Birthday Card Template
You don't need to be a Spanish person to be able to use the birthday card template, but if you are unfamiliar with how to say a birthday greeting in Spanish, then allow us to teach you some basics.
Happy birthday — feliz cumpleanos
Best wishes — los mejores deseos
Congratulations — felicidades
You are the best — eres el mejor
Rustic Stamp Dad Birthday Card Template
Simple Handwritten Daddy Birthday Card Template
Emergency Dad Jokes Birthday Card Template
You'll never run out of dad jokes with this funny birthday card. So you're planning to bring out some big laughs from your dad, you may want to use this template to make his birthday card. Or, you may also want to simply download this template to have some dad jokes handy.
Funny Minimalist Dad Birthday Card Template
"Dad, can I have some of this?" or "dad, can I have some of that?", that is something that many dads hear from their children considering that they are indeed the provider in the family. But for a change, you may want to say something different to your dad on his birthday aside from just asking for something. The funny birthday card template above hilariously crushes out part of the phrase and replaces it with something more appropriate for the occasion.
Long Distance Dad Birthday Card Template
The love between a dad and his child knows no boundaries, which means there is absolutely no reason for you not to be able to greet him on his birthday. But if you want to make it even more special for him, you may want to send him a simple gift in the form of a birthday card, and the printable birthday card template above illustrates that scenario accurately.
Cute Penguins Dad Birthday Card Template
Oversized Text Dad Birthday Card Template
As we said earlier, one or two pages isn't enough to express yourself to your dad—to thank him for everything that he has provided, to say sorry for hurting him at times, and to tell how much he means to you. The PSD birthday card template above is able to illustrate that idea by showing that what you need to say to your dad won't fit the provided space on the card. Even if you manage to compress everything on the card, word's will still be insufficient in showing love to your dad. Indeed, action speaks louder than words, don't just say that you love him, show it to him.
Golden World Map Dad Birthday Card Template
Best Dad Handwritten Birthday Card Template
I think we have all encountered a time during our childhood that we were asked by our teacher to list down the best qualities of our parents. On this birthday card template, it allows us to reminisce on that particular activity. The awesome thing about this template is that it allows us to change the text, which means you can change the entries on the list to something that fits appropriately to your own dad. You may also see floral birthday card templates.
Awesome Dad Facts Birthday Card Template
Previously, we have shown you a similar birthday card template that listed down some dad jokes to get your dad to laugh while reading his birthday greeting card. This time, we are showing you a birthday card template that lists down some awesome—and funny—facts about being a dad. Who knows? There might be things here that can help you get to know your dad a lot more. Or for the dads who are reading this, they may also learn a few additional facts about being a dad.
Daddy Cool Birthday Greeting Card Template
What can you say about the birthday card templates that you have just seen? Was any of it able to capture your interests? We hope so because it would be a waste for these beautiful and creative templates not to be used. While you may agree that these templates are indeed visually attractive, we're sure that you may have some reservations whether or not these templates are indeed worth downloading. And that is why we will try to shed some light on that matter.
Just like any other template that you can download off the internet, these ones require a few changes here and there before you can actually have them printed. Why, you say? It's because these templates are only halfway done, and you will need to do some modifications and final touches in order to pull off that birthday card that you want to give to your dad. But that leads us to another question, "To what extent are you allowed to make modifications"? These templates are fully editable, and as long as you have the editing software needed for the format, you will have absolutely no problems during the editing phase, guaranteed. You may also see funny happy birthday cards.
Since you have already seen with your own eyes how astounding the quality of these birthday card templates are, which may leave you asking whether or not these templates will cost you a fortune to download. Fortunately, they don't. These templates have been priced very reasonably so you could download them and not break your budget, though we also do have some free birthday card templates that you might want to check out. Are you still wondering if these templates are indeed worth downloading? Or are you now convinced that they are? If you already know how to create homemade birthday cards, download a template now so you'll have something to give to your dad on his birthday.