In an engagement, there are two souls that are about to be bound by a symbol of their love. Here's a scene for you to imagine. One, with racing thoughts and sweaty palms, bending with one knee on the ground, professing the burning desire to be together for a lifetime. And the other, initially clueless, suddenly lets out tears of overwhelming emotions from the heartfelt confession that was just made. You may also see Invitation Templates.
And, as the finishing act, the one on bended knees pops the most nerve-wracking question while holding the case with a beautiful ring, "will you marry me?"  And the other, not a moment too soon, answers it with a resounding "yes!" The surrounding crowd goes wild as the couple tightly embraces each other, tears in their eyes as they know they will soon be heading to a married life. You may also like engagement ceremony invitations.
As the couple in the scene, although you know that it isn't necessary, holding an engagement party would still be a great idea to spend time with your family and friends as you celebrate your engagement. And as with every other event, an invitation card is needed. With busy times ahead, choosing a design for the invitation card could take up much of your time. So, to help you save time for other tasks in hand, we will show you a list of stunningly gorgeous designs that will surely fit with any of the themes that you set for your engagement party. Check out the list below!
Engagement Templates in Word, PSD, InDesign, Apple Pages, Publisher, Apple Numbers, Illustrator - START DOWNLOADING
Engagement Invitation Template
Elegant Engagement Invitation Template
Engagement Invitation Template
Engagement Invitation Card Template
Free Elegant Engagement Invitation Card Template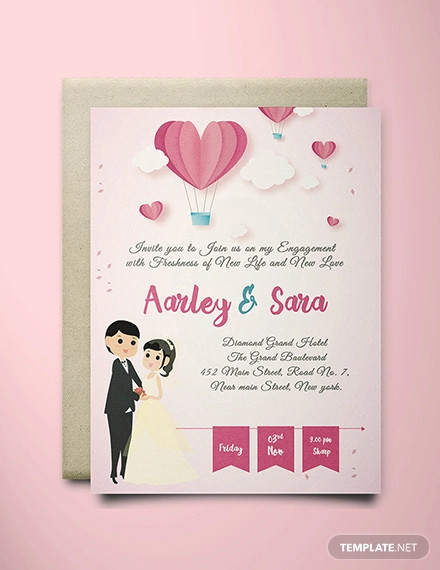 Simple Engagement Invitation Card Template
Glitter Engagement Invitation Card Template
BBQ Engagement Invitation Card Template
Why should you use these engagement invitation card templates?
1. They are editable. The templates that we have provided are all in digital format, so expect that you can tinker with their designs. You can freely change any element that you want as the design templates are fully customizable. With a photo editing software program, you can put your personal touch on any of these templates and transform them into the design that you prefer the most. Make sure that the final design will reflect both your personality and character so people will easily recognize that the announcement cards are personally designed by you.
2. They are downloadable. The designs for the templates are made by graphic artists and are shared with the world so they can be downloaded and/or bought by those who might need some help in their designs. You can download similar templates from graphic-centric websites. Generally, premium templates come with a price, but they are not always expensive. And, if you are on a tight budget, there are other sites that provide templates that you can freely download.
3. The quality is top-notch. Premium templates are not only associated with being highly priced but also with having excellent quality. Since you are paying for these templates, expect that their quality is the standard or even more than that. There are templates that might go over your budget, but they are priced that way for a reason. You may also see free engagement invitations.
4. They offer an array of impressive designs. Not all of us are creative, and even if some of us are, there will often come a time that we run out of ideas to use for the designs. These templates are ready-to-use in case that moment comes. Or, if you insist on creating your own, you can use these templates as inspiration for your work. This way, it will be less stressful for you in choosing a design or creating one. You may also see engagement thank you cards.
Floral Engagement Invitation Card Template
Blue Watercolor Engagement Invitation Card
Elegant Engagement Invitation Card Template
Rustic Engagement Invitation Card Template
Clean Engagement Invitation Card Template
Neat Engagement Invitation Card Template
Rose Gold Engagement Invitation Card Template
Classic Engagement Invitation Card Template
Steps on Planning for Your Engagement Party
1. Who will be the host?
Traditionally, the parents of the bride are the host. But in recent years, it is appropriate for anyone close to the couple to take on that role or collaboration of several people, say both sets of parents of the couple. Also, you can have more than one engagement party hosted by different people. So, there is no need to worry about wanting to have a separate formal gathering for your family and a casual one for your friends. Because let's be real, these two groups may be able to get unified for a single event but the vibe that each group has is different. The way you act with each of the group is the embodiment of light and dark.
2. Set a date
The date of the event will depend on how long your engagement is. You might want to throw the party after weeks or months before your wedding. While it may be ideal to break out the news with your family on an intimate and impromptu gathering over the weekend, don't fret over having an all-out affair the first month. Give yourself some time to breathe and absorb everything that has happened. You are engaged now, take the time to revel in it before you jump into all the planning for your first party. Also, waiting for at least a month will give you time to think about the guest list size, location, and concept of the wedding, which will help you decide on the type of event you want for your engagement party. You may also like engagement invitations.
3. Determine the budget
This can be a pain in the head as there are a lot of things that you have to consider before allocating your money for it. Even if you (or anyone who is hosting) are planning to have a low-key event, budgeting would still be a great idea as you will want to have a sense of what's realistic to spend. It will help you narrow down your choices like which venue you would like to have it, how many people you are going to invite, and what food you want to serve on the event. Also, this will give you a chance to practice crunching the numbers before the planning for the wedding. This may be stressful, but it's important that you do it to ensure that everything goes smoothly.
4. Choose the venue
The home of you or your fiancé or a restaurant is a classic choice for the event, but you don't have to limit your choices to those two. Any place can be fair game. The venue will depend on the theme of the event. If you want to have a beach party, then the beach would be the most obvious choice. If you opt to have an atmosphere full of art and beauty, then you could have an art gallery for the venue. On the other side of the spectrum, a formal event would ideally be in a hotel's ballroom or rooftop, or a swanky country club. The choices are endless. Of course, other than the theme of the event, you have to first consider the budget. Talk this out with your fiancé and carefully plan for the venue.
Another suggestion for the venue is to have it in the place where you had spent a lot of time with. Reliving the memories that you've had at that certain place will certainly make the event more special. Also, it's the perfect place that you can share with your family and friends. You can tell stories about the adventures that you've had and share the reason why that place will always have a room in your heart. You may also like engagement invitation templates.
5. Create the guest list
There are no rules when it comes to planning for your engagement party, except only one: The guest that you invited on your engagement party should also be invited on your wedding day. This means that you should carefully think about the size of the guest list of your wedding before you proceed to the guest list of your engagement party. You wouldn't want to have a 100-person engagement party and leave out the rest when you are planning an intimate 50-person wedding. If you are still unsure of your guest list, just keep the circle small like inviting your family and closest friends to make sure you avoid breaking other people's hearts later on.
Fun Engagement Invitation Card Template
Cute Engagement Invitation Card Template
Cerulean Engagement Invitation Card
6. Send invitations ahead of time
Just like the venue, the invitation should be in line with the theme of the event that you are planning. A formal event would require a sleek or classy invitation card design. A casual, more laid-back vibe will fit a hipster, retro, or simple design. Send the invitation ahead of time, like a month before the actual day of the event. It gives your guests ample time to clear their schedule on the given date, especially for those who are coming from out of town. There's no requirement for a formal save-the-date. However, once you've set the date, it's a great idea to tell your visitors by word of mouth before you send the formal invites.
7. Decide on the menu
You certainly don't need to serve a five-course sit-down dinner with free drinks (unless you need to), but there should definitely be something to eat and drink. Anything from passed tidbits or tasting menu stations to an eat-when-you-need barbecue will work. In case you're not serving a full course, you should pick a period in between meals and make it clear on the sample invitation so your visitors will be informed on what to expect on the event. For instance: "Join us in celebrating Michelle and Michael's engagement with treats and champagne." People will adore the possibility of an afternoon gathering with a chip-and-dip bar and margaritas or a casual brunch omelet station and mimosas. Another though is to add some personalization to the food and drink selection by highlighting food from one of your extraordinary dates or adventures, such as sushi rolls and sake-tinis for a Japanese-themed menu.
8. Pick your decorations
This will depend on the theme that you have chosen. You can go all-out with it if the budget allows, but a subtle and simple design will already be enough. The style and colors of your engagement party don't necessarily have to match with that of your wedding day. When in doubt, keep things simple. You can hire florists to make them do some floral arrangements. Or, if you want it to be more personalized, you can do some do-it-yourself (DIY) too but it will definitely eat up a lot of your time, though.
9. Come up with a strategy for the gifts
Compared to the wedding or bridal shower, engagement parties don't necessarily require guests to bring gifts. But there's always the chance that you'll receive anyway. So, if you are hoping to receive gifts on your engagement party, you need to come up with a strategy for the gifts. You can opt to make the guests donate the money that they buy for the gifts to a chosen charity. Politely state that on your invitation card. Or, if the guests do end up with a gift, keep it secure and hidden in a discreet place so those who came empty-handed will not feel uncomfortable for not bringing one.
10. Ask for some help
Some couples go beyond the ordinary and hire photographers and event coordinators for the engagement party. You can do so if the budget allows. But, you could also opt to ask help for your closes friends and relatives to help you out with the event. You can ask them to help with accommodating the guests, the arrangement of the decorations, the preparation for the food, and operate for the music. Figure it ahead of time so you would know which person is good at a certain task and who wouldn't mind lending you a hand. You may also see engagement greeting cards.
11. Dress for the event!
Your first event as a to-be-wed couple will definitely need some special outfits! In choosing your outfit, keep in mind the setting of the event. For the bride-to-be, aside from the obvious choice, select something that won't outdo your wedding look but is something special enough that you will still be the star of the event. And for the groom-to-be, if you don't have a suit and tie, you should match your partner's style of outfit. You may also see engagement dinner invitations.
Delicate Wreath Engagement Invitation Card Template
Fiesta Engagement Invitation Card Template
Chalkboard Engagement Invitation Card Template
Have you found the right one?
The wedding bells can already be heard at a distance. You can feel that it's getting nearer as it gets louder. It's going to be a fun ride from this point forward. Sure, there will be a few setbacks and arguments along the way. But, as a couple who has conquered everything through the tough times, these trivial matters won't be a threat to your most awaited day. Don't stress out too much about your planning. Remember, it's just a stage before the actual wedding. Try to enjoy and loosen up a bit. The engagement party is where you need to have fun with your family and closest friends. You may also see engagement album templates.
The designs that we've handpicked for you will certainly be overwhelming at first. They are all beautiful, stylish, and up-to-date with the latest trends that you will definitely have a difficult but great time in choosing the final design. As excited as you are with the engagement party, you should slow down and take your time in carefully choosing the right one. If you followed the tips, then you would know that you still have a month to plan out for your engagement party. If you are still unsure of which design to go for, then you can just come back to this article. Bookmark this site and take another time in going over through each design. Cheers to your engagement and we wish you the best of luck! You may also see surprise engagement party invitations.