Being a barber is more than just cutting hair and shaving, it involves knowing what style is best for your customers depending on the shape of their face. If you have that eye and skill, then you probably should make a name for yourself starting with handing out business cards made using our templates.
5 Steps to Create a Barber Business Card
Step 1: Decide on a type of business card
Business cards come in various sizes which include but are not limited to the typographic type, the social media type, and the classic type. Before you proceed to create your business card, decide first on the type that you wish to use and after choosing one, be sure to stick with it.
Step 2: Formulate the content and design
Depending on the type that you have chosen, you should then formulate what information you wish to include on your business card design. Other than that, you should also start formulating the design and you may even be allowed to gather ideas from business cards of successful companies and entrepreneurs.
Step 3: Search for and download a business card template
As mentioned in the introduction, this article houses some downloadable templates that you can use and we've got over ten of them below for you to choose from. Simply look for the particular business card template that works for you, click on the download button, and start adding the content and making the necessary changes.
Step 4: Get the design printed
After finalizing your barber business card design, start printing copies of it. Choose between the 100 lb. gloss cover, the 14 point card stock, or the 16 point card stock when printing your business cards, these three types of paper stock are just some of the most commonly used ones.
Step 5: Cut out the cards according to the desired size
And after printing the design on a paper or card stock, you will then need to cut them out according to your desired size. When cutting out your cards, just make sure to use a proper paper or card cutter in order to achieve smooth and refined edges.
10+ Barber Business Card Templates
1. Barber Business Card Format
Download
Here's a barber business card design template that actually doesn't require a lot of explaining since it already covers all the necessary details. The front side of the card contains symbols representing the individual and their professional while the back contains their name and all their contact information.
2. Black Barber Business Card Layout
Download
Here's another purely minimal business card template that you might find interesting as well. This template only involves text and a simple line art over a black background. The simple layout makes this template highly versatile, and the dark theme makes it less glaring and very easy on the eyes.
3. Vintage Barber Business Card Design
Download
Check out the pattern on the colorful business card template above, it is purely inspired by the barber's pole which serves as a sign for barber shops. Even at first glance, you'll easily be able to determine that this business card is used to represent barbers which makes this template a wonderful choice.
4. Creative Barber Business Card Example
Download
Here's another barber's business card template that incorporates the barber's pole onto the design's background. However, instead of the pattern extending towards the back side of the card, it only covers the front side. However, the contrasting look of the back side makes the textual elements clearer and easier to read.
5. Striped Barber Business Card Template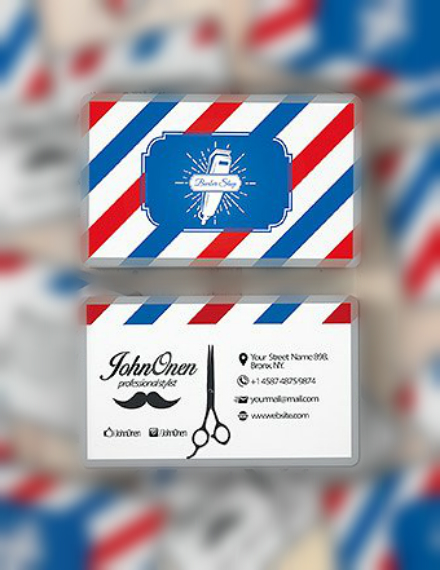 Download
Here's another barber pole-inspired business card template that you can use to represent yourself or your establishment. According to history, the pattern has connections to bloodletting wherein the red, blue, and white stripes represent blood, veins, and bandages, respectively. The reason behind this is because barbers back then were qualified to do surgical procedures too.
6. Script Barber Business Card Sample
Download
If you're feeling stylish and you want your text to be clearly visible on the design, here's an excellent barber business card template that you can use. Even with the presence of a background image, the custom typography on this template still manages to stand out and even helps to complement the whole design.
7. Rustic Barber Business Card Sample
Download
Aside from the barber's pole making yet another appearance on this vintage business card template, there are also other elements present on the design which are all related to the business. These elements include a pair of hair scissors and a pair of fine tooth combs placed behind the pole and an emblem.
8. Golden Cutter Barber Business Card
Download
Make your customer's experience "golden" when they avail of your business' services and do it non-verbally by using the business card template above. Another great feature of this template is its color scheme, wherein although it only uses two colors, they effectively complement each other which makes the entire design visually attractive.
9. Creative Cuts Barber Business Card
Download
Take a look at the portrait-oriented business card template above, it makes very effective use of the image's negative spaces for the content. Although this simple business card template only uses a few elements, the way they are being arranged on the layout is indeed able to make up for it.
10. Senior Barber Business Card Example
Download
If you wish to include your photo on the business card's layout, do it the non-conventional way. The template above will teach you how you can pull it off which actually doesn't require much, just make sure to use at least a portrait image of yourself.
11. Vertical Barber Business Card Template
Download
The business card design template above actually allows you to choose between the two different designs, although you may also be allowed to use both if you're planning to make dual-sided business cards. Whichever suits you, always remember to leave enough space for your name and your contact information.