In a world that is overrun by competition, minimalism should not make sense, yet, it does. Minimalist advertising removes all the fluff and pizzazz that is common to adverts and campaigns. Minimalism leaves only the barest essential property of a product as its features and uses those properties for the marketing. It should not work and yet again, it does. Just look at Apple. They built a company based on this philosophy. Minimalism is the true realization of "Less is more." You may also see Card Templates.
One of the basic features that a rack card should have in order for it to be effective is to be unique. To do this, rack card designers often employ high impact graphics to call on possible customers and pick the said card. Utilizing a minimalist design to a rack card should not work right? Wrong. Just as in any marketing channels, rack cards too can benefit from minimalist design. If everyone is calling for attention, trying to be unique, uniqueness loses its meaning. To quote the villain Syndrome "And when everyone's super, no-one will be." In a rack of cards flaunting many unique features, a card bearing the least amount or no features might be the most unique feature of them all.
Creative Agency Rack Card Template
Marketing Agency Rack Card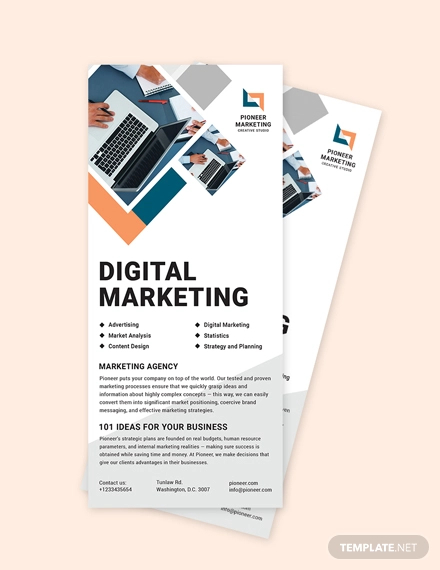 Advertising Consultant Rack Card
Food Catering Rack Card Template
Royal Resort Rack Card Template
Catering Menu Rack Card Template
Salon Rack Card Template
Advertising Agency Rack Card
Coffee Shop Rack Card Template
Spa Rack Card Template
Coffee Shop Advertisement Rack Card
Nail Salon Rack Card Template
Catering Rack Card Template
Minimalist Rack Card Template
Charcoal Gray Elegant Minimalist Monogram Logo Rack Card
Minimalism
Minimalism began its roots as an art movement that began after the Second World War. Postwar western art, more specifically American visual arts of the years the 1960s and early 1970s are some of the earliest minimalist art. Minimalist artists like Donald Judd and John McCracken sought to focus on the basic geometric shapes, lines and the relationship between art and shape. It aims for simplicity over complexity. Though the movement ended in the late 1960s, the minimalist philosophy continues to have an impact on other creative fields such as music, writing, filmmaking, and advertising. Companies like Volkswagen, Apple and Ikea built their identity around the philosophy of minimalism.
Why Minimalist Card Design Works
It is reader-friendly – With a limited space, a rack card needs to deliver the most message with the use of fewest space. This information can get lost if too much graphics and images are crammed within the 4 inches by 9 inches that the most common rack cards have. Applying a minimalist design to your rack card's design can allow the information to breathe. It is also easier on the eyes. Employing a minimalist design makes your rack card stylish, effective, and straight to the point.
It is simple and clean – White space is essential to the minimalist approach. With the integral use of white space, the card design looks cleaner and spacious. That's because they are. The white space also works well with other design elements. A great minimalist design can highlight other features of the card such as the text and the few graphics in it. Not only will the bigger picture become more prominent, it can also look better.
It is faster to finish – With fewer elements means a fewer hassle. Which means minimalist design can be finished faster. Often times when a design has too much going for it, its elements will begin to clash. What little harmony the design has begun to break. Which means, there will be more time needed to work on a single design.
Medical Rack Card Template
Real Estate Rack Card Template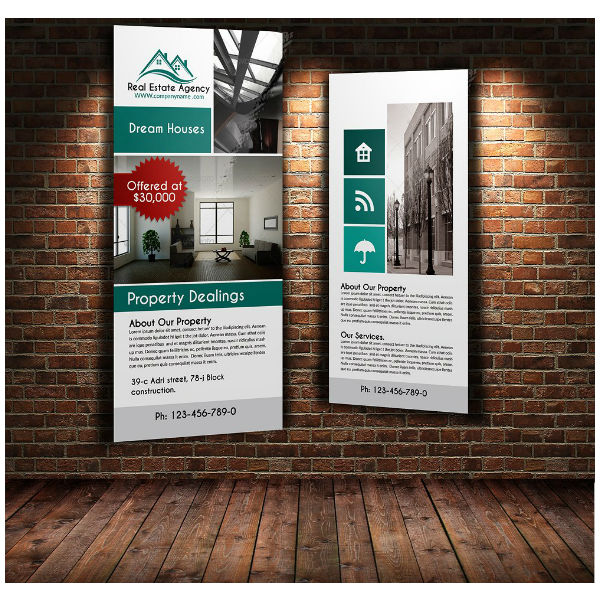 Newborn Rack Card Template
Cancer Charity DL Card Template
Benefits of Minimalist Design
Memorable – Minimalist design can capture attention. In a world so used to being bombarded with obnoxious messages of "BUY ME!", "TAKE ME!!", and "YOU ARE THE ONE BILLIONTH VISITOR!!!!", just a simple "!" could deliver the most impact. Cards that carry a minimal design can bring with it a refreshing vibe to its audience. Nothing is more memorable than refreshing.
Focused Message – As a side effect of the "zero clutter and barebones only" philosophy of the minimalist design, the intended message of your item becomes clearer. With fewer things to look at, the more time the reader has to soak in the message. The fewer graphics you put, the more information you can put across.
Creative – Adding limitations to what you can do allows your mind to be more creative. Limitations may be the last thing anyone wants from creating a design but more often than not, working with limitations is what breeds creative design. With a more creative design, comes a more unique object. Legend has it that Ernest Hemingway once wrote a short story using only six words. Here is how it goes: "For sale: baby shoes, never worn."
With just six words, he is able to deliver a memorable story with a clear message. He did it in such a creative way too. This is the best thing that a minimalist design does. Present an object in a simple manner that makes it unique, clear and memorable. If applied to print advertising like in the printing of card racks, minimalist design will give the same impression to your company: catchy, clear and creative.
Rack Card for Photographers
Minimalist Rack Card Printable
Golf Tournament Rack Card Template
Web Design Service Rack Card Template
Cosmetic DL Rack Card Template
DL / Rack Card – Wine Bar
Considerations
The minimalist design is not the cure-all design that is to end all designs. Rather it is just one kind of design that your card rack can take shape. Sometimes, a minimalist card rack design may fail to address the design standards of the product you need to advertise. For services that deal with a lot of graphics and photographs, the minimalist design might fail to deliver the adequate message that it needs to deliver. Like in determining the best strategies to use, the minimalist design will need to be tested, especially if there is already an established customer base before one can consider that it is the best design to go with. However, the overall design aesthetic is not the only useful thing one can get of value from minimalism. The philosophy that the minimalist design follows can also be used for other types of design to great effect.