Need a more cost-effective way to attract new customers and at the same time promote current customer loyalty? If yes, then may we suggest the use of postcards and for your business to start its own direct mail marketing campaign.
Postcards are not a new invention. They have been around since the 1800s and have been used for various personal and marketing purposes. In the digital age, postcards offer a refreshing take on print and direct mail advertising. That is why if you are interested in creating your own postcard designs either for business or for personal use, continue reading the rest of this article.
Elements of A Good Postcard
Homeowners are inundated with a lot of marketing calls and mailers each day. So if you are a business owner, marketer, or just someone who wants to create a high-impact postcard, learning about the different characteristics or elements of a good classic postcard design will help you achieve your goals.
Shared below are the top five elements needed to create a good postcard design. Read on…
1. Design Relevance: Perhaps the most important element that makes for a good postcard design is its relevance to the card's purpose or end goal. To illustrate, if you are creating a direct mail postcard for your pet clinic, it follows that the pet clinic postcards only contain animal-themed design elements. Think about this when creating or choosing a postcard design template.
2. Lettering Style: The next characteristic that helps make a good postcard is its typography design. Choose typefaces and font styles according to the kind of story or message you want your postcards to tell. Arrange them in a way that makes sense yet still appealing. Also, do not forget to format all the postal markings well.
3. Paper Type: The type of paper used for a postcard is another element that helps transform it into an effective marketing tool. Choose thick paper or cardstock so that the mailer can endure the postal delivery process. The high-quality paper also makes it possible for more advanced inks and printing techniques for your desired postcard.
4. Branding Design Elements: For those who are creating marketing mailers in the form of postcards, do not forget to include your brand's branding design elements like your business logo, wordmark, trademark, and letterhead designs. Doing this seemingly minor thing can help increase brand recall. A tip: Do not overdo adding your business logo or name on the postcard that it will take away the overall creative appeal of the card itself.
5. Color Scheme: Another important element that helps transform a regular postcard template design into something remarkable is the intelligent use of color. Pick a color combination that will help you tell a story more clearly. For example, if you are launching a holiday event for your retail store, choose a holiday postcard design that features Christmas colors like red, blue, and red.
Study each design characteristic or element and how they interact with each other to help make a compelling postcard design. To see more postcard design inspiration, check out the list of embedded free and premium postcard templates below.
11+ Postcard Templates in Illustrator
Shown below are more than ten examples of postcard templates in Illustrator file format. Each template is fully editable using Adobe Illustrator so make sure that you have a compatible software program installed on your computer before editing it.
Beach Wedding Post Card Template
Download Now
Restaurant Postcard Template in Illustrator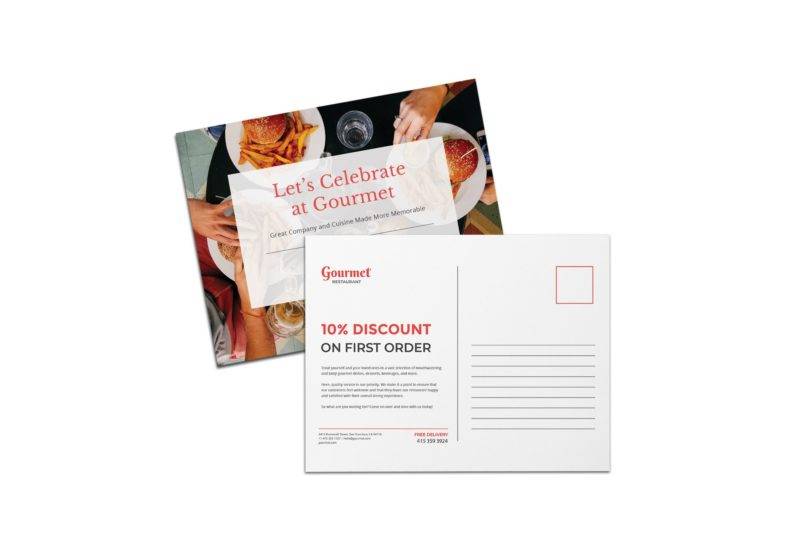 Download Now
Blank Modern Postcard Template
Blank Index Postcard Template
Charter School Postcard Template
Free Event Postcard Template
Holiday Postcard Template
Free Kid's Postcard Template
Pet Clinic Postcard Template
Simple Printable Postcard Template
Details
Size: 6 inches by 4 inches
Simple Floral Postcard Template
Simple Postcard Template
Steps to Designing a Good Postcard in Adobe Illustrator
Creating plain postcards can be such a bore for both you and your potential customers. That is why business owners need to make sure that their own postcards feature captivating and useful designs to get more people to read and actually take action.
And to make things easier for you, we have prepared a step by step guide on how to craft good postcard designs using Adobe Illustrator. Read and study each step below.
1. Compile all images, font styles, and illustrations needed for your postcard design: The first step for any graphic design project is to create a mood board for ideal postcard design. Once you have done so, it will be relatively easier on what design direction to take. Compile all the image, font, and text files that you want to use for your own postcard design so that they will be easy to add to your template later on.
2. Create a draft ad copy for the content of your postcard: Next, it is time to write or prepare a draft of the content of your postcard. If you are creating a business marketing postcard, make sure that your ad copy is persuasive and truthful.
3. Choose a postcard layout style: After that, it is time to decide on a postcard layout style. Do this before you actually create the template digital so that you will not have to think about the structure of the postcard anymore. By doing this, you can focus on other more important aspects of editing the design template later on.
4. Begin editing using Adobe Illustrator or other compatible graphic design software: Once all the preparatory steps are addressed, it is now time to open Adobe Illustrator (or any compatible graphic design software tool). Open a blank card template and the start arranging all the design elements according to your preferred layout style.
5. Add or create your business' branding elements: Also, do not forget to add your own organization's or your business' branding design elements. Position your business trademark, logo, wordmark, or professional letterhead designs according to your preference but without affecting the overall look of the postcard.
6. Evaluate the template for inconsistencies: After that, it is now time to check your postcard template design for any spelling errors, grammar lapses, or image issues. Make sure that all the images have high resolution so that they will be printed well.
7. Save the final template file: Next, it is time to save your postcard template design on your computer or using a flash drive. Another option is to send the entire template file to your own email address or to the cloud and retrieve it later on.
8 Start printing out the template: The penultimate step is, of course, to start printing out your postcard Illustrator template. If you are looking to print only a few postcards, you may use your home or office printer. But if you want higher-quality prints or if you want to use advanced printing techniques, then perhaps it is best to take your postcard template file to a professional print shop and have it printed there.
9. You may now begin sending out the postcards: The last step is to start sending out your postcards. Make sure that you have a legally obtained list of the addresses of any potential customers and start mailing the postcards. And for those who want a more reliable way to send out their postcards, you may use a premium courier service instead.
Learning all these steps can definitely help you create more compelling postcards. Use all the tips listed above and combine them with the key elements to make even more effective business and corporate postcards.
Types of Postcards
Postcards may be categorized according to their end purpose. Listed below are the general types of postcards according to this classification system.
Business Postcards
Marketing Postcards
Wedding Postcards
Postcard Sizes
The standard postcard printing size is 6 inches by 4 inches. Postcard template end-users may still choose a different print size by resizing the template size before printing it out.
Postcard FAQs
What is deltiology?
Deltiology is the study and the collection of postcards.
What is a postcard template in Illustrator?
A postcard template in Illustrator is a pre-formatted digital graphic design file created using Adobe Illustrator. It contains all the text and graphic design elements needed to create a digital postcard template design.
What to write in a postcard?
Traditional postcards will include a short message, an image or illustration printed on one side, and the recipient's address. But for those who are creating a business postcard, the short message should be replaced with a marketing offer, advance, or a call to action.
What is the difference between a postcard and postal card?
A postcard is a rectangular-shaped piece of thick paper or cardstock. It usually sent through the mail without an envelope. And it contains a short personal or marketing message. On the other hand, a postal card works just like a postcard. Their main difference lies in the fact that postal cards will already contain a pre-printed mailing or stamp markings on them. The latter is usually available for sale through post offices.
In the digital age, postcards are not only used for sending short personal messages and photos. Today, if you want to set your business apart from the crowd, using postcards as part of your direct mail marketing plan is only the beginning. Combine it with other marketing strategies to see more desirable results for your business or organization.