Gift cards can prove to be a profitable yet uncommon marketing strategy in the food and dining industry. Restaurants can use them both to entice more customers while also effectively making sure that these customers get to spend money on their establishment. If you intend to apply this business strategy for your own restaurant, this article will be useful for you and your business.
In addition to information on how to use gift cards for your business, we have also provided various restaurant gift card templates that anyone may download and use.
663+ Restaurant Templates in PDF, Word, Excel, PSD, Google Docs, PowerPoint, InDesign, Apple Pages, Google Sheets, Publisher, Apple Numbers, Illustrator, Apple Keynote, Google Slides, HTML5 - START DOWNLOADING
What are gift cards?
Gift cards are pre-paid monetary value stored in a small printed card. These cards are usually issued by banking institutions and used for cashless transactions. But today, gift cards can now be issued by any business establishment that wishes their customers to establish a line of credit with their restaurant.
When printable gift cards are used by restaurants, they are usually the ones who will regulate the rules in the issuance and use of these cards. Some restaurant chains and those owned by the same parent company can benefit from using gift cards if they use them as part of their customer loyalty program.
Different restaurant gift card templates
Embedded below are fifteen examples of restaurant gift card templates. They all are pre-formatted templates that will allow anyone to easily customize and print out the gift card template design of their choice. In addition, all these printable templates are downloadable in either PDF, PSD, or EPS file formats. Read on.
2 in 1 Restaurant Gift Card Template
If you are running a burger and sandwich joint, you will like the 2 in 1 Restaurant Gift Card Template shown above. As its name suggests, this card template can work both as a gift card and as a gift voucher. This PSD template prints out on thick paper measuring 8.5 inches by 3.5 inches.
What is great about this template is that it can also be used by other businesses. The template is fully customizable so may insert and/or replace the food icons and pictures with an image suiting your own business.
When customizing this template, do not forget to add your restaurant's social media icons and URL. This can serve as a way for customers to contact you online.
Burger Restaurant Gift Card Template
Clean Restaurant Menu Gift Card Template
For those who want to have a clean and simple gift card design, try out the Clean Restaurant Menu Gift Card Template featured above. This restaurant menu gift card template is editable in organized layers. You may easily change the color scheme, typefaces, and font sizes used in the template. Downloading this template also gives you access to two PSD template files (the front and back portion of the template).
This best gift card template prints out on cardstock or paper measuring 8.3 inches by 3.9 inches (including print bleed). It follows the CMYK color model, so you are assured that the template colors will print out well.
Tip: The font styles used in this template are free fonts so you will need to download and install them separately before editing your purchased template.
Colorful Gift Card Voucher Template
Choose the Colorful Gift Card Voucher Template (embedded above) if you are operating a restaurant or dining establishment that follows a cheerful and vibrant theme. This is a vector illustration template so make sure that you have Adobe Illustrator (or any similar vector image editing software) installed in your computer before downloading the template.
Fast Food Gift Card Template
Floral Restaurant Gift Card Template
Geometric Restaurant Gift Card Template
The Geometric Restaurant Gift Card Template (shown above) works well for restaurants that wish to maintain a professional and refined image to their customers. This template design will work well for fine dining and modern-themed restaurants.
This PSD restaurant template measures 8.5 inches by 4 inches with a pre-formatted printing bleed area of 0.25 inches. It also follows the CMYK color model and has a 300 DPI resolution. Editing this template is also made easier since all layers are organized into smart objects. You may edit the template using their Adobe Photoshop or Adobe Illustrator.
Tip: When customizing this gift card template, choose a color palette that either complements or is similar to your restaurant's official color motif. Doing this will help reestablish your restaurant's branding identity.
Large Restaurant Gift Card Template
If you want a larger gift card template, the Large Restaurant Gift Card Template is shown above is the one for you. This gift card template works well for any kind of restaurant since you can easily add images that depict your restaurant's menu list. This gift card template may also work well as a restaurant takeaway menu.
With this gift card design template, you may choose between two color variations (orange and black). The template best prints out on cardstock measuring 3.25 inches by 5.25 inches. When customizing this template, remember that you may add a few food menu items in the template design. Also, do not forget to include your restaurant's contact information like a home delivery number, address, and website links.
Multipurpose Restaurant Gift Card Template
Why use gift cards for your restaurant?
1. To attract more customers
As is the nature of gifts, gift cards are meant to be given away as presents. So if you intend to use gift cards for your restaurant, you can market them as a way for customers to share the dining experience at your particular restaurant. It is a win-win situation since another customer is basically paying for the entire meal experience and if the gift card recipient likes your restaurant's food, they are more likely to return as customers.
2. To provide alternative payment options for customers
Gift cards can also be used as a form of cashless payment whether a customer purchases a gift card for another person or for his or her personal use. Today, a lot of retail establishments already allow payments using credit and debit cards. So, if you want to tap into this particular market and make sure that the payment process is easier and more convenient for customers, you can explore the use of gift cards for your restaurant.
3. To stay competitive
As mentioned earlier, almost all retail and dining establishments now accept one form of cashless payment or another. If your competitors are offering this service, you should also consider having it at your restaurant. By adapting to these changes in payment options, you make your restaurant business more competitive while staying at the forefront of the minds of customers who prefer cashless payments.
4. As restaurant advertising
Gift cards can be created by printing on thick cardstock or PVC laminates. Therefore, you will need to design these gift cards to make sure that they will reflect the name of your restaurant and what the card is for. This also presents an opportunity for restaurateurs to use these printed cards as a form of restaurant advertisement.
You may give away or sell your restaurant gift cards to customers and when they give these cards to friends or colleagues, the gift card will serve as an informational and marketing tool that will help entice them to try out your restaurant's food.
5. They are cost-effective
Another reason why offering gift cards for your restaurant is a good idea is that they can help boost positive cash flow without having to alter much of your restaurant's marketing and operating plans. To illustrate, gift cards may be quickly customized and printed out from gift card templates. These pre-made templates usually cost less than hiring a professional graphic designer to create a card template. Restaurants may then sell the cards to customers. Customers are then able to buy and enjoy restaurant food in the amount of the gift card they have.
Restaurateurs do not need to have an elaborate marketing and advertising plan to introduce a gift card service for their restaurants. You may simply show a gift card rack by the counter or include this information in your restaurant menu cards. You may even let your restaurant staff inform each customer about this service.
6. To promote restaurant branding identity
In addition to being used as a restaurant advertising tool, gift cards can also allow restaurants to build up their own branding identity. This can be done simply by using matching restaurant logo designs, slogans, or even typefaces. Also, remember that there should be uniformity and cohesion in restaurant decorations, stationery designs, and even waitstaff attires in order to establish a good restaurant branding identity.
When you use the same branding graphic design elements in your gift card template design, you are imparting the same message or image to your customers.
Pizza Restaurant Gift Card Template
Restaurant Food Gift Card Template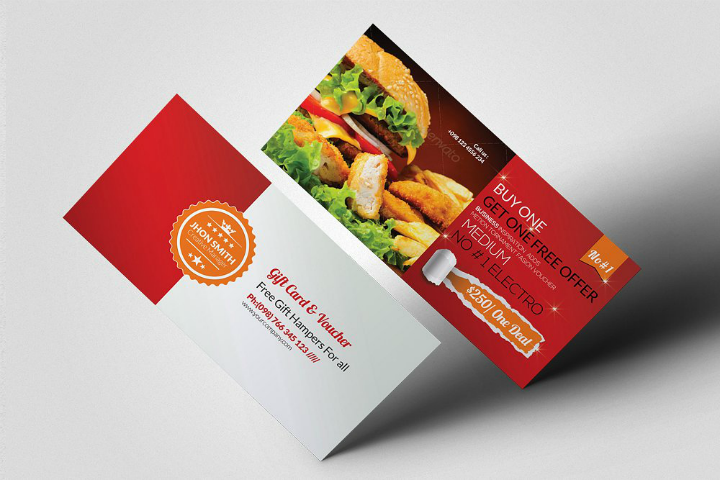 Restaurant Food Menu and Gift Card Template Bundle
Simple Restaurant Gift Card Template
Vector Watercolor Gift Card Template
Choose the Vector Watercolor Gift Card Template shown above if you prefer watercolor designs on your restaurant's gift card template. As a vector illustration template, you may easily re-size the template to match the gift card print size you wish to use. Aside from being used as a restaurant gift card template, this template can also suit either as a beauty salon and retail store gift card template design.
Reminder: This gift card template download will be available as an EPS file and can be edited using Adobe Illustrator. When printing out the template, it is best to render it first as a JPEG file.
Vintage Restaurant Gift Card Template
Have you chosen a restaurant gift card template?
If you found this collection of restaurant gift certificate and gift card templates useful, do not forget to bookmark this page. You may also share it with colleagues and friends whom you think will certainly benefit from starting a gift card payment option for their own dining establishments.