Card Templates
13+ Restaurant Punch Card Designs & Templates – PSD, AI
Word of mouth, as a form of marketing strategy, is very important for any restaurant business. And, one way to make sure that your restaurant is being talked about positively by your customers is through implementing different customer loyalty programs. One of the easiest ways to do that is through the use of restaurant punch cards.
Read on for more information on what restaurant punch cards are and how you can use them for your own dining establishment. Also, you do not have to look any further since multiple examples of different punch card templates are also included in this article.
Check Out these Restaurant Punch Card Templates
As promised earlier, listed below are examples of punch card templates that any restaurateur can use for their own dining establishments. Note that you will need to have Adobe Photoshop or Illustrator installed on your computer before you can edit the entire template design. You may also see restaurant templates.
Blank Restaurant Punch Card Template
Restaurant Punch and Business Card Template
Cupcake Shop Punch Card Template
What is Restaurant Punch Card?
Restaurant punch cards are small printed cards that give customers a reward or prize when they complete the number of food or menu purchases indicated on the card. They are called punch cards since their earliest of versions required a restaurant owner or staff to punch holes on the card as proof of purchase. And, when all the holes on the card are punched out, the owner of the card will receive a free meal or menu item.
These days, these cards are still called restaurant punch cards but most dining establishments no longer punch out holes in them. Instead, the cards will have designated blank spaces where a restaurant personnel can create stamp a logo or mark on the card. In some cases, these restaurant cards will have tear-off portions.
Restaurant punch cards can function just like restaurant membership cards. They can be used as a way to keep your restaurant diners interested in your restaurant without having to spend a lot of money on advertising.
Simple Restaurant Punch Card Template
Hamburger Restaurant Punch Card Template
Hot Dog Restaurant Punch Card Template
Pastry Restaurant Punch Card Template
Important Parts of Restaurant Punch Card
As a restaurant owner, you should always keep in mind that a restaurant punch card is one of the main marketing tools that you need if you want to leverage your current customer base. After all, punch cards can help your restaurant become the talk of the town. But, before you can do that, you should make sure that your restaurant punch cards include all the necessary pieces of information needed for a restaurant marketing card.
Listed below are some of the key details that should be shown on your restaurant punch card.
1. Rules Governing the Use of the Punch Card
Perhaps the most important piece of information that you should be written on your restaurant punch is the set of rules and regulations governing their use. Since most punch cards are printed on paper the size of standard business cards, you should also make sure to write the rules clearly and concisely.
Some restaurant punch cards may be printed on double-sided paper or cardstock. This way, the back portion of the card will include all the fine print for the use of the punch card. Also, note that these set of rules should include the validity of the punch, the amount of food menu purchase required, and the reward for completing all the purchase for dining requirements.
2. Restaurant Branding Elements
The next piece of information that should be included in a restaurant punch card is your restaurant's branding elements like your restaurant logo design and restaurant name. All these pieces of information should be shown prominently and should follow the same design motif that your other restaurant stationery designs follow. Doing this will allow the public and your customers to associate your restaurant with a consistent branding image. In the long run, this will help increase your brand's recognizability.
3. A Portion for Marking off Each Purchase
Aside from your restaurant's stationery designs, your punch card should also have a portion where restaurant personnel can manually mark off or punch out holes for each purchase. This action allows restaurateurs and their staff to keep track of their total purchase.
Sure, there are more sophisticated and digitized ways to do this today. However, dining establishments who rely on the old-fashioned method tend to get more positive reactions from their customers due to the level of nostalgia that the practice brings. You may also see creative restaurant menu designs.
When you are designing your restaurant's punch card, make sure to put a creative twist on how this free space is designed. As shown in the card examples in this article, you may use graphical representations of the different food items that your restaurant offers.
4. Store Hours and Other Contact Information
Another piece of information that should be included in your restaurant punch card is your store's contact information. This includes your restaurant's address, phone number, website URL, email address, store hours, and even social media profile links. All these information are needed so that customers can contact the restaurant at any time.
Also, remember that when you provide all these pieces of information, you should make sure that your social media accounts are active. Nothing turns off a millennial customer more than having an inactive social media account.
5. The Prize for Completion
Lastly, an important piece of information that restaurant punch cards should include is the reward or prize for completing all the required purchases that your restaurant has set. Most rewards can be one free meal or menu item. Or, it could also be a sizeable discount on your next order. Whatever it is, make sure that the end goal or prize is worth the effort of repeatedly going to your restaurant. In this sense, restaurant punch cards may also function as a restaurant discount card.
Pizza Restaurant Punch Card Template
Simple Restaurant Punch Card Template
Retro Cupcake Restaurant Punch Card Template
Unique Coffee Shop Punch Card Template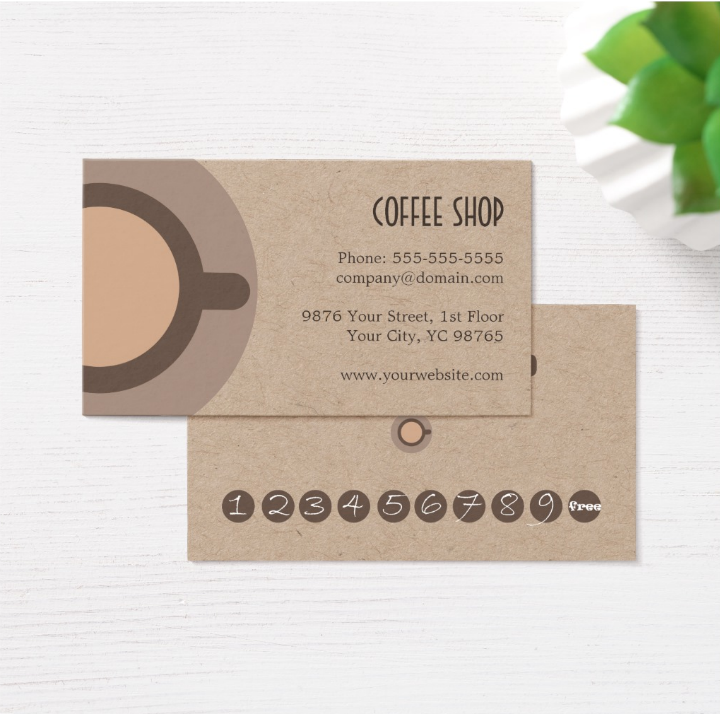 Why You Should Use Restaurant Punch Card Templates?
Any graphic design project can already be difficult enough especially if you do not have knowledge of how to edit and use graphic design software programs. That is why pre-made printable card templates are convenient tools for restaurateurs who want to create their own restaurant punch cards.
Compiled below are practical reasons that restaurateurs should explore if they are still debating whether to use restaurant punch cards for their own dining establishments. You may also like restaurant customer comment cards.
1. They are Affordable
One of the main reasons for using restaurant punch card templates or other kinds of restaurant templates is that they are priced at a relatively lower rate compared to having a professional graphic artist create a card design for you. New restaurant owners will also benefit from this lower rate since they may not have extra funds to pay for advertising their restaurants.
2. They are Easy to Edit
Another advantage of using printable restaurant punch cards is that they already come with fixed formats and layouts. As the template's end-user, all you have to do is add your restaurant's own branding elements like a restaurant logo design and slogan (if applicable). In addition, some templates will also contain organized layers where all you have to do is replace the image and text placeholders with your own images and restaurant details. Most of these templates will also come in standard file download formats making it easier for you to open, personalize, and print out the entire template.
3. They Help You Save Time
Adding all the benefits we have listed above, using pre-made punch card templates will ultimately help you save time in the creation of your restaurant's own punch cards. You can save a lot of time using them since you do not need to create the entire punch card template from scratch. You may also see restaurant comment cards.
Some template creators even do the editing and customization themselves so you do not have to edit the template yourself. Choosing this option will help you save more time. As a restaurateur, you can then concentrate on supervising your restaurant's daily operations without having to worry about your restaurant stationery graphic design project.
4. You Can Choose Matching Template Designs.
As mentioned earlier, it is important for all your restaurant stationeries (menu cards, brochures, banners, flyers, etc) to all follow the same design theme or motif. This is also applicable when you choose a restaurant punch card template. When you use pre-formatted punch card templates, you can choose the kind of template you want to choose according to your restaurant's image and design motif.
There are a lot of punch card templates available online today that you do not have to worry about not finding a template design that will match your restaurant's image. You may also like restaurant feedback cards.
5. They allow you to show off your creative side.
Using restaurant punch card templates in PSD can also let you express your creative side more. This aspect may be important for some restaurateurs who want to show their restaurant as a creative dining establishment. Also, by frequently exposing yourself to the creation of different graphic design projects, you will gradually develop a more innate understanding of graphic design and on what works visually. You may then apply this knowledge in developing other restaurant stationery designs for your business in the future.
Internalize all these advantages, and hopefully, they will help convince you in choosing to create punch cards for your restaurant.
Taco Restaurant Punch Card Template
Tea House Punch Card Template
Yellow Restaurant Loyalty Punch Card Template
Spread the Word!
If you found this article on using different restaurant punch card templates, do not forget to tell your colleagues and friends about it. This collection of printable card templates will definitely help them develop a unique customer loyalty program for their businesses and use their own punch cards.
More in Card Templates