Card Templates
5+ Unique Place Card Designs & Templates – PSD, AI
In any event, it is sometimes the smaller details that help make up the bigger picture. That, when there is cohesion among all aspects of the event, it creates a beautiful visual display. There is a lot that is considered as the smaller details in an event and it varies with which ones you wish to include. As such are the invitations, seating charts, menu cards, or even the place cards. Altogether, these details help in the coming to life of the event.
Speaking of the latter, the place cards, they are commonly an option and rarely a necessity for an event. Place cards are actually information holders that are placed on a table for various reasons. It sometimes contains the name of the guest, the table number, or it can also contain the names of dishes on the menu of a buffet. Whatever way you wish to use a place card it is truly and definitely an added detail for a visual display that can be used to inform. With that said, here is a list of different place cards with unique designs you can use for any type of event.
Floral Wedding Place Card Template
Food Place Card Template
Importance of a place card in any kind of event
Place cards are commonly mistaken as escort cards since they both similarly share the same purpose, intent, and objective. But, there is actually a gulf between their difference which will ultimately help to understand the importance of a place card. Let us first start by identifying what both of these cards do. A blank place card is a card (either single or folded) on a table that contains the name of the guest, which helps identify where this particular person will be seated. Simply put, place cards assign guests to their seats. On the other hand, an escort card is a card that contains the name of the guest and the table number they are assigned to.
Their difference lies in their specificity, as the place card offers a more specific designation whereas the escort card is a lot broader. A place card informs their guests where their seat is specifically, wheres as escort cards only tell them where their table is. That is why if you wish for a more specific and somehow organize manner of "escorting" your guests to their table and seat, a place card is a far better option especially when you are expecting a lot of them. You may also see professional name card templates.
To effectively avoid conflicts and disorganization on your event, this medium will come most helpful and useful as it offers a clearer and specific designation of where they will be. But, having both on one occasion can also work as they can work hand in hand together; it will ultimately make the flow of the event go smoother and will somehow make everything more organized and streamlined. You may also see table place card templates.
Gold Glitter Confetti Wedding Place Card
As with any other wedding feature that helps the event come to life, place cards also bear with it a set of advantages. These different advantages make this medium ideal for any events that could both add to the efficiency and beautification of the event. With that said, here is a list of different advantages that you will get from using a place card on your event. You may also see name place card designs.
1. It adds to the visual display on the event
Through and through, a place card will always be a detail added to any event, it just contains an information that helps navigate people to their designated seat. A place card simply adds to the visual display on your event, as it is part of the little details that make up the event together with the invitation cards, menu cards, seating charts, to name a few.
2. It informs the guests about their seats
This is one of the very purpose and intent of a place card, to inform guests where they should be seated. If you are opting for an organized manner of escorting your guests to their seat, a place card is the most advisable way of doing so. Because not only does it add to the detail of the event, but it also informs them of where they should be at. Knowing that a place card contains both the name of the guest and the table number, it is enough information to relay to the guests. You may also see name card templates.
3. It keeps the flow of the event smooth
Since a place card assigns and informs the guests where their seat will be, it makes the flow of the event to be smoother. They will just simply have to look for their table number and then look for their name on the place card, which makes everything more efficient and practical, not to mention formal. There will be no delays that will cause the event to be behind schedule and there will be no disorganization that is caused by guests roaming around looking for vacant seats to occupy. You may also see restaurant place card templates.
4. It keeps the formality of the event
Place cards help keep the formality of the event intact as it provides a method that does not create disorganization or disruption. With place cards, the formality is being upheld and being preserved, not only that but it adds to the sophistication and luxuriousness of the event. You may also see inviting wedding place card templates.
Baby Shower Place Card Design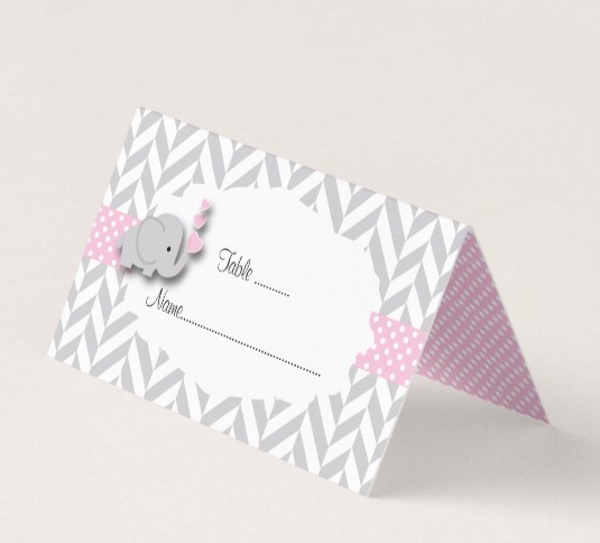 How to best acquire you very own place card?
There are countless ways to how you can acquire your very own place card. But among all the different ways, two are more popular and common among those who seek the medium. As such are by going to a professional graphics artist to have it custom made and by simply buying one that is premade and readily available online. Although both are equally capable of providing you the place cards best and perfect for your event, they both differ in terms of affordability which makes one a better option than the other. You may also see free wedding place card templates.
Going to a professional graphics artist to have your place cards custom made, sounds such a fancy option, but its price point simply is too expensive that does not make it a practical choice. And, this is because there are certain factors that will be taken into account if one opts to go for a custom-made place card. And, these factors are as follow: the different consultations that will take place before the actual creation of your place card; this is done so the graphics artist will have a full and clearer idea as to what you want and prefer in terms of design and content. Then, there are the different resources the graphics artist will use to materialize your place card. You may also see free wedding place name cards.
These resources vary from each other, they could be a paper of good quality or the different software used for creating designs, and all these are expensive. So, to have a return on investment, the price of their fee will be greatly affected. And, of course, the numbers of hours the graphics artist will spend in creating and making your place card. This can go from the designing process to the printing process, the labor is intensive so the fee will be considerably affected. Altogether, all these factors make up the fee of a graphics artist that will inevitably be expensive.
However, by simply buying one that is premade and readily available online, you get the exact opposite but of the same place card quality. For this option, the only thing that you will be paying for is the design, which in itself does not cost a lot and the rest of the process is for you to complete. The reason also premade option cost a lot less than its counterpart is because it is made in assumption to what the customers might want or might gravitate to. You may also see wedding name cards.
With going premade, you are also given the liberty to do whatever you want with the design, depending on how you prefer it to look like. Taking into account also that the designers who created these designs are not under the obligation to follow any demands or requests makes everything cheaper. As they create the designs that they feel like making and at their own pace and own time. Ultimately, these will all lead to the inexpensiveness of this option because they do everything according to their preference. In turn, making the pre-made option the ideal and better choice for place cards. You may also see sample name card templates.
But, aside from those already mentioned, there are also other advantages that come with the pre-made option. As such is the ease of its workability as it comes in a file that is easy to do so. You can also use the initial design and layout of the designer as a guide when you start working on your place card. Premade designs and templates are also fully editable and customizable from texts, fonts, colors, and also few of its elements. You may also see palm card templates.
Wood Wedding Place Card Template
Modern Folded Place Card
If you found this article helpful in any way, do not forget to bookmark this page for future references. And, kindly share this with other individuals who are seeking place cards with unique designs to use for their event. you may also see restaurant punch card templates.
If you have any DMCA issues on this post, please contact us!
More in Card Templates