The breakfast menu is the most important meal of the day, health-wise. But people tend to skip eating breakfast due to a lack of appetite in the early hours of the morning or, more often, due to the lack of time as most have to get ready for school or work proposal. Additionally, options for breakfast are quite limited. Aside from the usual eggs, bacon, ham, pancake, bread, jam, and the occasional fruits for those on a diet, breakfast meals lack variety. You may also see lunch menu templates.
Lunch, on the other hand, is something different. It is where the pan starts frying and the grill starts smoking. Mouthwatering appetizers, entrees, and desserts menu are all available during lunchtime, and restaurants menu see their busiest hours during lunch menu. It is this particular meal of the day that can make for really enticing coupon offers. You may also see best lunch menu designs.
Coupons are commonly used in restaurants as part of their marketing activities schedule. Coupons, compared to posters and flyers which are also marketing tools highly used in restaurants, can be more effective than the latter options since they offer free or discounted food to customers analysis. You may also see Coupon Flyer Templates.
So, if you own a restaurant planning or you are planning to open one in the near future, here are some appetizing restaurant lunch coupon templates you can purchase at very affordable prices. Print them out and hand them to customers so you can keep them coming back to your restaurant schedule! You may also see restaurant coupon templates.
663+ Restaurant Templates in PDF, Word, Excel, PSD, Google Docs, PowerPoint, InDesign, Apple Pages, Google Sheets, Publisher, Apple Numbers, Illustrator, Apple Keynote, Google Slides, HTML5 - START DOWNLOADING
Lunch Discount Voucher Template
Restaurant Voucher Template
Restaurant Discount Voucher
Pizza Voucher Template
Pizza Coupon Template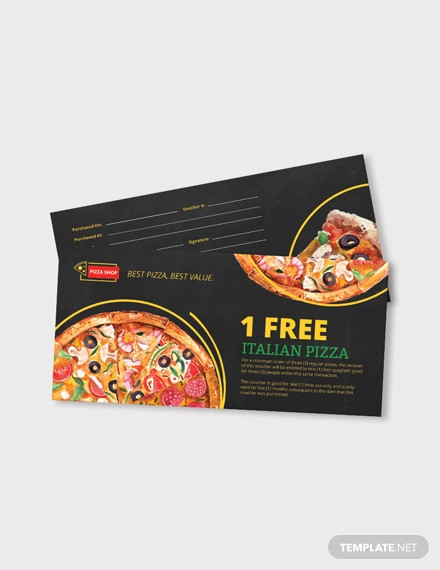 Lunch Discount Coupon Template
Gift Coupon Template
Food Coupon Template
Tacos Loyalty Card
Cupcakes Loyalty Card
Pizza Loyalty Punch Card
Smoothies Loyalty Punch Card
Pizza Restaurant Coupon Business Card
Coffee Loyalty Punch Card
Vintage Food Ticket Coupon Card
Retro Pizza Loyalty Card
Multi Purpose Food Coupon

Tips when purchasing restaurant coupon templates
Before you decide to purchase any restaurant lunch coupon design templates or any templates for that matter, here are some things to note before you spend your hard-earned money. You may also see restaurant dinner coupon designs.
Choose templates that incorporate color
Designs that incorporate color are always the most attractive designs. That statement also applies to graphic design templates. Black and white colored templates are still attractive as they exude a classic look, but using colors like blue, green, and yellow bring another layer to any template design. Use different shades of each color you are planning to use (i.e. teal and cobalt for blue, fuchsia and merlot for red, gold and chocolate for brown, etc.) in your coupon templates as they provide a better visual appeal for your coupons designs. You may also see lunch schedule templates.
Since you will be purchasing lunch coupon templates for your restaurant, you certainly need to add a little of bit of flair to the designs. One suggestion would be using the color of your restaurant interior or exterior and applying them to the coupon as well. For example, if your restaurant is selling Italian food and you mostly use red and green colors on the restaurant walls and decorations, then use the same colors for your blank coupon. You may also see meal voucher template.
Look for templates that feature food photography
Since you will be purchasing templates for your restaurant, it would be fitting to incorporate food photography into your lunch coupons. It is most likely that you will have an extensive menu for your restaurant during lunch time as you will be serving your most appetizing and sumptuous best-selling dishes. So, there is no better way to entice your customers to return to your restaurant than to incorporate food photography into your lunch coupons voucher.
One suggestion in utilizing food photography is to incorporate your best-selling dish in the lunch coupon. You can also use the coupon to promote a dish or something new on the menu template. Decide what promotion or strategy template you are going to use your coupon, then match the coupon design to the food photo you will eventually use. You may also see blank coupon templates
Use both physical and digital templates
There is always a dilemma when it comes to purchasing digital or physical templates. Restaurant owners seem to be hesitant to use either of the two or choose which template has a more positive impact on the restaurant's financial success. There is a simple solution to that issue and it will definitely save the restaurant much-needed funds that can be used for other purposes in the restaurant (like restocking or replenishing inventory, for example) What is the solution, you ask? Use both. you may also see coupon voucher design templates
Since physical templates are handcrafted and require a longer time to be made and delivered to your doorstep, you can use them a few months after you have made the purchase. For example, if you ordered the template in January and it arrives around March, then use the templates by April, although you would need to edit the template ahead of time to make it fit for the season or restaurant activity report.
In terms of digital templates, meanwhile, they are faster to do, though the task would still depend on the speed of the designers. Most experienced designers, though, can finish making designs within a few hours using popular graphic design software such as Adobe Photoshop and Adobe Illustrator. Once the designs have been completed, they can be sent to the buyer's email address, social media page, or website. you May also see payment coupon templates
Digital templates are a better fit if you are in a hurry to use templates for your restaurant while physical templates are more suited for the long game. You certainly do not need to purchase both at the same time. You may also see birthday coupon templates.
Purchase from highly rated designers or sellers
In the case of graphic design templates, it is advisable to purchase them from highly rated designers or sellers so that you can assure yourself of a quality design and value for money. Before you make a purchase, browse through a designer's collection of work and take a look at customer reviews. See if customers have complaints regarding their purchases. If most of the designs are getting good reviews and you do not mind seeing one bad review among a hundred good ones, then make your purchase order.
The importance of coupons in any restaurant cannot be understated. A coupon template is an effective as well as an effective marketing tool that restaurants can utilize to achieve increased visibility and profitability. Coupons can benefit both the restaurant and customer as the former will get more sales and the latter will get discounts, which is definitely a win-win situation for all. you May also see coupon flyer template.
What are you waiting for? Go ahead and purchase these appetizing yet very affordable restaurant lunch coupon templates now!