Up for a mood for an all-night sketching? The pencil and paper are at your disposal. Making sketches and drawings continues to be a popular hobby and outlet for expressing every person's artistic side. Other than that, it is the perfect way to utilize one's time with only minimal effort.
When we talk about drawings, I bet a lot of images will pop into your mind. You might be thinking about cartoon drawings,pencil drawings,or charcoal ones. But have you ever thought of creepy drawings? It is the type of art that keeps you awake at night and makes children cry.
Weird Creepy Drawing
Source
Creepy Pencil Drawing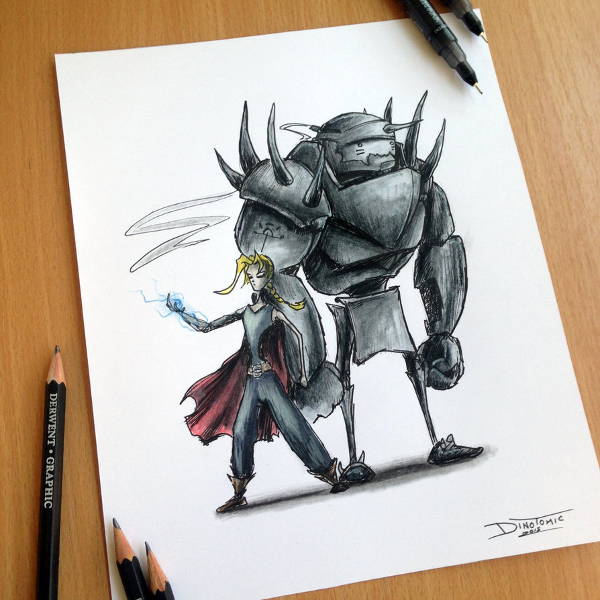 Source
Black and White Creepy Drawing
Creepy Clown Drawing
Source
A Step-by-Step Guide
A creepy drawing would vary depending on the artist's preference. An artist could have clowns, aliens, dolls, or even pigs as his subject for his creepy drawings. If you opt to draw your own creepy character, here we offer some tips for you to remember:
First of all, have a face in mind. Let this be the general guide for your entire layout.

Draft the image you imagined.

Most creepy characters have angular features. This means that a character can appear scarier if its face and body are angular and slightly distorted.

The older your character, the creepier it is. However, this may not be entirely true. Horribly modified drawings of children are as scary as old ones.

You can add a pointy or disfigured nose for better impact.

Draw the eyes as if they were all white or bloody. Better yet, draw no eyes at all.

You can include various animal parts on the character's body for a more bizarre touch.

When finishing up the face, add boils and a disheveled hairdo for a messy feature. You can also lose the hair and add even more boils on the scalp.

For abstract drawings, highlight peculiar features that will leave viewers confused and uncomfortable.
Creepy Face Drawing
Source
Creepy Girl Drawing
Source
Creepy Doll Drawing
Source
Creepy Eye Drawing
Source
The Story Behind Every Drawing
Drawings are said to pave the way toward a person's unconscious mind. Mental health specialists even use drawings as a method to unearth buried feelings. If you happen to draw colorful images and vibrant characters, then it shows your positive disposition. However, if you draw ghouls and monsters, then this could have a different meaning. Generally, there is no need to worry if this is your preferred drawing genre. Creepy drawings may reflect the following emotions:
>Power. Drawings signify the overflowing sense of power or the need for one.
Anxiety. This pertains to anxiety or fear felt to a certain object or event that is often expressed in drawn characters
Wish fulfillment. Drawings sometimes reflect person's deepest and darkest desire.
Make Your Own Creepy Drawing
Whatever the story behind your creepy drawings are, they will never fail to be interesting and eye catching. Hence, to gather more ideas for your scary sketches, browse varying designs on our website. You can download more than a few if you plan on creating a compilation. These designs range from gruesomeskull drawingsto grotesque body distortions. If you prefer making creepy doll drawings, check out similar illustrations from our collection.