A cup of aromatic coffee, a glass of sparkling champagne, or a pint of refreshing beer? Whatever your choice may be, you are certainly ordering drinks to get a sense of relief and temporary escape from reality. The most common reason why people drink is to celebrate something or to mourn over unforeseen situations. Whenever people go out to drink their first destination would be to the nearest bar or cafe. These cafes, bars, or restaurants should really serve up their best for the customers. To help out customers choose the best drinks, they should be hand out a creative drinks menu.
Step 1: Think about your prospect customers
It's ideal that you know who your target market is for you to study their preferences and common choices. Ask yourself for whom will your services be dedicated to. Will it be for college students, professionals, businessmen, tourists, or all of the above? Through this step, you'll have control on the kinds of drinks you need to store and serve.
Step 2: List down the most profitable drink choices
See to it that you prioritize your customers' all-time favorites in your menu. Evaluating every aspect in your business will keep you ahead from competitors. Give your customers plenty of choices that they love and give you profit in return.
Step 3: Design your drink menu creatively
Provide a separate menu for your drinks and food choices to allow customers and patrons to decide freely without any distractions. If not, allocate a section within the menu layout made for the drinks. Keep in mind that your menu design should channel the ambiance of your business establishment. To carry out the task easily, download templates online and customize creatively according to your list of preference and taste.
Step 4: Print the menu using a thick card stock
Hire printing professionals to execute the task of printing your menu. Don't forget to use a thick paper stock to make cards long-lasting and durable. Your finished drinks menu could also be posted on your social media accounts for a better customer reach and interaction.
Step 5: Keep your menu updated
Your drinks or beverages should serve people according to the seasons. Keep your drink menu updated to continuously serve loyal customers on any season and time of year. As the seasons change, you should revisit your drink offerings. Always strive to keep your business afloat, party away and cheers!
1. Modern Food and Drinks Menu Template
Does your restaurant need a menu template that would work well with your food and drink choices? This Modern Food and Drinks Menu Template will be the ideal answer to your needs. Anyone can fall in love with this template because it guarantees the highest levels of satisfaction. Download now!
2. Restaurant Food and Drinks Menu Template
When someone runs a restaurant, he or she should be detail-oriented in order to satisfy the loyal customers. If you need a simple and minimal design for your food and drinks menu, why don't you grab this template. The design is truly intended to put a smile on your face and keep customers ordering for more.
3. Classic Food and Drinks Menu Template
Get the best vibes of a classic era with this template that's vibrantly crafted to suit your needs. Classic designs never fade out because of their opulence and beauty. Download this classic menu template in high-quality and high standard format. It's yours to keep forever.
Any bar or restaurant who provides extravagant service to customers is fit to have this Luxurious Drinks Menu Template. The template is eye-catching and has a unique design bound to amaze every customer and visitor. All the artworks are included once you download the template, so get this amazing template now!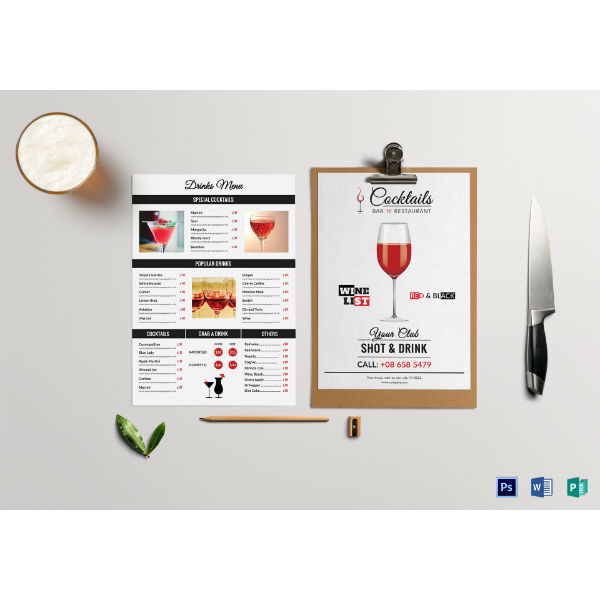 Create an attractive and interesting menu with the aid of this fully customizable template. Drink orders will really keep coming if you present perfectly your drink choices. This drink menu can be accessed and edited through MS Word, Photoshop, and Publisher. Grab this now and serve your best drinks.
You should check out this template fit for bar restaurants who serve specialty drinks. The overall visual content and impeccable style will surely encourage guests to order the most expensive drink in store for them. The deep burgundy and white colors express sophistication and elegance. This template is a sure win, you better download it now.
This high-quality cocktail menu template is a true standout because of its vibrant colors. The template is well-presented and gives off tropical vibes. The template, along with its fully editable features, can be all yours for free. Take this wonderful offer now while it lasts.
The black and white color scheme of this Free Coffee Menu Template resembles the bittersweet brew that will captivate coffee lovers. The minimalistic design is the most appropriate ingredient for your cafe establishment. Get this high-quality template as soon as possible.
Here's another free template with a touch of minimalism paired with playful elements. This creative template can be personalized to suit your preferences. It is print-ready and free. Simply edit your own list of drinks keep the business running. Download this now through Illustrator, Photoshop, MS Word, Publisher, and Pages.
10. Bar and Lounge Drink Menu Sample
Download
If you are looking for the perfect medium to display your stash of drinks, try out this bold and modern template. Your beloved lounge patrons will line up to get drinks if you use this classy designed menu template. Boast your best drinks to the world through this fully editable template.
Download
Nothing beats a hand sketched artwork. This template takes pride on amazing handiwork that has been scanned and converted into high quality digital files. As a result of the careful craftsmanship, this template is visually pleasing. In addition, it is also unique because of the chalkboard flair. Make this template yours now at a very reasonable price.
Download
Are you hosting an all-out party for the weekend or for a special occasion? If yes, then you should get this brilliantly colored drinks menu template. The gradient color scheme is well-thought of by our team of professional graphic artists. Never let this offer pass and download this template in just a few clicks.