Undeniably, there will always be homes, or establishments that would need cleaning services. This special type of paid privilege provides convenience for people who don't have the luxury of time to clean their own homes. Cleaning services has also helped establishments to maintain sanitation throughout the years. That said, one tool you can use to help give your cleaning service more exposure is a flyer. Here are five simple steps to create a cleaning flyer.
5 Steps to Make the Best Cleaning Flyer
Step 1: Use a compelling headline
A compelling headline will successfully attract any customer into your business. Use a smart play on words to be able to produce a desire to action from the customer. Try not to use too many words to summarize the content. Single line headlines are proven to be more effective.
Step 2: Write down your content and organize it
Compared to brochures and magazines, flyers have lesser working space. Use this space smartly to be able to convey the entire offer to your customer. The content must be able to lay down the benefits the customer can get from availing your services. Use boxes and shapes to organize your content.
Step 3: Attach an attractive photo
Make sure to attach an attractive photo most especially for your flyer template. These photos play an important role in catching the customer's attention. You must be mindful to put relevant photos that will sum up what your business does. A study shows that photos taken while in action are more eye-catching than still photos.
Step 4: Beautify your template and make it concise
Aside from putting in attractive photos on your flyer template, there are more ways you can consider to beautify your template. Another technique is to use white space to emphasize some texts or photos. You can also add some design vectors that is related to the theme of your template. Try not to get carried away with designing your template; keep it simple and neat.
Step 5: Print your best cleaning flyer template
The standard size for flyers would be 8.5 inches by 11 inches. To avoid mistakes in printing, check the final outline by doing a print preview first. You can also print a mock up before printing the final flyers. You can choose between a matte paper finish and a glossy paper finish as printing material.
10+ Best Cleaning Flyer Templates
1. Carpet Cleaning Flyer Template
Want to show your expertise on carpet cleaning and other services? Download this Carpet Cleaning Flyer Template while it is still available. This professional template will definitely help you reach a wider range of customers. With its smart objects, customizing it would be much easier and more convenient. Check this out.
2. Dry Cleaning Flyer Template
Special offers would be much easier to promote and advertise on this Dry Cleaning Flyer Template. This clean template can be edited on any modern editing applications such as Illustrator, Adobe Photoshop, and even on the most basic program such as Microsoft Word. You can use any program that you are most comfortable with.
3. Cleaning Company Flyer Template
Effectively promote your cleaning services with the help of our Cleaning Company Flyer Template. This online template has smart objects and graphics which are high in quality. With only one goal in mind, this template will definitely impress any client who takes hold of this with its layout an well-written content.
4. House Cleaning Flyer Template
You can definitely help out busy mothers and hands-on dads on household cleaning through this House Cleaning Flyer Template. With its layout, you can feature three of your best photos if you want to make it more personalized and realistic to your services. It's also easy to change the font type to whatever you think suits best.
5. Professional House Cleaning Flyer Template
If you look closely at this Professional House Cleaning Flyer Template, you can tell right away that you can easily get more customers through this one. It has a well-organized layout which allows you to lay down your content and images smartly in one page. Get this template today.
6. Free Simple House Cleaning Service Flyer Template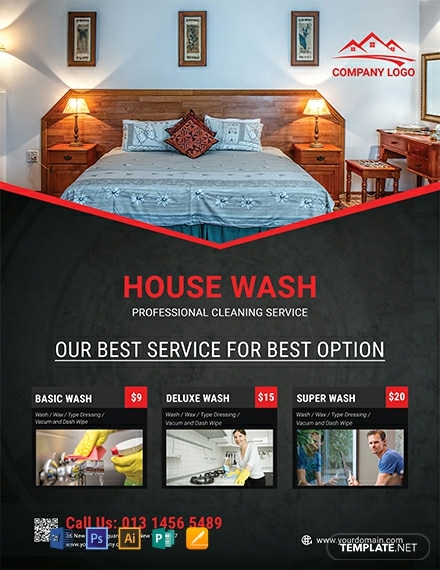 Download this Free Simple House Cleaning Service Flyer Template today, and have an effective template that you can use for your cleaning services. Printing this template is as easy as 1, 2, 3. You can download this on any device, edit the content to your details, and print it right away! Not all templates can be as reliable as this one.
7. Free House Cleaning Services Flyer Template
If you are looking for a template as easy to use as the one mentioned above, then this Free House Cleaning Services Flyer Template is another great choice for you. This template is also ready-print, high in quality, fully editable and customizable, and can be downloaded for free.
8. Free Home Cleaning Service Flyer Template
This Free Home Cleaning Service Flyer Template allows you to smartly categorize your business into three types. You can also throw in a bar code that can give customers special privileges or exclusive offers. This template is fully editable and customizable to fit your preferences.
9. Gutter Cleaning Flyer Template
Download
Houses are not the only places that has to be cleaned, sometimes, gutters get clogged with other stuff and this might cause some problems. Let the know about your business with this Gutter Cleaning Flyer Templates. It features bold colors which allows you to emphasize texts that has to be noticed. Feel free to check this template out.
10. Garden Cleaning Mowing Flyer Template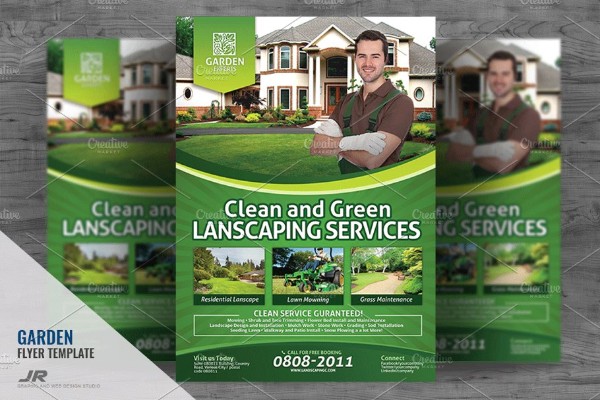 Download
Impress customers with how much committed you are to helping them maintain the beauty of their garden with the help of our Garden Cleaning Mowing Flyer Template. Use your best photos to feature on the front page. It already has a well-written content which you can use as a guide, or edit into your own content.
11. Basic Gutter Cleaning Flyer Template
Download
Here is another gutter-cleaning flyer template. This Basic Gutter Cleaning Flyer Template will guarantee you of a high quality template because this one is professionally made and has a top quality design and content. Get this hassle-free, editable, and ready for printing template today.