In case you hadn't known yet, the game of bowling has actually been around since 3200 BC, but the first known evidence of bowling was only in 1299 AD due to an antique bowling green in Southampton, England. Some bowling balls were made of grain husks and leather, and others were made of porcelain.
Even back then, the sport already involved rolling a ball towards a target which commonly consisted of stone figures. If you're planning to put together a bowling tournament, then you might want to advertise it using any of our flyer templates. Check out ten of the bowling flyer templates that we have gathered below for you.
Elements of an Impressive Bowling Tournament Flyer
When it comes to advertising materials, the question still remains, "What should be included on it?" Luckily, we've got a list below to teach you what elements should be included in your event flyers to make it impressive.
1. Organizer's name: Sports events and tournaments are usually made possible because of the efforts of a group of persons, and these people usually represent a business or an organization. To acknowledge their efforts, their names or the name of their represented entity should be included on the flyer.
2. Title of sports event: This element could be as simple as "Bowling Tournament" or it could also be something creative. Nevertheless, this simply serves to inform the reader what the event flyer is about.
3. Schedule of the tournament: In terms of schedule, this refers to the date and time that the tournament will be held. Make sure to also include the specific day in order for the reader to easily determine if the schedule is convenient for them.
4. Venue of the tournament: This answers the reader's question as to where the tournament is going to be played. Obviously, it is going to be held at a bowling alley considering that the event flyer is used to advertise a bowling tournament, but you will need to be specific with the venue by also indicating the complete street address.
5. List of guest participants: Are there any guest bowlers involved in the tournament? If so, mention it on the flyer since this often helps in persuading people not only to play but also to simply watch the event.
6. Other details: What other details do you wish to include on the flyer? Write these down on the bottom-most portion of the flyer. This element often includes the organizer's contact number, where to register, or a list of qualifications for those who wish to participate in the tournament.
9+ Bowling Tournament Flyer Templates
As mentioned in this article's introduction, we have ten bowling tournament flyer templates for you to choose from, and these templates were taken from various reliable websites. To see how stunning they are, go ahead and scroll down.
Flat Bowling Party Flyer Template
Details
File Format
&nbsp
&nbsp
&nbsp
&nbsp
&nbsp
&nbsp
Size: US, A4 inches
Rolling Bowling Tournament Flyer Sample
Download Now
Creative Bowling Night Flyer Example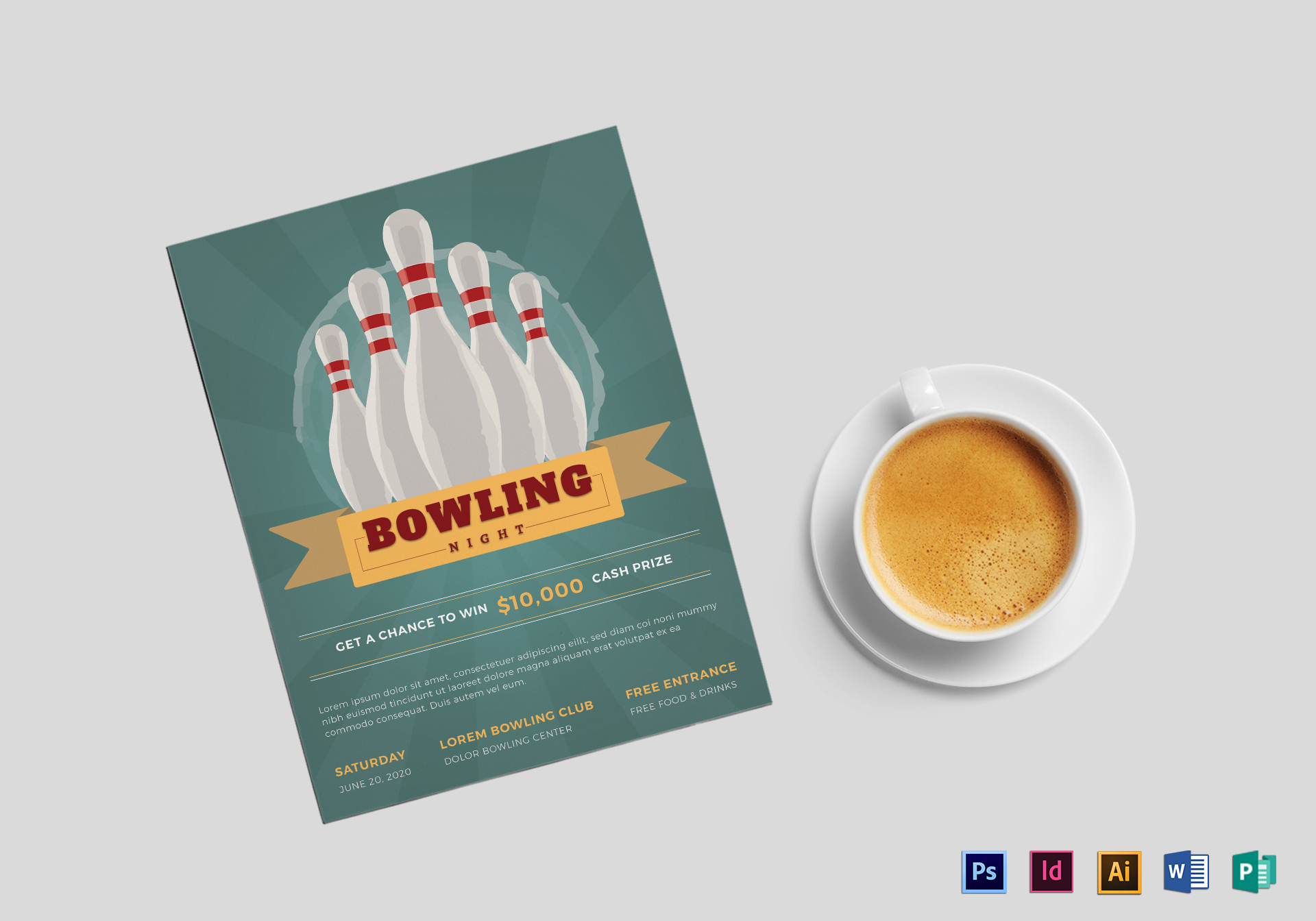 Download Now
Grand Bowling Tournament Flyer Format
Details
File Format
&nbsp
&nbsp
&nbsp
&nbsp
&nbsp
Size: (US) 8.5×11 inches
Bowling Tournament Flyer Sample
Bowling Tournament Flyer Example
Bowling Championship Tournament Flyer Design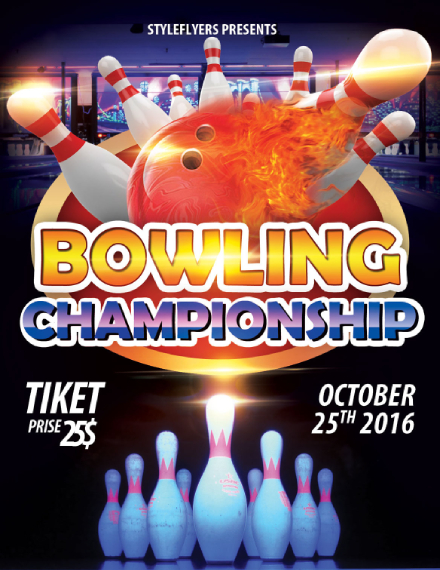 Rustic Tournament Bowling Flyer Template
Vintage Bowling Tournament Flyer
Steps to Designing a Good Bowling Tournament Flyer
It is very important that you actually know what you're doing in order to produce something that has good quality. To help guide you, here is a list of steps on how you can design a good bowling tournament flyer.
1. Choose a size for your flyers: Below, you'll find out that there are actually various flyer sizes that you can choose from. But regardless of which size you'll be going with, just make sure that it is enough for your content and all your graphical enhancements.
2. Plan out the design by drawing a sketch: To get a better picture regarding the elements that you will be using and the best way of arranging them, you should plan out your flyer's design by drawing a sketch of it. If you don't feel like making a sketch, you can instead write down notes describing the design.
3. Download and edit a bowling tournament flyer template: Save yourself a lot of time by utilizing any of the bowling tournament flyer templates in this article. This way, you'll already have a design and some templates that you can work with.
4. Add the content and proofread it: With regards to the flyer's content, you may scroll back up to the section that lists down the different elements that should be included on your flyer. Also, don't forget to proofread the content after adding it, this will ensure that its quality is indeed worth reading.
5. Start printing your flyers: After you've finalized your flyer's design and content, you can then start printing them. It would probably be best to have it printed by printing companies rather than to do it yourself.
Simple Tips for an Excellent Bowling Tournament Flyer Layout
As important as it is to know how flyers should be designed, you should also be knowledgeable about the proper use of the canvas in order to pull off an excellent layout. The list of tips below can help you make that possible.
Create a balance between the use of colors and the arrangement of the elements.
Add a focal point to the layout in order to direct the reader's attention.
Prioritize the content and elements and organize them according to its importance.
Apply a good amount of white space to make the rest of the elements stand out better.
Types of Flyers
In order to create flyers that are appropriate for your purpose, you should be familiar with the different advertising flyer types. Below is a list of some of the most common types of flyers along with a short description for each.
1. Party flyer: Usually, parties involve the use of an invitation to gather attendees, but there are also times when flyers are used especially for those that are meant to be attended by the public. Party flyers are common during spring break, the summer season, or during Halloween.
2. Sports flyer: This article is all about this type of flyer, and as you can see from our templates, sports flyers are specifically intended to advertise sports events.
3. Product flyer: When businesses introduce their new products to their customers, this is the type of flyer that they will use. Oftentimes, products flyers are being used by businesses to promote new services instead. Nevertheless, this type of flyer usually doesn't come with a schedule since it focuses more on showcasing the business' products and/or services.
4. Recruitment flyer: This is another type of flyer that is commonly used among businesses but instead of promoting products and services, this is specifically for gathering either volunteers or actual employees.
Sizes of Flyers
The flyer types and sizes often go together especially for the leaflets but you can still choose a different size if you wish. When choosing a flyer size, just make sure that it is able to accommodate the content while still retaining its compact nature.
2.5" x 4"
3.75" x 8.25"
4" x 6"
4.2" x 5.5"
5" x 7"
5.5" x 8.5"
6" x 6"
8" x 8"
8.5" x 11"
11" x 17"
FAQs about Flyers
What else do you want to know regarding flyers? Do you even know what they are or what they're for? We have searched the internet for questions that people have frequently asked regarding flyers and answered them below for you.
What is a flyer?
Flyers (also known as pamphlets) are a form of advertising tool that is meant for a wide audience. These are either handed out to people or posted in a public place.
How should you advertise with flyers?
Be concise with your message.
Encourage people to pass it on to others instead of throwing it afterward.
Do a test run to determine if your flyers need to be redesigned.
Judging by the fact that you're here, we assume that you're looking for a flyer template to create your advertising material. Thankfully, our bowling flyer templates will indeed live up to your expectations. Not only are they high quality, but they're also fully editable. Start downloading a flyer template, you've got nothing to lose.