Chicken is a staple in every family's dining, be it fried, roasted, or souped. It will always be a great go-to meal for any individual no matter how it is cooked. Attesting to this is the very fact that most restaurant menus have a dish with chicken in it. Its simplicity and uncomplicated process are what makes it the favorite for all ages. Both kids and adults love it. Chicken even has the reputation of being called a "kid's meal", such as in fast food chains, where chicken-based dishes are offered with toys as kiddie meals.
There is simply no denying the adulation of people towards chicken. Its simple flavors bring back memories of being at home and eating with your family. That is why when you have a restaurant business and have tons of chicken dishes, it is important that you promote it well. There are definitely times when people opt for a restaurant because of familiarity and people are most certainly familiar with chicken. Everyone knows its aroma and its flavor. In order for you to effectively promote the dish, you have to go for a medium that is as simple and effective as a chicken, flyers. With that said, here is a list of flyers to promote the chicken meals and dishes of your restaurant.
Fast Food Chicken Flyer
Fried Chicken Flyer Menu
Chicken Wings Flyer
What Medium Should You Use for Your Promotion?
Considering that we live in a more technological age where everything is made tremendously convenient for business patrons, it is common for business owners to resort to a more digital approach for their promotional needs. That could help, but it could also not. Taking into consideration the number of other businesses that go for digital or social media-based platform to use for their promotions, it is inevitable that there will be some pushed to oblivion and as scary as it is, that promotion could be yours.
Although technology or social media is a great option to use as a promotional medium, there lies great uncertainty with it. Uncertain whether people will get to see the promotion you have created for your restaurant or not. Uncertain whether the message of your business came across to them. Unlike going for a more traditional approach in promoting, wherein you have to hand out each piece of paper to your target market, certainty is much greater. This is pretty much how flyer templates work. They are manually given out to people you encounter so that they can possibly or potentially be your customer. Flyers give you the assurance that technology and social media put together cannot.
Aside from the assurance and certainty it entails, there are also other things you can benefit with going for a flyer as your promotional medium. Flyers let you create a pre-business relationship with your potential clients, even if only for a brief period of time; it lets people directly inquire about your restaurant with which you can give an instant response as you are there interacting with them. Also, flyers cost a lot less than advertising digitally.
There is a great difference between their price points which make flyers all the more a better option for promoting. And most importantly, flyers are a physical promotional medium that is actually tangible. A flyer can be touched and can be brought anywhere, adding to that, because it is tangible it can be seen and read anywhere and at any time without being dependent on other factors like electricity or wifi. While digital promotions solely depend on their effectivity on the availability of a wifi or electricity. What if there is no electricity or wifi available? Then it just means your digital promotion is not as effective as you thought it is. You may also see Grocery Flyers.
Chicken Recipes Flyer PSD Template
Spicy Chicken Restaurant Flyer
Fried Chicken Flyer & Menu Card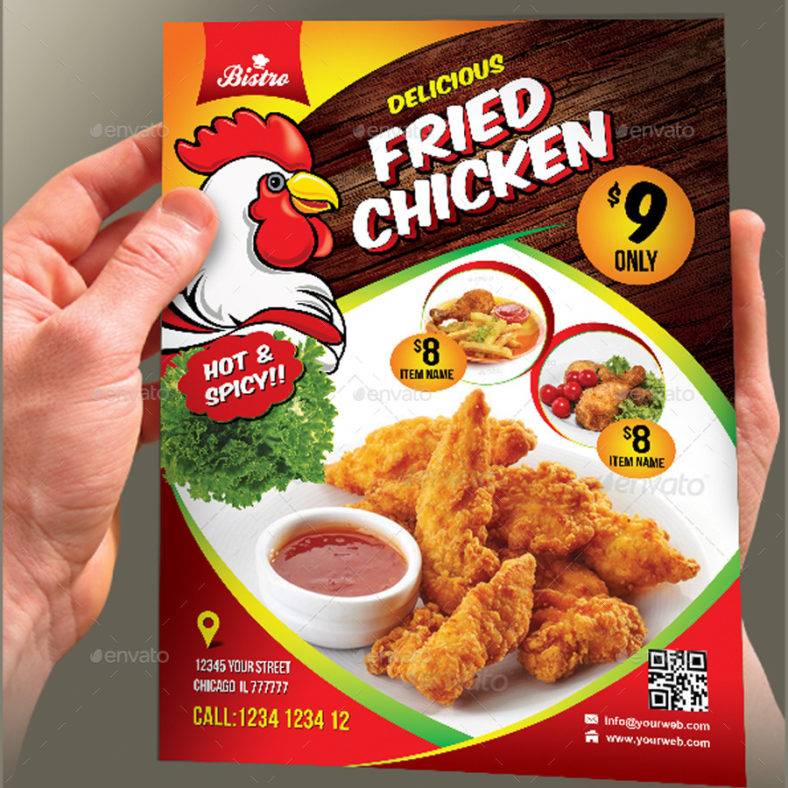 What Should be in Your Restaurant's Flyer for Promoting Your Chicken Dishes?
In general, flyer design are used as a promotional medium to help make people aware of the products or services you offer, in this case, the chicken meals and dishes of your restaurant. In order for a flyer to be effective, one must know his or her business very well to be able to project it to the right market. As it is knowing what your business is, it is also about eliciting the right kind of characteristics and putting in all the necessary pieces of information. All of these factors should be on your flyer for it to be effective, for, without these, your flyer will have no effective and will be just like any piece of paper handed out to random people.
1. You should not forget to put in the name of your restaurant
As it is one of the very basic pieces of information. It also helps with the identification of the flyer. Place the name of your restaurant at the topmost part of the flyer, for doing so will allow your potential customers to see it right away which will give them the idea on who is doing the promotion. This leads for customers to learn about your restaurant which, in turn, will enable your restaurant to gain more clientele and profit.
2. Along with putting your restaurant's name, you also have to put in your restaurant's address.
By doing so, you are making it easier for your potential customers to locate the location of your restaurant. If you disregard the idea of putting in the address label of your restaurant, it will just give them a hard time of locating where your place is and that might lead to a loss of interest in your customers leading for your business to lose clientele and profit.
3. To stimulate your potential customer's appetite, add photos of your chicken dishes. This photo will help add a visual effect and impact to your flyer so that it can catch your potential customer's attention. It can also work as a design element considering that most of the elements in a flyer are texts. Having a photo will just add more life to the flyer. Also, with adding a photo in your flyer will make it unique and different from the so many flyers of other businesses out in the market.
4. You can also add in particular events (if there are any) on your promotional flyer to increase the hype and buzz of your restaurant. One example for this, which is common among restaurants that have been growing as a trend, is the "unlimited" offer. Where people pay an affordable fee to avail of the unlimited chicken offer. Or if not, you can go for a bundle offer, which puts different meals together also for an affordable price. Since you can pair so many meals or dishes with chickens, there are so many you can add to the bundle. However you wish to do your business, it is ideal to hold events from time to time for both your patrons and new customers. This way it makes your restaurant a whole lot more interesting, and it is even more important to have it in your promotional flyer to make people aware.
Wings Fast Food Flyer Template
Grilled Chicken Template for Flyer/Poster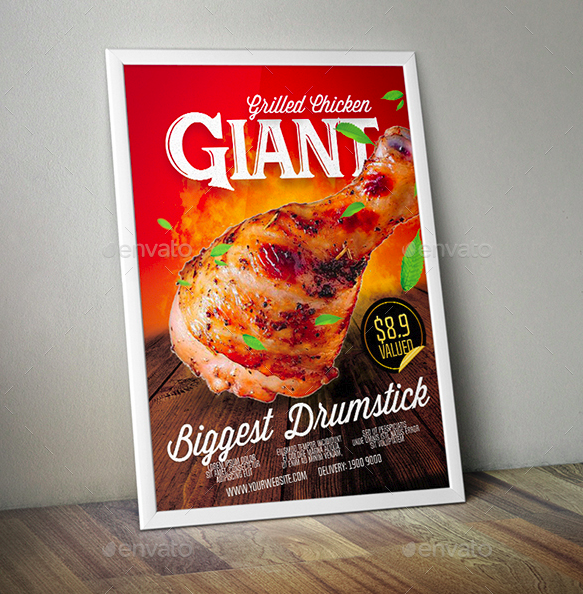 Chicken Center Flyer
Restaurant Chicken Food Flyer
5. There are also other pieces of information you can add into the effective of your flyer aside from the ones already mentioned. You can also add in your operating hours, your restaurant's parking fee, any complimentary offers, contact information, and date of your event (if there is any).
Putting in your operating hours will help better inform your potential customers when the perfect time is to visit your restaurant. You can also do this on holidays as sometimes other restaurants do not operate on specific holidays.
You restaurant's parking fee. Considering the number of people who go out with automobiles, it is just right to inform your potential customers if they have to pay any fee upon parking or not. By including the information about your parking fee will inform your customers ahead of time. This will also, in turn, give them the option to decide whether to bring their cars or not.
Any complimentary drinks or foods from your restaurant if there are any. Like putting in your events on your flyers, adding the information of whether there are any complimentary drinks or foods will generate more hype and buzz. This is also a great marketing strategy as it will encourage any potential customer to give your restaurant a try.
Your restaurant's contact information. Putting in your restaurant's different contact information will allow your potential customers to connect with you. This way they can inquire or ask questions about your restaurant. It can also be a means for reservation process, with which they will just contact you with the different contact information provided to do so. You can put in your telephone number, email list, all your social media platforms, and even your website if your restaurant has one.
You can also add in special events on your flyers that are recurring in your restaurant especially when it is in line with a holiday, this way will help generate more hype or buzz for your restaurant. It is ideal that you put in when the exact date is to better inform your potential customers about such special event in your restaurant.
Fried Chicken Flyer Menu Template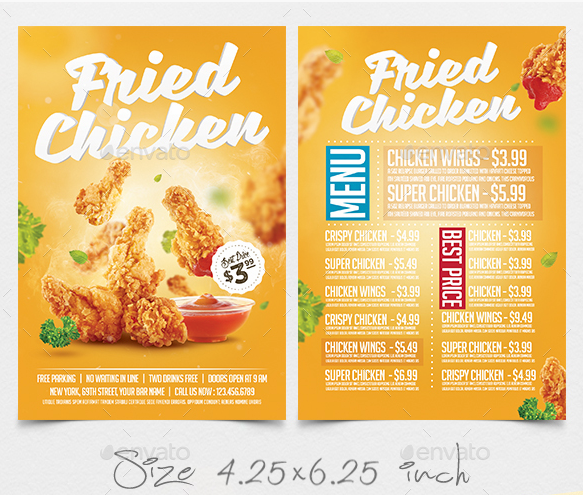 If you found this article helpful in any way, do not forget to bookmark this page for future references. Kindly share this post with other restaurateurs seeking the best and perfect chicken flyers .