Some of the best advertising tools a company can create are flyers. These handy materials give readers a brief summary of what the business is about, the services or products offered, and contact details, which is useful for interested clients. Flyer templates not only give details about the company, but it shows these details in an artistic and more creative way which helps give readers an overview of the company's brand and who they are in general.
In this article, we will focus on flyers that cater to cleaning businesses. Cleaning flyers are especially useful for those companies who provide services that are related to cleaning, maintenance, and organization. To create an attractive yet informative flyer, we have a few tricks and tips up our sleeves in order to help make a cleaning flyer.
Elements of a Good Cleaning Flyer
Understandable goal: This speaks regarding the purpose of the cleaning flyer. Are you targeting home, office, or car services? Focus on an aspect you want to promote with your cleaning business. Should you wish to expand the types of cleaning services the business is offering, create a new flyer with that target.
Eye-catching headline: This is the attention-grasping aspect of your cleaning flyer as it is the first thing the audience reads. Make it interesting and catchy, but not too long.
Stimulating message: This is the message in which a company would like the reader to act upon when reading the flyer or the call to action. Words such as "Buy now," "Contact us today," etc. are examples of these.
Graphics: Including vivid images in your cleaning flyer does not only make it more attractive, but it also gives readers an overall summary of what you are offering without them having to read through the fine print of your flyers. Also, add in your logo for readers to remember you in this light.
Contact information: This is a crucial element as this allows potential clients to avail of your cleaning services. Consider placing your socials – Facebook business page, Instagram, or Twitter profile, as well.
10+ Cleaning Flyer Templates
Cleaning Service Flyer Sample
Professional Cleaning Services Flyer Design
Simple House Cleaning Service Flyer
Commercial Cleaning Service Sample
Car Cleaning Service Flyer Design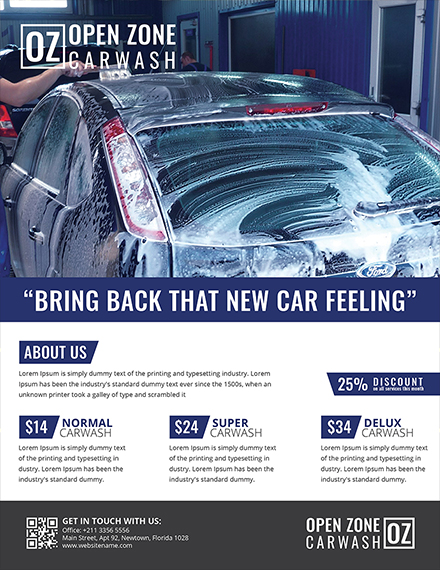 Details
Size: 8.5 x 11 inches
House Cleaning Services Flyer Template
Printable Cleaning Services Flyer Sample
Home Cleaning Service Flyer Template
Cleaning Service PSD Flyer Example
Simple Cleaning Flyer Design
Steps to Make a Great Cleaning Flyer
Plan the concept: Think about the message you wish to carry for your cleaning flyer. Make sure the message fits the theme and the company's overall brand.
Choose the format: Depending on the goal, there are different flyers that fit different needs. One-sided flyers are more fitting for those who wish to promote an offer.
Add in relevant designs: Not only does this ensure that the receivers would want to continue reading, this is the creative aspect of the cleaning flyer that will catch the attention of audiences and probable clients.
Rank the information: Experiment with graphic elements such as a bold, italic, and different size of typography when it comes to ranking information. This allows for your flyer to be more attractive.
Utilize graphic resources: Use photography, illustrations, and other elements will allow cleaning flyers to be more impressive in the perspective of the readers. It also transmits the company's values, therefore, the designer must choose these carefully as the wrong picture can misconstrue company branding.
Add in contact details: This refers to your website, e-mail address, social media profiles, telephone numbers, etc. Having these included in your cleaning flyer allows readers to contact you easily.
Proofread before printing: Double check every single word of your flyer as a little mistake can ruin all the hard work. Make sure there are no spelling mistakes and that all the graphic elements suit the guidelines. Printing out flyers with no errors will allow for a company to save a ton of money.
Simple Tips for an Excellent Cleaning Flyer
Keep it simple: By adding too much information, you run the risk of overwhelming your receivers. Go straight to the point with your cleaning flyer as people will just skim-read through the cleaning flyer. Leave only the essentials.
Divide the copy into digestible sections: Long paragraphs can discourage readers as most of the time they would rather skim through marketing tools. White space can alleviate this strain, and dividing your content into sections is more pleasing to the eye. Just add in headings or sub-headings to make it easier for readers to locate certain parts.
Utilize bullet points: Try to summarize information as this allows your ideas and concepts to be easier to understand.
Do not forget to add directions: Whether your cleaning business is managed online or has an office or location, add in your website address or directions to your physical shop.
Stick to the brand's identity: This allows readers to identify your services with your company almost immediately. Stick with your logo, color scheme, typography, etc.
Choose the right paper: The type of paper can affect the durability of the cleaning flyer. Select a paper stock that is fitting to your design.
Use impressive testimonials: Choose well-written testimonials from previous clients and do not use one that has been highly edited to maintain the company's credibility. Reviews are great starting points.
Limit your typeface choice to two or three: Having multiple fonts can make your flyer design visually cluttered. Two to three fonts are ideal and add some design elements to it. Make sure to use a typeface that is easy to read, even from a distance.
Only use high-resolution pictures: Readers may associate low-resolution images to low-quality services, other than turning off any receiver with blurry photos. Make sure to use clear photos for your cleaning flyer.
Types of Cleaning Flyer
Leaflets: Small advertisements in a form of a single sheet of paper. Because of its size and relatively affordable cost in producing such, this is highly preferred by many businesses. These can be placed on car windshields, placed through doors, in mailings, etc.
Digital Cleaning Flyers: These are cleaning flyers that are distributed on a digital space and has ease of transmitting information. Companies just have to make sure that the formal is compatible in many computer programs and systems.
Cleaning Flyer Template Sizes
Half Sheet – 5.5 x 8.5 inches
Standard – 8.5 x 11 inches
Large Format – 11 x 17 inches
Cleaning Flyer FAQs
What is the purpose of a cleaning flyer?
A cleaning flyer is a form of paper advertisement for a company that focuses on cleaning services that are meant for distribution in the mass scale, posted on certain spots in the community, or sent through the mail.
Is there a difference between a flyer and brochure?
Flyers are usually 8.5 x 11 inches in size and are offered in a variety of standard or custom sizes. On the other hand, brochures are small multiple sheets of paper that are bound together. When they are smaller in size, brochures can be called as pamphlets.
Cleaning flyers not only help promote profit and sales for cleaning businesses, but it also gives the audience or readers a general summary of the company is in terms of vision and mission. Keeping your business's flyers simple yet informative is a key aspect in making a flyer successful and can gather more clients or gain traffic on the official website. If you follow our simple tricks and tips, creating an effective cleaning flyer is not a difficult task.