College is one of the best phases of life, isn't it? What makes it memorable are the friends, the fests, the fairs, the celebration. Life was at its best back in college. We would wait eagerly for the fairs to come- the book fairs, the annual fairs. Being a part of it gave a different kind of vibe. Creating the perfect logo, thinking the tagline, making the flyer designs, inviting people to our fests felt so exciting.
6 Steps to Design a College Fair Flyer
Any celebration that involves inter-institution participation and invitation be it a fair or a fest involves a flyer making process via which the people outside the arena are made aware of the upcoming celebration. Making a flyer is not half as easy as it sounds. The more creative the flyer the more eyes it attracts.
Step 1: Think of a Creative Design
Keep in mind the nature of the celebration and choose the color and the design wisely. Bright colors attract more eyes.
Step 2: Include Pictures and Graphics
Pictures from the previous celebration or funky fonts can be used as a way of attracting young students to participate.
Step 3: Choose What Information To Put
Too much information makes the flyer look cramped and unattractive. However, the basic minimum like the date of the event, the venue, the special attractions must be mentioned.
Step 4: Take Help of Applications
Use Canva or poster maker to get ideas on design.
Step 5: Decide How to Distribute
Decide whether the flyer shall be handed out directly or given out online or personally sent via mail. You can take your liberty accordingly.
Step 6: Decide Which Part Shall Be Submitted
Since a flyer is a sort of a ticket, decide which part of the card shall be separated while permitting visitors.
12+ College Fair Flyer Templates
1. College Fair Event Flyer Template
Download
Have the annual book fair of the year at college and can't wait for the biggest book festival in town? This college fair flyer template comes with a variety of proposed designs, and options to modify the details of the event and even printable. One just needs to decide the name and think of a design in mind and in no time they can create the most creative flyer of all the events at college.
2. College Fair Flyer Template
Download
This academic flyer template has pictures and themes related to books and college life. This appealing template can be downloaded easily and customized and then distributed. One can select from the plethora of modern design templates for flyers created by us and edit accordingly.
3. Modern College Fair Flyer Template
Download
Modern celebrations require fresh ideas for celebrations, invitations, etc. Therefore, the way of announcing and inviting people has to be unique. Modern graphics and cool fonts can be used by downloading this graduation flyer template.
4. University Fair Flyer Template
Download
You may have an educational fair coming up where you want other colleges and schools to participate. If that is so you can always use this university fair flyer templates which have options for different kinds of fair- travel fair, book fair, educational fair, etc. Keeping in mind the theme and seriousness of the event one can easily customize the flyers or download this event flyer design created by us directly.
5. College Fair Flyer in PSD
Download
You can now photoshop pictures to personalize flyers to impress invitees. This template is now available in PSD format for you to customize with photoshop. Customize it and make your flyer the most innovative and unique in town.
6. College Fair Flyer in AI
Download
In case you want to design big banners and posters for announcements you can go for this AI format of the flyer templates. It would allow you to customize and add pictures and still be absolutely sure of retaining the photo quality.
7. College Fair Flyer Bundle
Download
College fair flyer template bundle allows printing student flyers that can be printed together at a time and distributed via hands. This flyer sample template can be used for college fair announcements to reach out to more people.
8. College Fair Flyer Design
Download
This party flyer is colorful and attractive to the eyes. It provides space for mentioning and customizing the dates, the special events, the venues, etc. This attractive templates can now be downloaded easily and is ready to be used.
9. College or University Flyer Design
Download
Event(s) at colleges or universities that ensure inter-college participation need to have innovative flyer designs. This invitation flyer design example has designs that appeal to the masses, logos, and pictures that talk about the event in brief and at the same time maintains the theme and decorum of the event- formal or informal.
10. Creative College Fair Flyer
Download
Flyers need to be innovative. And if the event itself is a creative event say a poetry competition or photography exhibition the flyers need to be all the more innovative. This student flyer is for innovative college events that need to have their unique ideas that get the audience to thinking and liking it
11. Free College Fair Flyer Template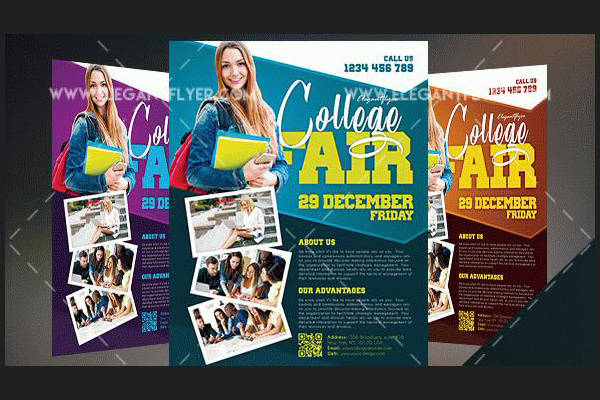 Download
Free college fair flyer that needs to be distributed hand to hand need to be quickly appealing as the public wouldn't wait long. The design, slogan, pictures, and graphics need to be simple and yet catchy and also readily available. So get this template now!
12. Elegant College Fair Flyer
Download
Some college events are elegant and are organized once in a year. This might include the annual fair or the 50th year celebration fair. Keeping in mind the elegance and dignity of the event we have designed creative and elegant flyers for you.
13. College Fair Poster Flyer in PSD
Download
This college fair poster flyer is basically using the same template as the backdrop for the poster of the event as well as the flyer to be distributed. It is done when the cost needs to be reduced to print flyers and posters separately. Although the idea is a little less innovative it can be used for small events.