Dance is a modern form of art where rhythm dictates every step the performer makes. It is an art of expressing thoughts and feelings through movements. It has been done since ancient times to worship gods and gradually became a form of entertainment.
Today's modern dance consists of a lot of styles and variations, which makes it stand out and a widely practiced art. As of this generation, dance is incorporated into music to create stunning and memorable performances. All the moves are synchronized with one another and it goes along well with the beat of the music. You may also see hip-hop flyers.
Since dance is a widely practiced art worldwide, we have collected some dance flyers for your use. These can be used if you are promoting a dance event, a dance school, or anything related to dance.
Salsa Flyer Template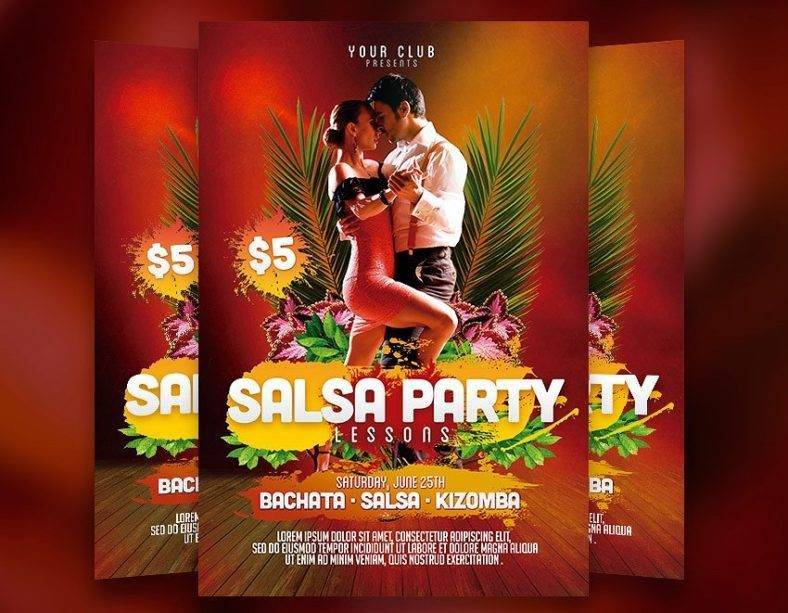 Electro Dance Flyer Template
Elegant Dance Flyer Template
Kinds of Dance
Dance does not just exist in only one form. It has several styles and each one is unique and can hold their own. Whatever dance style it may be, it never fails to express the emotions people feel and take the audiences by storm.
1. Salsa
Salsa is a dance that originated in Latin America in the mid-1800s. It has evolved into many different variations. Salsa is usually danced in nightclubs, bars, and restaurants. The arms and legs play very important roles in dancing salsa. For men and women, foot pattern and body movement are two of the most important factors in salsa. It also shares the same name with the Spanish term for "sauce".
2. Tango
Just like salsa, tango also originated in Latin America, particularly in the border between Argentina and Uruguay. It slightly differs from salsa, as dancers are either doing an open embrace, where there is a huge space between their bodies, or close embrace, where the dancers' chests are glued to each other. You may also see disco party flyers.
3. Mambo
Cuban musician Arsenio Rodriguez first introduced mambo in the 1930s. It was developed in Havana and then moved to Mexico. It broke into mainstream popularity in the 1940s and 1950s. Mambo means "conversation with the gods" in the Congolese, a language spoken in Congo. The dance also became popular in Mexico City and New York City. You may also see abstract flyers.
4. Folk dance
Folk dances are dances that reflect the culture of a certain region, wherever it is located. This kind of dance can only be found and performed in the area it originated from. Folk dances celebrate the culture of its origin and to showcase the region's uniqueness. It is usually held at social functions and gatherings to entertain visitors. You may also see pool party flyers.
5. Cha-cha
Chacha is a Cuban dance which was first introduced to the world in 1953. Cuban composer Enrique Jorrin developed the dance along with the music. The basic step of the dance is the checked forward step of the left foot while the right foot retains its weight. It's like going forward and backward again and again. You may also like free flyers.
6. Belly Dance
Belly dance originated in Egypt. It is an Arabic way of expressive dancing. This kind of dance focuses more on the movements of the hips and torso, rather than footwork. Belly dancing is mostly done by women. The movement of the hips is very articulated and on point. This is also performed in social gatherings as a social dance. Sometimes, men and women dance separately. You may also like nightclub party flyer templates.
Disco Dance Party Flyer
Virtual Dance Flyer Template
Dance Party Flyer
7. Modern
Perhaps the most common and popular trend of dance that we have these days, modern dance has taken the world in a heartbeat. It is composed of different slick moves and focuses more on the movement of the limbs and creating a synchronized choreography. Modern dance is a mix of Western and European influences and has evolved into several styles. Two great examples of modern dances can be seen in Western and Korean pop music industries. These two industries are giving much thought to mixing sing and dance in their live performances on stage. All the routines are a product of brainstorming and intensive practice. You may also see club party flyers.
8. Ballet
Ballet is a dance usually performed in theaters and is known for its graceful movements. Female ballet dancers wear tutus, the traditional ballet costume. Ballet has its own style of music as well. The dance started during the Italian Renaissance in the 15th century. Ballet later developed into a concert production in France and Russia. It is also used to tell a story through dancing. One of the most popular ballet productions in the world is The Swan Lake. You may also see disco party flyers.
9. Flamenco
To say that Spain does not have its own dance is an understatement. Flamenco is a Spanish dance based on ancient music traditions. It became popular worldwide and it dates back to the 18th century. Flamenco is a kind of dance that depicts the fiery behavior of the dancer. It can be seen in its fast and aggressive moves. You may also like carnival flyer templates.
10. Zumba
This dance trend combines dance and fitness powered by an energetic music. Zumba was first introduced in 1999 by Colombian choreographer Alberto Perez. Zumba combines salsa, mambo, and hip-hop in a dance performance. Millions of people take Zumba classes all over the world. Usually, a Zumba instructor does the choreography on stage as the audiences dance along with it. Pop music, mostly in the Spanish language, blares on loudspeakers. It emphasizes movements of the limbs, especially on the arms, hips, thighs, and abs. There are also many kinds of Zumba classes for all ages as well. You may also see best party flyers.
11. Hip-hop
Hip-hop is a street dance that started in the 1970s. It is a big part of the growing hip-hop culture. Hip-hop has been heavily commercialized in television and the music industry. It includes dance moves such as popping of the chest and doing difficult steps such as a headstand. You may also see word event flyers.
12. Tap
Tap dancing is the way of making sounds of tap shoes hitting the floor to create some percussion. To create the sound, a metal must be attached to the heel and toe of the shoe. Tap is performed in musical theaters. Tapping and sliding the feet are just some of the ways in making the sound of tap dancing. You may also see PSD flyers.
Dance Club Event Flyer
Nightclub Dance Flyer Template
Pole Dance Flyer Template
Health Benefits of Dance
Dance is a strenuous but fun routine to do in your spare time. It offers some health benefits that help the body in gaining more stamina and strength. Here are some of the benefits dancing can give.
1. Improves heart and lung health.
Dancing takes so much energy. The heart pumps blood and the lungs take in the air more than usual to keep up with the upbeat movements your body is making. Through dancing, the heart and the lungs are exercised. This can help improve the health of these organs. Your heart and lungs can adapt to more physically straining activities after immersing in so much dancing. You may also like printable party flyers.
2. Improves coordination, flexibility, and agility.
Dancing needs coordination, not just with yourself and the music, but with others as well. Coordination is improved when you move well along with the music. Dancing also increases your flexibility and agility. Moving and stretching the body in making some steps as quickly as possible becomes a piece of cake. You may also see contest flyer templates.
3. Track the weight.
Dancing helps shed off the extra weight by burning the calories inside your body. This helps you in tracking your weight if you are maintaining an ideal one. Even if you are not keeping an ideal weight, dancing is still a good option for getting your body to move. You may also see an example of flyer templates.
4. Better balance and mental functions.
Mental functions and balance are improved through dancing. You get to balance your body better and pick up which beat to make the step.
5. Maximizes confidence and social skills.
Dancing boosts your confidence and makes you socialize with people. This helps in gaining new friends and connections. Making new friends in dance classes expands your circle and you get to learn more about people. You may also see sample party flyers.
Break Dance Flyer Template
Dance Night Flyer
Street Dance Flyer Template
What To Do In A Dance Routine
Dancers prepare themselves before doing a full dance routine. This allows their bodies to adjust to the intense work during the whole performance. The list below breaks down the things you have to do before, during and after a dance routine. You may also see dance poster templates.
1. Have a checkup.
Consult your doctor first if your body can withstand heightened physical activities such as dancing. The doctor will tell you what you can and cannot do. Always follow the doctor's advice in cases of activities that require much use of physical strength. You may also see 3D Flyers.
2. Choose your preferences in dancing.
Dance can be slow or fast. Choose what your body can execute and how you would like it to be done. By having your own preference, it won't be hard for you to adjust with the steps and transition of the dance. You may also like contest flyers.
3. Do a warm up.
Always do a warm up before dancing. Stretch your arms and legs well. Move your body around or try to jog a little. It helps in getting the blood going and keeping you awake before the dance starts. You may also see audition flyers.
4. Drink lots of water.
Never forget to drink water before and after dancing. It hydrates your body and helps you regain the lost nutrients while doing the routine.
5. Wear comfortable clothes.
Wear clothes that will help you move freely without risking a wardrobe malfunction. Examples of these are leggings, loose shirts, and baggy shorts. You may also see nightclub party flyers.
6. Sit back and learn new moves.
When learning new moves, it's best to watch it first before doing it. This might increase the risk of injury. Follow the dance instructor's advice in executing the dance moves to prevent any injury in the process. You may also see party flyers.
7. Rest in between sessions.
Dance have breaks in between. Take a rest and breathe. When you feel like you have rested enough, it's time to groove again.
8. Move along with the rhythm.
Move gracefully along with the rhythm of the music. Don't stop yourself from loosening up. Execute the steps with as much class and swag, depending on the music. The thing about dancing along with the music is you can enjoy every moment of it without holding back. You may also see club flyer templates.
9. Give your body a proper rest.
After the tiring routine, allow your body to have a proper rest. Sleep a lot to gain the lost energy. Take some time off before you go into dancing again in the future.
Dance is for everybody to do, love and appreciate. Young and old, men and women, dance to express themselves and be merry. Just enjoy every moment and every beat of the music. You may also like printable event flyers.