While many people would use the terms horizontal and vertical to refer to positions or orientations—since these terms are easier to remember—the most appropriate terms for them are actually landscape and portrait orientations. These terms are commonly used by photographers, artists, and graphic designers, to name a few. To make it clear for you, landscape orientation refers to the horizontal positioning of the design, while portrait orientation refers to the vertical position.
But why are we talking about these terminologies? The reason for that is because this article is all about flyer layout templates that make use of the landscape or horizontal orientation. The flyers below are not intended for a specific purpose and can be used for all sorts of promotional and marketing campaigns. As the title of this article states, all flyer templates on this article are horizontally-oriented, which means that if you are looking for vertical ones, you won't be able to find them here. But before you leave, take time to check out the templates below and you may even want to change your mind about which orientation to use.
Minimalist Futuristic Robot Horizontal Flyer Template
Check out the futuristic horizontal flyer template above which you can use for all your marketing campaigns. The great thing about this template is its simplicity, as you can see from the image above. However, this template would only work best if your image is already able to inform the reader with what you are trying to advertise without having to include a lot of text.
Green Real Estate Horizontal Flyer Template
If you are working under a real estate agency, you probably know by now how difficult it is to find buyers to properties that are already in the market. You will really need to determine what the client wants in a home in order for you to narrow down your choices on what you can offer them. But before you can actually proceed to doing those things, the first thing you will need to do is to attract prospects, which you can do through flyer distribution, and we may just have the perfect real estate flyer template above for you.
Rustic Minimalist DJ Event Horizontal Flyer Template
Above is another simple horizontal flyer template that you also be interested in. As you can see from the image above, this flyer template can be used to promote a music event—specifically, a DJ or electronic dance music party. To keep the design simple and clean, you will only need to include a clear photo of the featured DJ, the relevant details of the event such as the date, time, and venue, and your contact details if in case inquiries or clarifications are necessary.
Prayer Breakfast Horizontal Flyer Template
To those people who are active in religious organizations, then this and the next flyer template may be for you. Above is a horizontal template which is meant to promote a breakfast gathering of both members and non-members of the organization, the latter of which are volunteers or those who simply want to participate in church activities. In addition, this event flyer template has a rustic theme which is somewhat appropriate for the type of event being advertised.
Passionate Club Event Horizontal Flyer Template
If you want something that's seductive and steamy, then check out the club flyer template above and see whether it's steamy enough for you. This modern horizontal flyer template makes use of a still image for its background, and the foreground elements are divided into two halves, wherein the left half is intended for a rather provocative image of a couple, and the other half for the textual elements.
Praise Gospel Concert Horizontal Flyer Template
The template above is the second of the two church-related flyers on this list, and this is ideal for those worship concert events. The design of this template is highly simplistic, with the entire design divided along the corners. One half of the template shows a view of nature, while the other half shows an image of a person playing a guitar. Right at the center of the design is a rounded symbol with the text written inside it.
Soccer Game Horizontal Flyer Template
Are you into sports? Because if you are, then the flyer templates above and below are all about sports, though they may still be used for other purposes as well. The flyer template above works best for soccer—also referred to as football in other countries—and it shows a soccer player in the middle of the field about to kick the ball. To make this sports event flyer even more informative, you may be able to use the two spaces beside the player for the flags of playing teams.
A4 Sized Stock Horizontal Flyer Template
If you are looking for an A4-sized horizontal flyer template that you can use for any type of industry, then check out the design template above. This template takes advantage on the use of a lot of white space, which is where the textual elements are placed. With this arrangement of the elements, the reader is forced to focus on the important aspects of the flyer, which provide answers to the what, where, and when with regards to the business, organization, product, or event that is being advertised. However, if the A4 size isn't really enough for you, then you may also want to check out our collection of A5 flyer templates.
Baseball Championship Horizontal Flyer Template
Here is the second sports-themed flyer template that we mentioned earlier, but unlike the previous one, this horizontal template involves baseball and is far simpler in appearance. As you can see from the image above, it simply shows a batter taking a swing at the pitched ball. But of course, even though this baseball flyer template is simplistic, it also contains some added effects which you can see behind the baseball player, and this is to simulate his movement and to make it lifelike.
Automobile Shop Horizontal Flyer Template
Planning on promoting your auto business? Do it by using the horizontal business flyer template above, and as you can see from the image above, this template is horizontally-lengthy. But the great thing about this orientation is that it is able to organize the content well considering that people normally read from left to right. Aside from the image of the car on the design, the rest of the template makes use of a lot of white space to make it look clean and easy on the eyes.
Latin Themed DJ Event Horizontal Flyer Template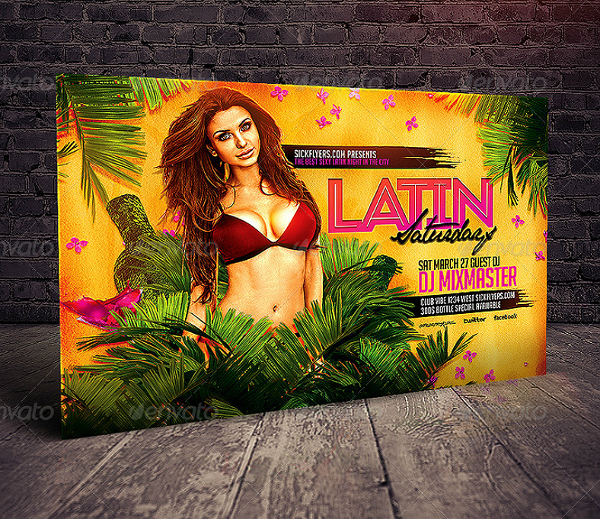 If you are planning to host a music or dance party, then we have a lot of those everywhere on our website which you can use, but if you are looking for something specific—lets say, a Latin-themed music event—then you don't have to go anywhere else. Check out the image above, this Latin dance party flyer template is highly colorful and artistic, it would be very impossible to get overlooked, especially with the image of a beautiful and sexy girl projecting herself from out of the leaves.
Sensational Party Horizontal Flyer Template
Check out the modern yet rustic nightclub party flyer template above that you can use to promote your club events, it uses a limited number of elements but still manages to stand out with its creative background. The look of this template is modern enough that it appropriately fits its purpose, all while keeping it simple and informative.
Futuristic House Party Horizontal Flyer Template
Here is another club party flyer template that you might want to consider if the previous one didn't quite fit what you were looking for. This template, however, is more colorful than the previous one, and the glossy and metallic elements give it a rather futuristic appearance rather than just being modern. This horizontal flyer template is highly appealing and straightforward that you can never go wrong with it, guaranteed.
Sexy Summer Break Horizontal Flyer Template
It is almost the summer season—though in tropical countries, summer has already begun—and people enjoy going to the beach for a swim or or basking themselves under the sun. For others, they keep themselves up-to-date with regards to summer, beach, or pool parties which are very common during this season. If you are planning such party, then you may find the summer event template above very useful. Aside from the template's use of huge fonts which screams what type of party is being advertised, the image of a beautiful girl in a skimpy outfit is already enough to draw people's eyes towards the flyer.
Paint Streak DJ Event Horizontal Flyer Template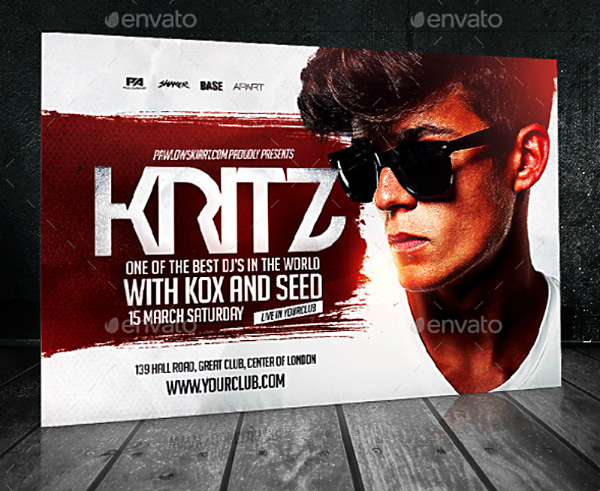 If you are looking for a no-nonsense DJ music event flyer, then you may want to check out the template above. This minimalist flyer design is not at all fancy but is able to convey the needed information to the people. As you can see from the image above, this template simply bears a close-up portrait of the featured disc jockey over a white background. The details of the event are written over a streak of red paint, making use of the element's negative space in order to make the text legible.
Women of Prayer Horizontal Flyer Template
Above is yet another flyer template that can be used to promote a church-related event. The difference with the one above is that it is intended for those events that are focused on and towards women. But don't let that keep you from using this template for other purposes. Go ahead and use this template to promote other religious events, you may even be allowed to use this template to promote events that are not church-related, it's all up to you. For even more templates regarding women, you can also check out our collection of women's day flyers.
What did you think of our multipurpose flyer templates? Were they able to convince you to use a horizontally-oriented flyer instead of a regular, vertical one? For one thing, the most common flyers out there are vertically-oriented, which means that your flyers are more likely to stand out if you choose to download and use the ones from this article. If you're wondering where we got these templates, we actually gathered them from various sources, and these were contributed by some of the world's top graphic artists, and that information alone is enough to assure you of the quality of these flyer templates.
Still not convinced? You should be after we tell you that you won't need to spend a lot of money to be able to download from our collection of templates. These flyer templates have been priced very reasonably that even those organizations and business that are on a budget may be able to download them. Furthermore, these horizontal flyer design templates are fully editable, allowing you to modify the design as much as you want while keeping the quality at its best. But to be able to enjoy the full editability of these templates, you will need to use the right editing tool for its format, which means that Adobe Illustrator should be used for vector-based templates and Photoshop for those saved in the PSD format.
Now that we have gotten those concerns settled, it's time for you to take action by scrolling back up and clicking on the download button. Go ahead, download a template so you can start working on your flyers now.