Music is the language people use to connect to people of different races, colors, and culture. Sharing news relative to music shared in one place is easiest done through music flyers. These are easy to throw about or passed around in bulk anywhere. Below states how to make these in perfect balance. You may also see flyer designs.
11+  Music Flyer Templates
1. Hip Hop Music Flyer Template
The whole thing does not use too fancy graphics and utilizes a mellow mix of colors that give off the vibe of hip hop. It may be the average type of flyer but it provides all the needed parts to serve its reason for existence. This here come in five types: Adobe Illustrator, Photoshop, Indesign, Microsoft Word and Powerpoint.
2. Live Music Festival Flyer Design
If in the need of a flyer that whispers "night event", it is this guy's time to shine then. The whole layout is simple with doable clarity on every essential detail. It is not too hard to mend to preference and easy to release after only a few edits.
3. Jazz Music Event Flyer Template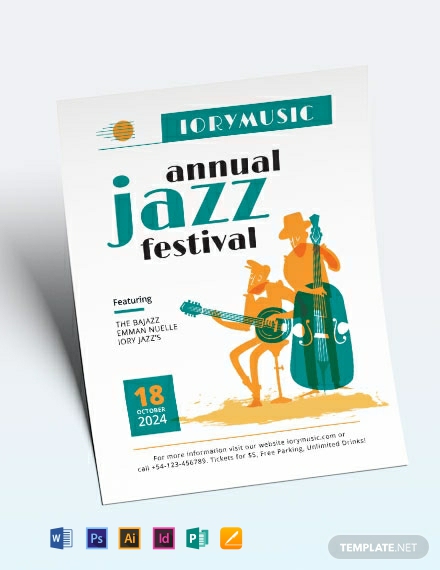 A music flyer that relays relaxing, flavorful music and "all that jazz". It leaves room for more surprises for it only mentions vital info. To be more specific: the event, date, time and some featured artists performing. Even so, this is a good type of flyer that uses a minimal amount of colors for appeals.
5 Steps to Create a Music Flyer
Step 1: Plan everything first
Before starting on making the whole flyer, plan everything out. Know what layout would work best for your preference and how they would look entirely on a material of choice. Planning firsthand will make the next steps easier to execute.
Step 2: Pick out the theme
There are various events that are music related. It is important to know what event will take place to decide which contents would be suitable to use. The whole flyer must become the physical representative and promoter of the music event through relevance to the theme.
Step 3: Choose vital written contents
The number of readable contents inside a music flyer should be what people consider as important It could cover a few of the key elements of an event: type, date, time, location, an order of sub-events, performers, notifications and freebies.
Step 4: Use vivid graphics contents supporting the theme
The flyers are means of promotion so these must be able to help in attracting people who couldbe involved Using complementary colors and graphics with great quality will give flyer templates that capacity. One must also take note of colors that would best represent specific music genres.
Step 5: Make sure everything can be easily read
With the organization of all components done and intact, everything must be readable. No other factors should distract people. Say, for example, the text colors clashing the with the background or the usage of vague text types. A music event flyer that served its purpose well is what we call successful.
4. Rave Party Music Flyer Template
This flyer unveils the hint of a party getting dragged till midnight or even the break of dawn. It gives a lot of space for everything even for the instructions and special features on this type of event. This flyer is available in MS Word, Photoshop, Adobe Illustrator, Indesign, and Powerpoint formats.
 5. Music Flyer Design Template
No more lonely nights when the music hits you hard in the feels. This flyer is direct in conveying all necessary info about the said event. It is a flexible type used in many genres and music events that goes on even after the clock strikes twelve.
6. Music Event Flyer Template
Into the feels of slow and standard rock music, build your flyer with this rocking design. Why complicate yourself when using this easy-to-edit flyer will relieve you of the hassles? Basic this may be in design but it is inviting from the illusion of mystery of what else to expect in the event.
7. Music Event Party Flyer Template
8. Rap Battle Flyer
Searching for a ready-made flyer for your rap battle event? Then, this is the template that you have been looking for. This flyer draws participants to register your event. You can download the template here.
9. Electro Music Disco Flyer
Advertise random, electrifying music through the use of this dainty flyer. It provides all the major info in the simplest manner. It sparks attention using the right amount of color mixes. Editing is a piece of cake and takes more time to turn the involved people ecstatic.
10. Free Music Party Flyer Template
For parties covering diverse genres of music, this one here could be your pick. This flyer gleams in bold all the vital details about the event. Spread your music news and invites using this bright and colorful piece. These are available via MS Word, Photoshop, Adobe Illustrator and MS Powerpoint.
11. Free Music Event Flyer Template
If you got to find one flyer for all varied types of concerts, you won't need to look further anymore. This classic music flyer is what you need. It gives enough space for all the short details and provides a great feature on the image relative to the event.
12. 80's Music Flyer Example
Download
Hosting a party while feeling nostalgic as you retrospect back to the good old music times? Share the feelings in an event through the use of this neat thing. The layout and colors take you back to the times cherry cokes rule and people were once creatures of the night.