How can businesses help themselves to grow and become successful? For sure, they won't be able do it by themselves and they will need to seek the services of people outside the industry to help them with certain tasks. One of these tasks is developing marketing strategies in order the maximize the generation of leads and the exposure of the business.
While these tasks can be handled by the business owners themselves, they will also need to hire marketing consultants to provide them with assistance, and we will explain later as to the importance of hiring these marketing consultants. If you are one and you wish to promote yourself to business owners, we have flyer designs and templates below that you can get your hands on.
Design Hub Marketing Consultant Flyer Template
Business Marketing Consultant Flyer Template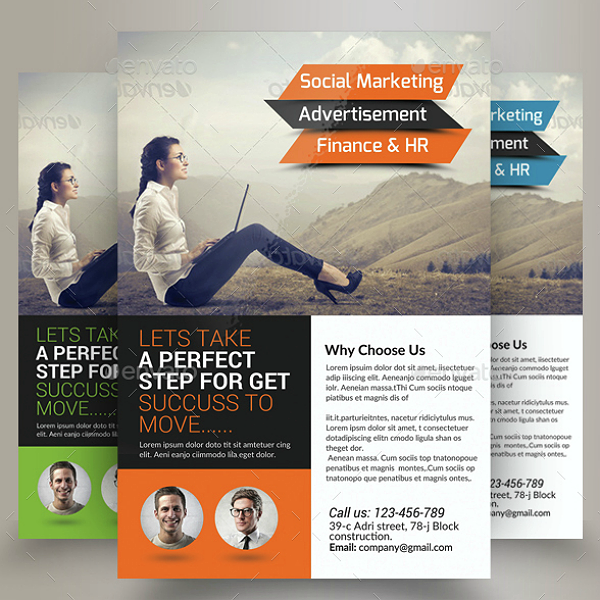 What Does a Marketing Consultant Do?
A marketing consultant is a professional who understands, analyzes, and motivates clients on how to apply strategies in order to improve business. For many people, they often confuse marketing consultants with advertising agencies for the reason that their roles and responsibilities are relatively similar. However, the two professions are actually very different although there are still a few complementary functions that apply to both.
If a business already knows what message to convey through their advertisements, they would choose to hire advertising agencies to create the ads they need. These agencies commonly consist of art directors, graphic designers, and copywriters who will work hand in hand in order to bring the message of the business in a rather engaging means, either by television commercials or any other ad campaigns.
Marketing consultants, on the other hand, are in charge in providing businesses with the assistance they need to decide which marketing method can best engage their existing clients. In addition, marketing consultants are also responsible in determining who else might be interested to try out a product or service and what to do in order to expand the business' client base. Marketing consultants perform their tasks based on the existing business model, and through that, apply analytical tools and develop strategies to be able to achieve greater goals.
See more business-related content by checking out our collection of business flyer templates.
Pro Business Marketing Consultant Flyer Template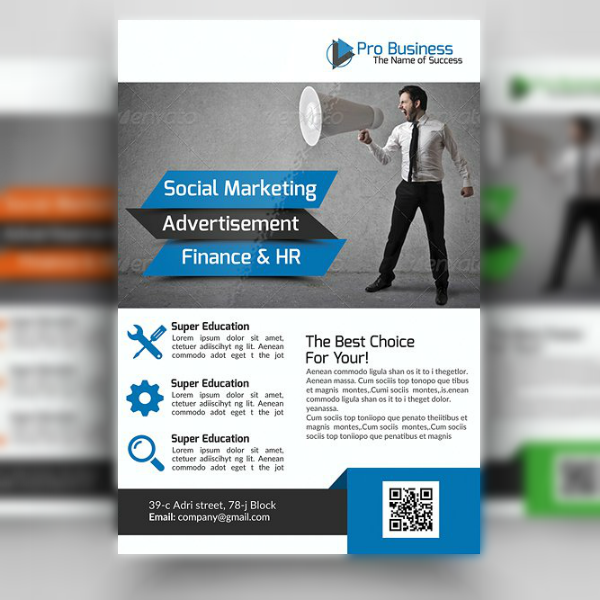 Learning Solutions Marketing Consultants Flyer Template
What Are the Qualifications and Skills Needed to Become a Marketing Consultant?
We mentioned earlier that marketing consultants are professionals who handle various roles in order for a business to grow. Since they are considered as professionals, they will need to go through several steps before they actually qualify to perform as marketing consultants. Some of these steps include earning a degree, gaining work experience in this specific field, and building client relationships. To make it clearer for you, here is a much thorough list of qualifications that one must have in order to become a marketing consultant:
An undergrad degree in business, marketing, or communications.
The required number of years of experience working as a full-time corporate marketer.
An impressive portfolio that shows the history of the individual's success in marketing.
Acquired experience working in various industries and an expertise in a particular function.
Expertise in a wide range of areas in marketing such as lead generation, SEO, social media, and content.
Strong copywriting and communication (verbal and written) skills.
Ability to listen effectively and empathize with clients.
Proficient in word, spreadsheet, and slideshow processing software (Word, Excel, and PowerPoint, respectively).
Motivated, has leadership skills, and knows how to act professionally.
Once the individual has the needed qualifications in order to become a marketing consultant, the next thing that they will need to do is build a good reputation for themselves. With a good and trustworthy reputation, prospects will be coming for you instead of the other way around. Here is a list of what you can do in order to boost your success rate as a marketing consultant:
The most basic and probably also the most effective thing that you can do to establish your reputation is to earn your clients' trust because, well, how can you earn clients in the first place if they don't trust you at all? One good way of doing this is to include testimonials from satisfied clients on your advertisement tools.
Become your client's best and only choice, or in other words, be irreplaceable. This might be a bit challenging to pull off because you will come across various competitors, each with their own unique way of rendering their services. But with enough perseverance, you will even be able to earn referrals from existing clients. But that's just the first step, the next step is being consistent in your level of service and your clients will never let go of you making you irreplaceable to their business.
Just because you're already done with school, it doesn't mean you no longer need to hit the books. In order to keep up with the standards and trends, you will need to continually educate yourself as well as earn certifications. When prospects know of your achievements and certifications, the more they will put their trust in you. Just like most professions, marketing is also consistently evolving which is why it is very important to keep up with the pace.
Looking for more flyers? Also check out our collection of more sample flyer templates.
Business Designs Marketing Consultants Flyer Template
Strategic Marketing Consultants Flyer Template
Reasons Why Businesses Hire a Marketing Consultant
Even if businesses "think" they don't need a marketing consultant for their business, they actually do whether they like it or not. But nevertheless, these businesses shouldn't expect consultants to totally solve all their marketing problems if their products or services don't make sense or if the business is already in the brink of tumbling down. When businesses hire a marketing consultant, they also need to do their part so the consultant can help in developing the needed marketing strategies. Marketing consultants can't function without their client's participation, and here are a few good reasons why consultants are important even if business people don't think so.
Marketing consultants offer a realistic, attainable strategy that can help form a series of tactics specifically aimed at increasing traffic. The strategy developed by consultant will make their clients realize that their own marketing efforts were never enough to build the needed momentum.
Marketing consultants can help in determining the highest payoff work and the most pressing goals. They will base these data on how the business sees themselves in a pre-determined number of years. Additionally, a good marketing consultant makes sure that the number of priority goals remain small at any given time.
Marketing consultants help businesses figure out how they can lead prospects to their products and services. The highest priority of business people as well as consultants should be conversion, but not many are aware of this. In order for a business to grow, the conversion rate should be monitored at all times.
Marketing consultants are ideal for clients who are unable to stay focused in their tasks. It is very common that business people have a difficult time concentrating on a specific area since there are a lot of factors to consider when running a business, and you can hardly put someone accountable for their tasks.
You might also want to check out our other collection of business flyer templates.
Social Marketing Consultants Flyer Template
Best Marketing Consultants Agency Flyer Template
Importance of Flyers in Businesses
Many people underestimate the importance of flyers, business newcomers today could hardly believe that traditional flyer distribution is just as effective in generating leads as its digital counterpart. In fact, many would even consider it more effective mostly because of its tangible nature. While it may seem like a lot of effort to manually distribute flyers instead of just sending it through email, these efforts are what actually help in making flyers very reliable. Here is a list of reasons why flyers are still important and why they still work:
Unlike many other means of doing advertisements, flyers are still at the top of being the most inexpensive. When doing flyer advertising, you don't actually need to set a huge budget for it, and as long as you design your flyers well, you can expect big returns or a high conversion rate.
In relation to high conversion rates, flyer advertising can also generate leads in a very short period of time. While this may be dependent on the time and place, but if you are able to pull it off, you'll be getting lead generations in no time.
Flyer advertisement has been proven to be very high impact even with the least amount of effort exerted. It's true, both publication and distribution of flyers don't require a lot of effort but is able to make an impact when it reaches its target audience.
And going back to being tangible, flyers have that nature and this is exactly how people want it. Most people enjoy getting their hands on something instead of just seeing these ads on the television or the computer screen, which is why tangible flyers still work exceptionally well in generating leads.
Need templates that you can use for any purpose? Check out our collection of multipurpose flyer templates.
Successful Marketing Consultant Flyer Template
How to Boost the Effectiveness of Your Flyers?
Previously, we discussed about the importance of using flyers in doing marketing campaigns, and we mentioned about designing your flyers well. If a flyer looks irrelevant to the reader, then they will most likely throw it away, making your flyers useless and a waste of effort and money. Before we end this article, you might also want to read some tips on how you can keep your agency flyers relevant and attention-grabbing.
There is a rule indicating that advertising tools should be able to capture the full attention of their readers for no more than 3-seconds, the same thing can be said with flyers. The best way to do this is to keep the content short and precise, so with very minimal time, prospects can right away understand what the flyer is trying to tell them.
Another good way of making it easy for readers to digest the information written on the flyer is by organizing the content. Give enough space for the content to breathe, arrange the text into portions, and use bullet points to make the flyer easily readable.
Don't just settle on listing or enumerating the various services that you are offering, tell your readers how you can actually help them or how they will be able to benefit from your services. Just like the rest of the content, don't be too wordy when discussing these benefits.
Let your reader know that you are actually expecting them to reach out to you by including a strong call-to-action. There is a big difference between flyers with a call-to-action and those without, with the former ones being able to generate more leads, obviously.
And lastly, proofread your work. The presence of a single error on either the grammar or spelling can risk converting your prospects to clients, they might even dispose of the flyer right away after seeing that error.