Flyer
20+ Minimal Flyer Designs & Templates – PSD, AI, InDesign
You might have heard the quote, "less is more," a couple of times already. In graphic design, it means that using fewer elements to have an impact as huge as the other designs that use more. A minimal design does exactly that. In the recent years, the trend of minimalism has crept into the long list of aesthetics that creates a visually stunning design. A lot of people are slowly adapting to it, and this design can be commonly seen in most of the influencers' social media posts. But, the reach hasn't stopped there. It has also invaded the design of most of the promotional tools, particularly the flyer.
Promoting your business can be done in various ways accompanied with different tools. And among those tools, the flyer can be effective. It is cheap, tangible, has a great audience reach. Its design can be taken in countless directions. One of those paths leads to the world of minimalism. So, to introduce you to that world, we have prepared a long list of great examples of minimal designs that you can use for your flyers. We have also included some tips on how to create an impressive minimal flyer in case you want to try creating your own or customizing a certain template on this list.
Minimal Event Flyer Template
Minimal Pool Party Flyer Template
Minimal Corporate Flyer Template
Minimal Fashion Flyer Template
Job Fair Flyer Template
Online Store Flyer Template
Music Band Flyer Template
Spring Festival Flyer Template
Minimal Flyer Template
Minimal Thanksgiving Flyer Template
Minimal Bold Event Flyer Template
Artistic Minimal Flyer Template
Abstract Minimal Flyer Template
How to create a minimal flyer
Toning down the design into its simplest form doesn't necessarily make it look boring and dull. There are a lot of ways you can achieve a visually appealing design even when it is at its most minimal form. If you have no idea on how to create a minimal design, then read the following list that tells the tips on how to do it. You may also see professional flyers.
1. Embrace color
White space is a common element in the design that, if done right, adds great impact to the overall look of the design. But, given its name, it is usually misunderstood as a mere white-colored space. While that may be partly true, the white space in the design talks about the spaces that are not marked, i.e. margins, spaces between columns, lines, and other design elements. The white space doesn't need to be white. In fact, it can be of any color that you want. Don't be afraid to change the color of the white space to whichever is applicable and essential to the design.
2. Take consideration of what the white space says
Eventually, the white space on the design will be overlaid with elements. As this is being done, white space becomes active and speaks as loudly as the texts and images that you are laying on it. Be mindful of how you are placing the elements on the white space as it might result in something that people will misunderstand. Make sure that the white space continues to work for you and not against you. You may also like abstract flyers.
Minimal New Year Party Flyer Template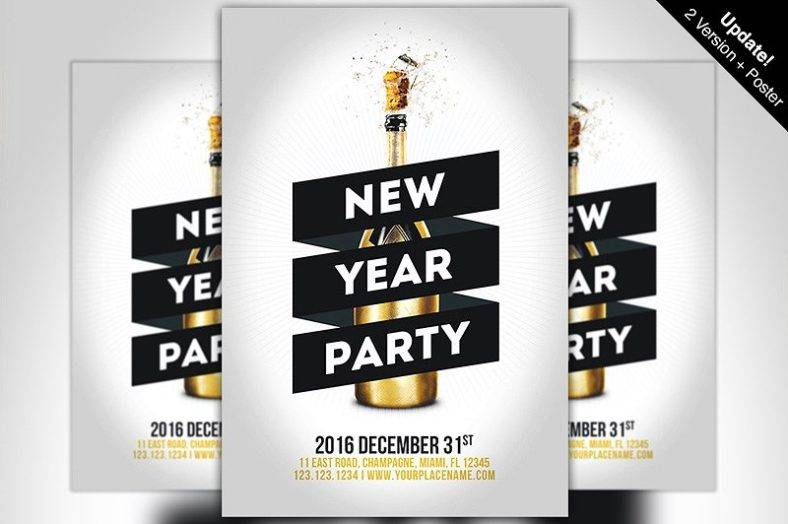 Clean Minimal Flyer Template
Night Club Minimal Flyer Template
Rustic Minimal Party Flyer Template
3. Aim for balance
Good and bad. Light and dark. Everything needs balance in this world, and that ultimately includes the design of your minimal flyer. You'll wind up with a messy page if you overuse every bit of white space available. The elements of your flyer's design will feel like they are floating in space and have an unfinished feel if you use too much of the white space. Finding a balance that makes your design feel "grounded" and purposeful relies on how you shape your white space.
The layout of your flyer also needs to be balanced. Make sure that the spacings and margins are appropriately positioned so that it will not look like the elements are cramped with each other or there is too much space in between them. Let your elements breathe. Treat them like human beings who need space, but not too much. The blocks of texts should be arranged in a manner that feels stable. Put divisions if it is necessary in order to balance the layout. You may also see elegant flyer templates.
4. Limit your colors
Colors make the design more meaningful. But, using too many will only become a hindrance to achieving its purpose. When choosing colors for your flyer, try to narrow it down into no more than 3 choices. Pick those that are complementary and can create the visuals that you are aiming for. You may also see 3D flyer designs.
5. Keep things simple
The key to achieving the best minimal flyer is to keep things simple. As the term suggests, "minimal" refers to the minimum amount of quantity or degree. In the context of designing, the term suggests that the design only needs to be simple. Achieving a simple aesthetic does more good than harm in most cases. You may also like PSD flyer templates.
Summer Party Minimal Flyer Template
6. Use what is essential
The relevance and necessity of the elements of the design are what composes a great minimal flyer. Using too many elements will only damage the impact of your design. Remember, you are aiming for a minimal concept. You may also see word flyer templates.
7. Add motion
How can one add motion when the design is static? It doesn't necessarily mean that you have to physically attach something. You can add motion by creating an illusion of movement through the graphical elements of the design. It will be up to your imagination on how you use certain graphical elements to produce such a believable illusion. You may also see free flyer templates.
8. Be careful on the image choices
Photography is a huge part of the graphical design. It is used as a condiment to the recipe of a juicy and delectable minimal flyer. And since this is a minimal flyer, you need to carefully consider how you are going to utilize it to its maximum potential. Usually, the photos in a minimal flyer are edited to exude simple, clean, and, well, minimalistic vibe. But, that may not always be the case as there are some designs that require exaggerated and grand photography just to match the tone of the overall look. It all boils down to how you are going to match the photos with the design. Mix and match.
9. Make use of the grid
Grids are as important as the white space and are useful tools to properly arrange the elements of your design. It helps you balance out your elements and composition.
10. Be consistent
The ideas that we come up sometimes don't correlate with each other. We think of one concept, and then the next moment it's a 180-degree turn from the previous. While this may be good since you would then be having a lot of options, you must also be mindful of the consistency of your ideas. The message that you want to convey to the readers and viewers must remain prevalent and consistent with the other flyers even though they have such different designs. You may also see party flyer designs.
11. Be functional
Styling the content of your design according to its function will help you create a minimalist flyer. You can emphasize certain information on your flyer by changing their text style. For example, the dates that you provided will be set in lightweight while the headers will be set in bold. This will help the readers and viewers easily locate the important details of what you are promoting using the flyer.
12. Take a careful look at the text spacing
If not properly laid out, the text will give a negative impact on the flyer's design. With that in mind, the letters or text should have enough space apart from each other. You can use it to add to the visual appeal of the design or too put emphasis on certain texts. Also, proper spacing is needed to avoid confusing the readers. You may also like A4 Flyers.
Chic Minimal Flyer Template
Modern Minimal Flyer Template
Techno Minimal Flyer Template
Flat Design Minimal Flyer Template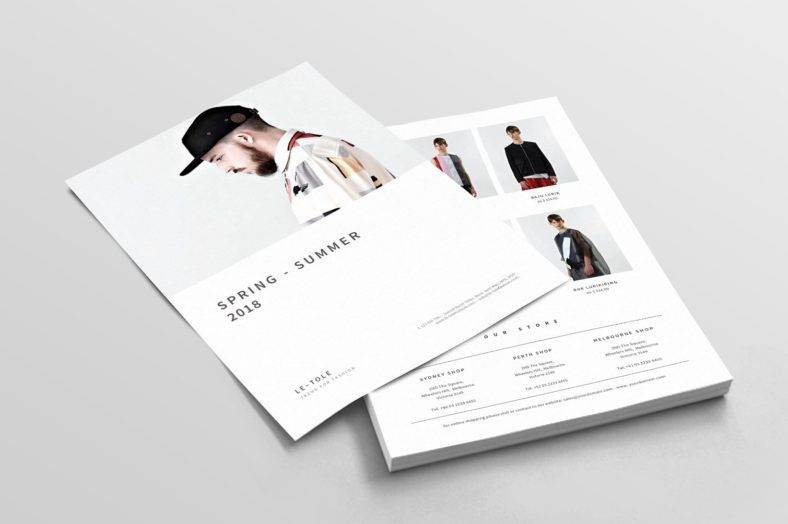 13. Try being type-centric
When your mind loses its power to generate ideas for the design, you can always resort to putting the spotlight on your text. Typography can be used to your advantage if done properly. For example, you can make a design stand out only using textured text or a certain type of style for your text. The simplicity is bound to capture everyone's attention at a single glance. You may also like black and white flyer templates.
14. Experiment with different printing methods
You can always move it up another notch if your design is declining to the point of it being bland. Try out different printing styles such as a glossy foil stamping or letter pressing. It may cost you more with the extra touches, but the turnout would be equally rewarding. You may also see free PSD flyer templates.
15. Minimal is not equal to boring
This is the most common misconception about minimal design. It happens when the elements of the design are not properly utilized to their full potential. Big and bold texts on a solid background is a tested and true solution that can create an impressive and impactful flyer. Carefully select bits of your text that you want to showcase on your flyer and spend a few time with it so you can nail the perfect words to include. You may also see A5 flyers.
16. Build contrast
Building contrast doesn't necessarily mean colors such as black and white. You can create contrast by using different text sizes on your flyer or by varying content amount that you have arranged in different sections of your layout. You may also like printable flyer templates.
17. Minimal doesn't mean it's muted
Another misconception about minimal design is that it features muted colors. This isn't always the case, though. If your brand is made up of bright and cheerful colors, then use it accordingly in your minimal flyer design. You should always remember that white space doesn't always mean that it's white. You may also see luxury flyer templates.
18. Be inventive
Surprise your audience with your wits and humor in your design. Try creating a design that boggles the mind or piques the interest of the viewers. You may also see chalkboard flyers.
Have you found your minimal design?
Minimalism can be often seen as boring or bland by some people. But, this happens only when the elements are not properly used. You can always refer to the list of minimal designs that we have provided as they are the best examples of great minimal designs. If you have found the final design for your minimal flyer, you can freely customize them as they can are fully editable. You can follow the tips above when you put your personal touch on your chosen template. And as always, before anything else, remember to choose the design that will best represent your brand identity. Good luck!
More in Flyer