A flyer samples is a small handbill advertising an event or product. You can mostly witness it in public places since it is where potential customers can be seen. It is also a great marketing strategy for businessmen if they want people to know what are their new products and services or inviting guests for events such as; birthdays, anniversaries, parties and so on.
Music Flyer Template
Music Event Party Flyer Template
Live Music Festival Flyer Template
Karaoke Night Flyer Template
Now, if you are creating a flyer for a music party and you can't seem to find any ideal design, no need to worry. We've created a list of music party flyer templates that are excellent for you. Take a look at them below.
Guest Artist Flyer Template
Rave Party Music Flyer Template
Jazz Flyer Template
Jazz Music Event Flyer Template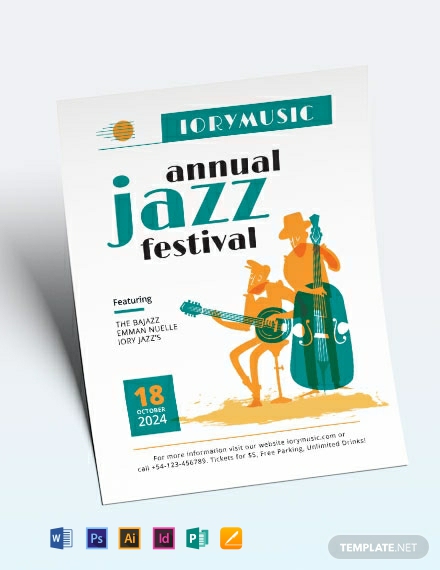 Festival Flyer Template
Music Night Party Flyer
Download
Music Concert Party Flyer

Download
Electro Music Party Flyer
Download
Grunge Music Party Flyer
Download
Music Party Flyer PSD Template
Download
All about music
Music is a form of and can be a cultural activity whose medium is sound. The common elements of music are the following:
Pitch (which includes melody and harmony)
Rhythm (combined with the concepts like tempo, meter, and articulation)
Dynamics (softness and loudness of sound)
The sonic features of timbre and texture (referred to as the "color" of a musical sound)
Since there are so many styles or types of music, these elements can be de-emphasized or omitted. Nowadays, it is a common misconception that music is a random and free type of art. Almost without exception, the fantastic works of our history are destined by distinctive rules that create more organized and understandable music. These rules or strategies are what we called as music theory. It is a product of innovation.
Origin
Music itself is very difficult to ascertain because in all probability, it is likely to have started with singing and clapping or beating the hands on various surfaces, which does not have any archaeological record.
Evolutionary scientists believe that a musical culture has helped ancient human species to survive due to the fact that music integrates emotions, helps necessary messages to be transmitted, inclines people to identify with a group, and also inspires individuals to support other members.
If you're designing a flyer for your music party, read on and find out about our party flyer templates.
Live Music Party Flyer
Download
Club Music Party Flyer
Download
Music Festival Party Flyer
Download
Retro Music Party Flyer
Download
Music Beats Party Flyer
Download
Music can also be a great mode of communication in case there is something you want to say to someone but you don't have the courage to say so. Through music, we can let them know what our real feelings are. It can also help ease and calm our minds. It has the ability to bring back memories from the past. So imagine what great experience music can offer to us.
Speaking of music, in case you are organizing a music party and you haven't created any announcement for it, we've got you covered. With our music party flyers or music flyer templates, surely it will be a cakewalk for you. All our templates are predesigned for a no-hassle experience.
What We Offer
Each template comes in a good-quality resolution.
Designs we have are vibrant and catchy, perfect for that hyper music vibe.
Can be downloaded to any device, anytime and anywhere.
These come in editable formats.
So what are you waiting for? These are a great deal and worth it. It will surely catch not just your attention but also your guests'. Now you have more time to do other stuff for your the party.