Pool parties have been the talk of town especially to the teens and young professionals. It may be a private pool party or a public event held on resorts, pool bars, or function houses where pools are available. It is truly fun to attend a party where you can see your friends and enjoy swimming and playing in waters with them at the same time.
Pool party flyers help a lot in identifying key elements that people who want to come should be aware of. If you are hosting a pool party and need help in creating your pool party flyer, you may browse through this article to get samples of pool party flyers or download our flyer templates to see documents that you may use in your flyer design.
Summer Pool Party Flyer
Download
Pool Party Event Flyer
Download
Beach Pool Party Flyer
Download
Swimming Pool Party Flyer
Download
Splash Pool Party Flyer
Download
Information Found in a Pool Party Flyer
It is of most importance to include these information in a pool party flyer so that guests will know what to expect should they want to attend the pool party:
The theme of the pool party.
The location of the place where the event is to be held.
The attire needed to be worn. Some pool parties may require people to be in proper swimming attire. Some may also suggest for people to wear casuals first. It all depends on the theme of the party.
The date and time that the party will start.
The duration of time allotted for a pool party and the time it is expected to end.
Design Elements
When creating your pool party flyer, here are a few design elements that are suggested for your pool party flyer:
Water elements are most likely to be used. They provide freshness in the entire flyer whether it serves as a background or a few water ripples and drops in a few areas of the flyer.
Common items that you may see in the pool or in a pool party may be used as a design material as well.
Summer icons may also be used as pools are usually associated with the hot weather and quenching your body's need for a great dip in the waters. Just be careful in using such icons especially if you plan to arrange a pool party at night.
Minimal Pool Party Flyer
Download
Spring Pool Party Flyer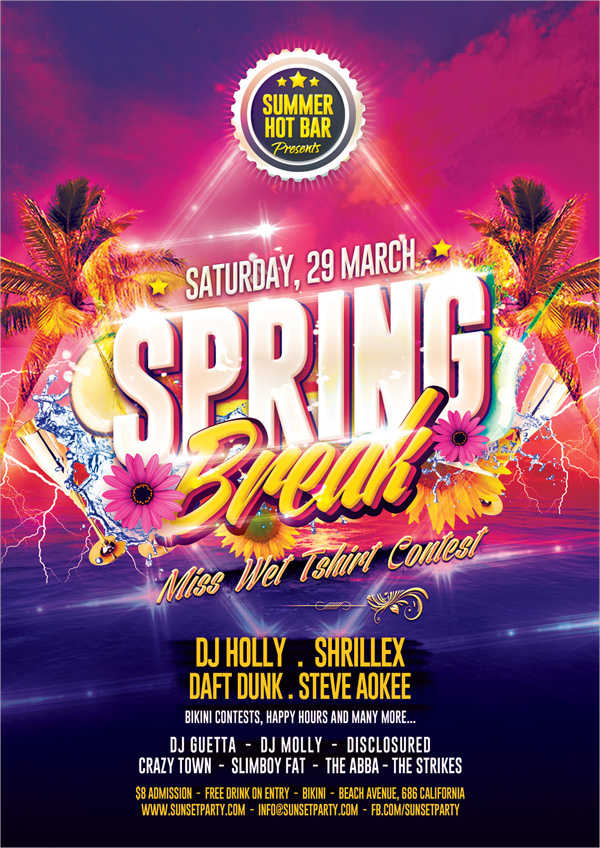 Download
Tropical Pool Party Flyer
Download
Pool Night Party Flyer
Download
Summer Beach Pool Party Flyer
Download
What Kind of Pool Party Are You Hosting?
You should also consider to make your thoughts cohesive. It is very important to have a specific theme for the pool party just so to not confuse people what to wear and what to expect.
You can make it like a rave party and hire a DJ so that guests can dance while in the pool and areas nearby, or you can also make it intimate by playing classical musics while you and your friends enjoy a bottle of wine in the pool facilities. You should organize the pool party efficiently so that there will be a smooth flow of happenings during party time.
Advantages of Having a Pool Party Flyer
A pool party flyer helps a lot in presenting your pool party to people. Especially if you want to have a huge crowd to go and enjoy a pool party, creating a pool party flyer allows them to know more information about the party that is to happen. It also makes them manage their expectations.
If you are to create your pool party flyer and it happened that you are to host the party come summer time, download our summer party flyers and use them as a reference in doing one.