Design in promotional mediums can either be simple or complex, shallow or deep; it can also be meaningful or meaningless. The truth of the matter is, no matter how you choose to design your promotional mediums, it is most certainly always open to interpretation. The way a person receives your promotional medium could be different from the other; they could have understood what you were trying to evoke or not. You may also see free flyer templates.
In design, there are various ways to convey your message. It can be done directly or indirectly, out or discreet, or explicitly or implicitly. Depending on how you opt to do it, there is an underlying message to it whether you are conscious of it or not. One of the design elements that are popular among businesses that entail connotations of different kinds are the shapes. With that said, here is a list of flyers with shape designs that could work as a perfect promotional medium for any simple business.
Minimal Shapes Flyer Template
Electro Shape Flyer Template
Minimal PSD Flyer Template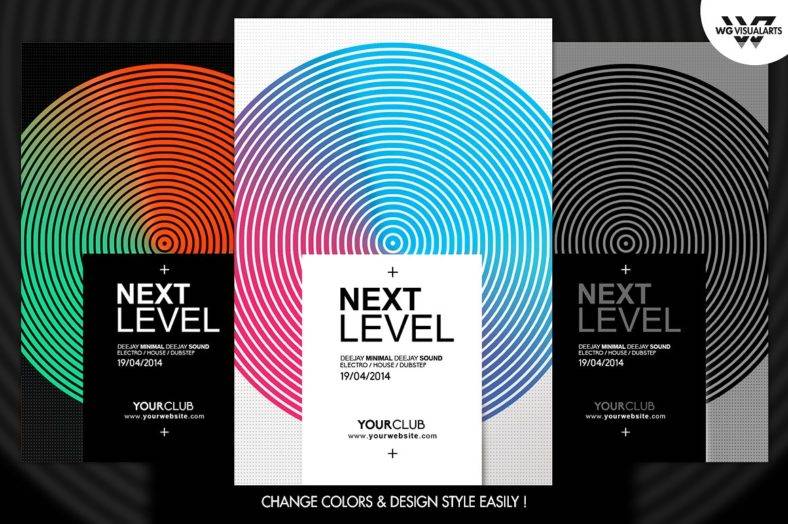 Psychological Connotations of Different Shapes:
You might find it a little too childish to talk or discuss shapes. Like it is going back to kindergarten to learn about the different shapes in the world and the different things that are like it. We were always taught that the sun, the moon, and the Earth are all round in shape, that buildings are all rectangular, but never that it could mean a whole lot more than just realities depicting shapes. So, in this article, we will learn about the different connotations of different shapes that we encounter almost every day. You may also see modern flyer templates.
1. Rectangle and Square
Rectangles and squares are shapes with four sides and angles each. It is something we often see in buildings, signs, tables, to name a few. Both these shapes look firm and strong and with that said a rectangle and square shape can evoke a sense masculinity to those who view it. To further that, rectangles and squares both have this sense of stability and formality to it. It can also connote support, dependability, and safety. That is why it is understandable why almost all infrastructure is shaped in such because of how sturdy and safe it is. You may also see professional flyer templates.
City Shapes Flyer Template
Minimalistic Flyer Design
Clinical Body Shaping Flyer
2. Circle
The circle is one of those shapes that in our younger years we are already introduced to. Back then we would often draw faces in a circular shape; we were told the sun, the moon, and the Earth was round so we were already accustomed to the idea it was. The circle also evokes the idea of timelessness, infinity, eternity, and a cycle and this is because the shape has no end and no beginning. Circles are also associated with femininity since it has no angles unlike the rectangles and the squares. It also connotes movement, wholeness, and unity with its curves. You may also like professional flyer templates.
3. Triangle
Triangles are also present in nature, we see it as mountains, as hills, and the most famous it is associated with is with the pyramids in Egypt. Because triangles have a point or a peak, it can connote success, greatness, or even superiority. It can also suggest movement in the way it is shaped. An upward triangle can make us look to the direction its point is facing which is up, a sideward triangle is to the side, and a downward triangle is to the bottom. What is fascinating with the triangle shape is it can both connote both a positive and a negative depending on how it is positioned. When it is upward, it can evoke the feeling of being stable and balanced. While on the other hand, when it is downward, it can connote risk, imbalance, and tense. The triangle shape can also suggest conflict, action, and change. You may also like sample flyer templates.
Christmas Party Flyer
Summer Shapes Flyer Template
Retro Music Flyer
Reasons Why You Should Opt for Flyers:
In a time where technology and social media are continually evolving, where both are seen as the norm and the future, promotional mediums that were once powerful in the day are slowly thought by people as ineffective. This is because of how easy both technology and social media has made people's lives easier especially for those who own or are in a business. But, most people do not realize the effectivity and power of a more traditional medium like flyers in this technological age. With that said, here is a list of reasons as to why you should opt for promotional flyers:
1. Effectivity
Amidst the incrementing power of technology and social media in this age, promotional flyers' effectivity and power have remained steadfast throughout the years. It is equally capable or even better despite its old-fashioned ways. This is because a flyer is tangible and can be easily handed out to people you are trying to target as a market. With it being a piece of paper with pieces of information about your small business, products or merchandises, and services. it is a more straightforward medium than its digital counterparts. With that said, a flyer right away relays the message to the people with no unnecessary online advertisements popping out making it really effective.
2. Price-Point
Flyers are generally cheaper than choosing to promote through technology or social media. Promotional flyers cost between $5 to $8 (depending on the design) and printing in bulk does not cost a lot too. Compared to when you opt to go for technology or social media which can cost you hundreds or thousands of dollars. You may also see invitation flyer designs.
3. Certainty
This is where it becomes clearer to why the more traditional promotional flyers are far better options than technology or social media. The certainty is what draws the line. If you are going to pay something it might as well be worth what you are paying for. There is no certainty with technology or social media relaying the message to your target market. Considering that there are thousands and thousands of other businesses choosing to go for the more modern approach as well, it is inevitable that your promotional advertisement gets drowned by others, in turn, making your promotion ineffective. As opposed to going for the more traditional promotional flyers, although you have to put in the work by manually giving it out to people one by one, the certainty is definite. You are also assured of the fact that your promotion or your message gets to the people you are targetting. You may also see chalkboard flyers.
Triangle Shape Corporate Flyer
Arts & Craft Fair Flyer Template
4. Creativity
With a flyer, you are given ample opportunity to showcase your creativity by designing it in ways you prefer. You are given the liberty to do whatever you want and put life to your promotion for people to take notice of. There are actually so much you can do to make your flyer as creative as possible and it also does not come with a hefty price tag. While there are different ways to present your promotion through technology or social media (i.e photo, video, etc), it ultimately adds to the cost making it all the more expensive. With that in mind, most businesses resort to just going for plain texts in their promotion with technology or social media, making it look lifeless and boring.
5. Worthiness
Promo flyers are definitely worth what you will pay for, sometimes even worth more than. There is no denying that choosing to go for the more traditional flyer is a cheaper option, but being cheap does not mean being ineffective and unworthy. Compared to going for technology and social media, promotional flyers can definitely do more than what the two can do combined considering its cost being low. It ultimately makes everything worth it, especially when you have relayed your message to the people you are targeting.
3 in 1 Techno Flyer Design
Geometric Poster Templates
Go for Premade Flyers!
Considering that by now you are already convinced with choosing to go for flyers in promoting your business, products, or services, here is an ideal option to go for in acquiring your very own promotional flyer.
Premade flyers are made at the ready with various designs already available. You can simply choose the one you prefer and do wonders with it. Premade flyers come at an affordable price making it all the more an ideal option. It is also very easy to edit and customize to your preference as it comes in a file that is easy to do so. Sometimes, it comes with a smart object layer allowing you to move around elements in the design. You may also see free PSD flyer templates.
If you found this article helpful do not forget to bookmark this page for future references. And kindly share this with other people seeking the best option to promote their business, product, or service and is on the lookout for the best-premade shape flyers designs and templates.