Yes, we would agree that it's already been months since Super Bowl LII, with the Philadelphia Eagles being proclaimed the overall champion after defeating the New England Patriots. But even with the delay, it doesn't mean that these sports event flyer templates have now become useless, you can still use these for other football-themed events or to prepare yourself for next year's Super Bowl.
If you're a fan of the American football, then the reason for you going through this article is definitely not a coincidence. You are here because you are looking for something, a tool that you can use for marketing and advertisement. Thankfully, we have an abundance of those all over our website. You may also see event flyer templates.
If you're looking for marketing tools in general, we have an announcement, invitation, banner, or poster templates here and even more. However, if you are looking for something more specific, say flyers, then this is exactly the right place. For this article, we will be focusing more on flyer templates, but not just any flyer templates, Super Bowl flyer templates. Like we said, if you're a fan of American football, then these flyers design templates are definitely for you.
Football Tackle Super Bowl Flyer Template
Let's start showcasing these series of Super Bowl event flyer templates with this first one, which shows a clear image of how intense a football game can get. High-impact collisions are evident in football, which is why each player is required to wear layers of protective padding, and a really thick helmet to keep themselves safe from injuries.
Simple Super Bowl Flyer Template
Quarterback Super Bowl Flyer Template
We know that it's still a couple of months away, but just in case you're already planning to celebrate the start of the Super Bowl season by throwing a kick-off party, then you may want to use the futuristic flyer template above. Just as the Super Bowl itself is exciting, the template above can also bring out that feeling of excitement from its readers, enticing them to attend the event that you are throwing.
Minimalist Super Bowl Flyer Template
If retro designs are your thing, then the template above may be perfect for you. As you can see, there is a big difference between this design and the previous one, with the most evident differences being the use of flat elements and the minimalist color scheme. This retro event flyer template may be perfect for those retro-themed establishments that are planning to show a live broadcast of the Super Bowl games. This way, the establishment will be able to gather a lot of customers, most, if not all, of them being football fanatics.
Creative Super Bowl Flyer Template
What Is Super Bowl?
Super Bowl is the official championship game of the National Football League and is celebrated yearly to culminate the regular football season. This is the result of a mutual agreement between the NFL and its rival organization, the American Football League. From this agreement, the champion from one league will have to face the champion from the other in order to determine the overall champion. You may also see party flyers in PSD.
The very first Super Bowl game was held on January 15, 1967, making this year's Super Bowl the 52nd, which was played on February 4, 2018. In the United States, because of the nationwide popularity of the sport, many people consider Super Bowl day as an unofficial American holiday, calling it "Super Bowl Sunday". You may also see blue flyer templates.
Super Bowl Flyer Design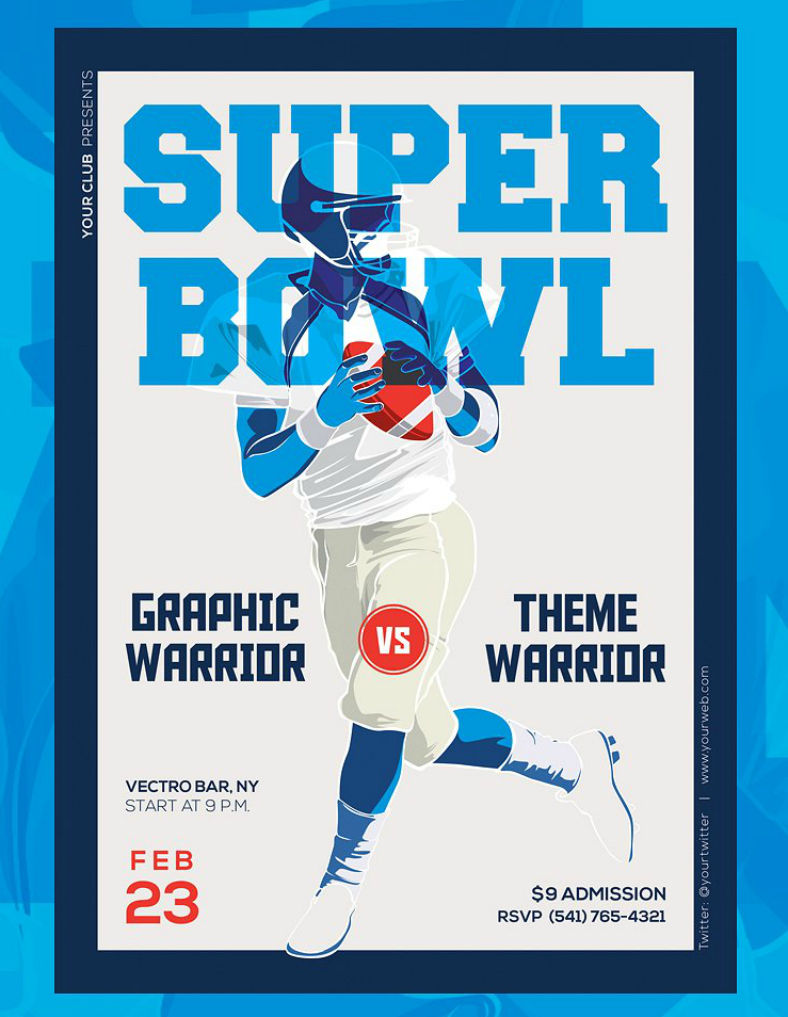 Here is minimal flyer template which features a flat, silhouette-like image of a quarterback. For those who aren't familiar with what a quarterback does, they are the player who leads the team's offensive play. They are positioned behind the center player and are responsible for passing the ball either to the running back or the wide receivers. So basically, the quarterback is the person in charge and the decision-maker during offensive plays.
Golden Trophy Super Bowl Flyer Template
Fun fact: When it comes to how Super Bowl games are being identified, they are normally written in Roman numeral format, and this has been done since the first Super Bowl game back in January 15, 1967. The only time that the Roman numerals were not used on a Super Bowl game occurred in February 2015, during the Super Bowl 50. By the following year, the naming of the Super Bowl event returned to using Roman numerals. You may also see bowling flyer templates.
Football Super Bowl Flyer Template
The Super Bowl flyer layout template above takes the expression "going head to head" on a rather literal level. Just looking at this design can get any football fan thrilled and excited, and it's even got fireworks effects on the background to further make this design even more exciting.
Sports Madness Super Bowl Flyer Template
Do you see how hyped up the players are on the design? If they're players from both sides of the team competing during Super Bowl, they should be hyped up considering that they prepared themselves for one whole year to get to where they are. For restaurants, cafes, or bars that are planning to show a televised broadcasting of the Super Bowl, then take advantage of this modern-looking business flyer template to invite customers to eat at your establishment. Who knows? These customers might even continue ordering food or drinks until after the end of the game.
Retro Super Bowl Flyer Template
Here is another retro-themed football flyer template that you can use for any type of event, regardless of the theme. But it would be best to use this if the attendees of the party are football fanatics. This retro party flyer template may be used for personal or private events, but it may also be used by establishments if they are planning to hold a football-themed party. The flat elements and the color scheme on this design are able contribute to the look and make it appear like a genuine advertisement flyer from the previous decade.
Modern Metallic Super Bowl Flyer Template
Interesting Facts About Super Bowl
Style Super Bowl Invitation Flyer Template
Modern Rustic Super Bowl Flyer Template
Once again, here is a football flyer template that shows just how intense a football game can get. Unlike other ball sports, football is indeed a highly physical type and will require its players to be exceptionally fit not just physically but psychologically as well, and these players should also be prepared for the extreme. If they lack at least one of these prerequisites, then they will most likely get themselves injured or worse.
Bowl Themed Birthday Flyer Template
If you're planning to hold a birthday celebration for someone who plays football or is simply an avid football fan, then the birthday party invitation flyer template above would be an excellent choice. If you want, you may even want to incorporate the football theme for the entire birthday party. Since this is a flyer for a birthday party, the only details that you will need to emphasize here is the name of the birthday celebrant, the date and time of the event, and the venue where the party will take place.
Simple Football Super Bowl Flyer Template
Looking at the flyer template above, it seems like something that you can see right after a very intense football game, with the ground all uneven and the ball partly buried beneath it. It would probably make a lot of sense to see something like this after Super Bowl since this game is usually held to determine the best football team from the entire season. Along with that is the recognition and respect that the entire team gets from people all over the world, the value of the prize money only comes third. For similar templates, also check out our collection of party event flyers.
Football Field Super Bowl Flyer Template
Now how's that for a Super Bowl hype? Whether or not you're actually trying to prepare for the next Super Bowl, or simply trying to put together a Super Bowl-themed event, we could both agree that these beautiful flyer templates are the real deal. But like me, I'm sure you have some uncertainties with regards to how real of a deal these templates are, so allow us to make it clear for you.
You're probably curious where we got these templates? We actually gathered these from multiple reliable sources that offer more than just flyer templates. You can find all sorts of templates on these websites ranging from invitations, posters, greeting cards, to name a few. And these awesome flyer templates have been designed by some of this generation's best graphic artists from all over the world.
Next, with regards to costs and expenses, we assure you that these templates are not only affordable but also really inexpensive. If you're on a tight budget or you're worried that you might go off your simple budget, don't fret because these flyer templates have been priced reasonably. Even with the reasonable price tags, we guarantee high-quality templates that are sure to surpass the actual amount that you are paying.
But we're not done yet, let's also talk about the editability of these printable invitation flyer templates. When we say templates, it's something that's been prepared or designed beforehand and is customized before it can actually be used or published. For our templates, they are fully editable and can be edited without losing precious quality. That said, we hope we were able to clear up those uncertainties because that download button is waiting for you to click on it.