Looking for fonts that can give you goosebumps? You're on the right track. We have here an array of scary fonts that you can use to elevate and complete your Halloween and thrill experience.
Fonts contribute to the overall tone of the design. It complements a certain and concept. By using scary fonts, you effectively convey the kind of spook you are planning to provide to your readers. We know that searching for font styles is a stressful endeavor, so that is why we offer you our list of scary font styles, which are easy to download and of great quality.
61+ Designer Templates in Word, Excel, PSD, Google Docs, InDesign, Apple Pages, HTML5, WordPress, Publisher, Apple Numbers, Illustrator - START DOWNLOADING
Halloween Scary Font
Download
Bloody Scary Font
Download
Scary Tattoo Font
Scary Letter Font
Download
Creepy Scary Font
Download
Characteristics of Fonts in General
In planning a Halloween party for example, the font styles used in the decoration must coincide with the atmosphere of the celebration. In order for you to appreciate more the dynamics of scary fonts, here are some of its basic characteristics:
Weight. Fonts come in various weights. The base weight is diverse among font styles, which means that a particular font may appear bolder than some other normal fonts. It really depends on the purpose behind the utilization of such fonts.
Width. The width of a particular font varies depending on its usage. For instance, the Times New Roman font style was designed with an objective of having a small width because they are mostly used in newspapers.
Metrics. This refers to the metadata which is considered to comprise of numeric values relating to a particular size and space.
Aside from the said characteristics, no one is stopping you from adding objects and designs in it such as dark and scary elements in the case of scary fonts. Most of these designs are used during Halloween celebrations such as in writing Halloween posters, Halloween party invitation cards, Halloween decorations, and scary movie titles. Aside from them, you can also check out our horror fonts.
Scary Gothic Font
Download
Scary Writing Font
Download
Scary Movie Font
Download
Scary Calligraphy Font
Download
Scary Poster Font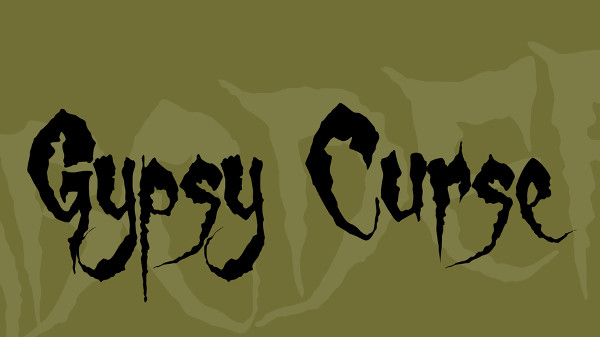 Download
Tips in Dealing with Scary Fonts
There are a lot of font styles to choose from. The challenge lies in choosing the right one that will enhance and enrich your design structure. Here are some tips in choosing a font style:
Know the purpose design. You must stand firm with your chosen design in order to have consistency. It is advisable to be consistent in terms of designing unless you are planning to convey something unrelated or different. For instance, scary fonts are mostly used in designing Halloween party invitation cards, banners, and brochures for horror-themed theme parks.
Color scheme matters. The right choice of color scheme is significant. The color combination of black and white, red, dark violet, and gray are mostly used. The colors will substantiate the terrifying, creepy, strange, and deathly design you are trying to pull off.
Be careful in pairing up fonts. In using different kinds of fonts, ensure that you pair up the styles that are compatible with each other. You must avoid using conflicting and contradicting designs unless there is a reason for such.
These are some tips that you may consider. At the end of the day, the decision is yours to make. To save you from the stresses of the planning and designing, you can download our scary font design templates, which are original and of high quality. Aside from that, you can also check out our Gothic fonts.