The use of fonts has taken a drastic change over the years. Initially it started off with just support of the text, but with the global shift towards the internet, the typeface used by you says a lot about your online profile. And with this article, we wish to bring the top fonts releases which you can use to make your content even more eye catching. You can also see Best Cursive Fonts.
Monday (February 1st) : Amundsen
We are going to start off the week with Juraj Chrastina's Amundsen. This is an all caps stencil like fonts which is perfect for your captions and headers. This classy font makes use of the overlapping letters. And thanks to the automatic ligature, it still provides a wider oriented display spacing which adds to its unique look. Chrastina has also added the support for Western and central European languages to reach a wider audience.
Tuesday (February 2nd) : Equitan Slab
All the designers looking for that amazing typography to give that amazing look to your designs look no further than Equitan Slab. This font is perfect for creating amazing UI. It comes in 7 different weights with 418 glyphs per font, and supports both regular and italic styles. The uppercase includes oversized serifs, while the italics include long out-strokes. Diana Ovezea has perfectly used the curls to make the font look more playful.
Wednesday (February 3rd) : Uncle Oscar
The font of the day for this Wednesday is "Uncle Oscar" by designer David Kerkhoff, and is definitely not named after any of Kerkhoff's uncles as he has already pointed that out. This rough font style is available in both regular and italic. It is a pencil font, made with a black 'Lamy' pencil that Kerkhoff borrowed from his son. The font gives you a vintage look with its spray paint feel of an uneven flow.
Uncle Oscar will be the perfect choice for writing letters to your loved one this valentine as it gives a kind of personal touch to it. Another perfect fit for this font will be designers working on their posters or pamphlets. You can add patterned or single colour backgrounds to it and make eye catching designs, instead of mastering spray feature on Photoshop.
Thursday (February 4th) : Gibon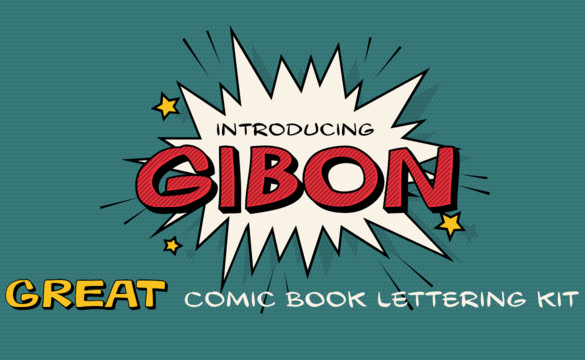 This Thursday throwback to the comic days with yet another Jurah Chrastina designed font to feature this week, Gibon. Comic books have their own set of legendary superheroes and villains, and this list also includes its legendary typeface. This font will serve your purpose to bring out the comic book feel to your design. This multi-layered font allows you to tinker with the different styles using shadows, 3D effects and outlines to create striking SFX.
Friday (February 5th) : Cera Brush
If the blogger in you is looking for the perfect font to sit on your images, then Cera Brush is just for you. This font is the handmade display companion to clean multi-script Cera and Cera Stencil. The ligature for the font ensures a thoughtful mix of letters, numbers and interpunction. It also provides support for Latin and a wide variety of symbols in more than 1.300 glyphs per weight.
Saturday (February 6th) : Omorika
Add the rustic, raw and informal look of Omorika this weekend to your designs. Designed by Lazar Dimitrijević, this font will add weight to your posters. The most incredible part is the support of over 100 languages that is provided in this font along with the feature of Standard and Discretionary Ligatures to avoid frequent repetition of letters, which users can themselves tinker with.
Saturday (February 7th) : Elevate
Elevate the quality of your designs with the typeface developed by Mans Greback. This handwritten font includes both the cases, along with a large number of symbols. The cursive font uses in-built ligatures that take care of repetition and alternate characters. Use this typeface in saturated hues, and you have the perfect eye catching designs.