Wedding invitation cards, formal dinner invitation cards, posters for formal events, and even statement tattoos need elegant and romantic font styles to set the tone and invoke the proper emotional response from those who look at them. If you are looking for romantic fonts to use for a tattoo design, a wedding invitation, a poster, or a label, then you have come to the right place.
Here we list down a select number of romantic font styles on the Internet available for download for free or at a modest cost. These font packages are ideal for any kind of commercial use fit for any and all occasion. They even come with various stylistic alternatives so you can customize them to your personal liking.
Romantic Tattoo Font
Download
Romantic Cursive Font
Download
Romantic Wedding Font
Download
Romantic Calligraphy Font
Download
Vintage Romantic Font
Download
Why Fonts Are a Big Deal
In the digital era of social media and smart, electronic everything, proper and strategic advertising is the rule of the game for every business hoping to make a name for itself. Even for events such as weddings and birthdays, invitation cards have become an emblem of importance and should be taken seriously.
For whatever it is that you put out in the world that comes in the form of letters, it's the font face that gathers and keeps attention.
Setting the Mood
People's attention are arrested when their emotions are provoked. If you want your girlfriend to sigh and feel warm on Valentine's Day, you'll want to give her a card with a romantic typeface. The text already stands by itself, but it's the font that sets the mood and demands what kind of emotional response you should have.
Romantic fonts set a warm and affecting mood on top of looking elegant on any print media it is used. Likewise, scary or creepy fonts let you know that the text conveys an element of fear; and girly fonts, mostly used in birthday parties for girls, set up a tone and feel of fun, brightness, and friendship.
Use Our Fonts for Anything!
This list of fonts we have compiled for you are extensive and usable for any text used in a myriad of platforms. Whether you intend to use in print media such as magazines, newsletters, or advertisements; or in event invitation cards such as weddings, birthdays, formal dinners; or even in tattoo designs—this list is guaranteed to have what you need!
Romantic Valentines Font
Download
Love Romantic Font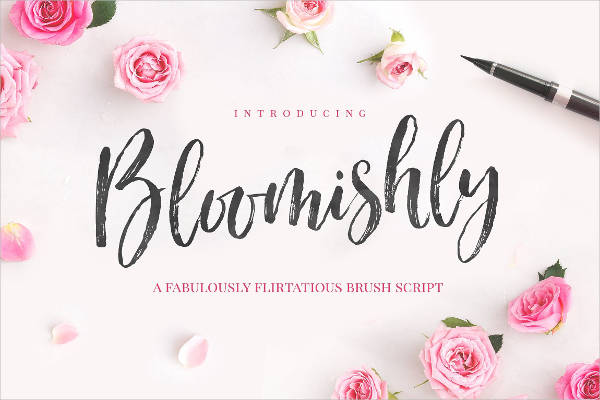 Download
Romantic Lettering Font
Download
Romantic Number Font
Download
Romantic Heart Font
Download
How to Use Our Romantic Font Styles
Browse the list and select a typeface that will go well with the overall design you have in mind. If you can't find the font style you're looking for in this compilation, we have a different list of wedding fonts, elegant fonts, cursive fonts, and script fonts that you can check out.
Click the Download button below the font of your choice. This should open another tab where you will be asked to complete the download or purchase the package. Please remember that these fonts were designed by professional graphic artists and come with options for customization, so you bet you're getting a good deal here.
Read the seller's instructions and install the software (if you don't already have it on your PC) needed to open and work the font package you just purchased. Please note that the font styles we have compiled for you were made by different designers, so they might have different instructions.
Open the font package using the appropriate tagged editing software and have fun customizing and designing!