Getting ready for the Halloween or your company's horror-themed events? Here are some scary fonts that you can use to terrify or even haunt those who chance upon them in your events or your works.
Even fonts can be scary too. There are font styles that will give you goosebumps because of the manner they are designed. They are perfect for fonts for your film posters, horror-themed ventures, or even as company event posters. We know that searching for font styles is a stressful endeavor, and that is why we offer you our list of scary fonts which are downloadable and very easy to apply. The scary fonts we collated for you in this article come in TTF and OTF formats and available to download for free or licensed at a modest fee.
61+ Designer Templates in Word, Excel, PSD, Google Docs, InDesign, Apple Pages, HTML5, WordPress, Publisher, Apple Numbers, Illustrator - START DOWNLOADING
Anehena Typeface Font
Download
Beast Brush Font
Download
A Lolita Scorned Font
Download
Another Danger Font
Download
Hellion Font
Download
Scary, Horrific, and Creepy
Each one of us has our own way of interpreting the word scary. It is indeed a subjective concept, but this does not hinder us from providing you with scary fonts to creep out your friends and family.
In planning a Halloween party—or horror-themed event, for that matter—for example, the font styles used show Halloween design elements like cobwebs, skeletons, and blood oozing from proverbial walls. To give you the luxury of time for other tasks on your to-do list, here are some of our scary fonts design templates:
Anehana Typeface Font
Beast Brush Font
Lolita Scorned Font
Another Danger Font
Hellion Font
Muertos Typeface Font
New Rocker Font
Dreadful Typeface Font
Black Asylum Font
Metal Macabre Font
With the use of these font styles, you can incorporate dark and evil objects to strengthen the appeal of your project. You can insert dripping blood stains, rats, dark tree branches, scary animals, caskets, ghosts, broomsticks, scary pumpkins, and many more.
Most of these horror fonts are used during Halloween and horror-themed celebrations and events such as in costume parties, Halloween parties, used in Halloween decorations, and horror film posters. The font styles aim to give a spooky and terrifying atmosphere to complete the scary vibe.
Muertos Typeface Font
Download
New Rocker Font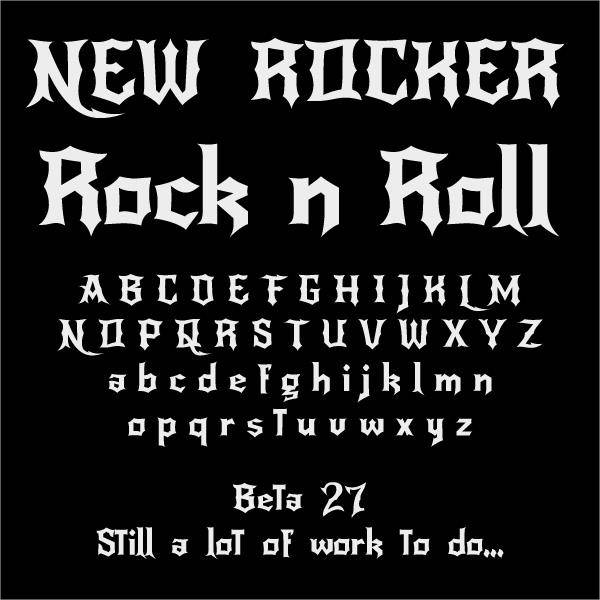 Download
Dreadful Typeface Font
Download
Black Asylum Font
Download
Metal Macabre Font
Download
Scary Fonts as Part of Design
The right choice of color scheme is also significant. The colors black and white, red, dark violet, and gray are mostly used. The said colors are important in designing your fonts. Moreover, you must bear in mind that you are portraying something that is terrifying, creepy, strange, and deathly.
One of the cardinal rules in using a font style is using it according to its theme and purpose. Here are some of the other general rules in selecting a font style:
It is important to create an accurate representation of the scary and terrifying situation you are portraying.
Take note on the rules regarding the proper pairing of fonts
You must not overdo it and take note of the message you are trying to convey
Observe consistency if need unless you are trying to point out another thought
These are some tips that you may or may not follow because after all we have subjective views on which are scary and which are not. To save you from the stresses of the planning and designing, you can download our scary font design templates, which are original and of high quality.
If horror fonts do not suit the gritty style you are going for, check out our collection of grunge fonts for more.