Maintaining health should not only be limited to those who are privileged, to those who can afford the luxury of going back and forth to a doctor. Everyone should be given an equal share of knowing what their conditions are, be informed of the repercussions if they neglect their health, and of course, be made aware the proper ways and medicines to aid what their health problems. You may also see home care brochures.
It is one of the very basic rights of every individual to live. And if living means having to do monthly checkups that do not cost a fortune, then why should people who cannot afford be deprived of that chance? There are a lot of ways people in power can reach out to those who are marginalized and one of it is through a fair. You may also see medical brochure templates.
Healthcare Tri-Fold Brochure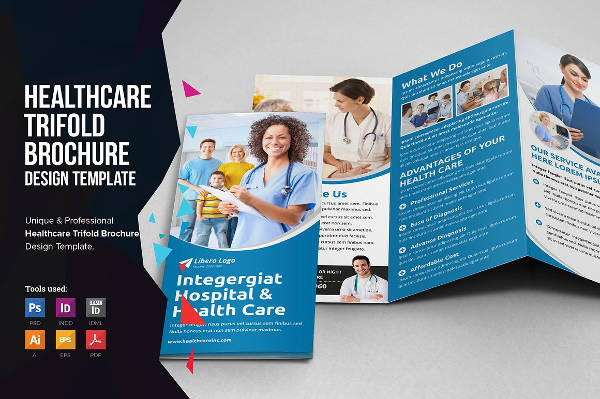 Health Brochure Template
Medical Health Care Brochure
Health fairs are sometimes a communal effort by individuals in an organization who want to help, sometimes a gesture by a government to provide to its people. Either way, a health fair is an interactive event that also acts as an outreach for those who cannot seem to find the means or time to go have their health checked. A health fair provides people with the basic preventive medicine and medical screening to help them in their daily lives. You may also see microsoft brochure templates.
Often times, it is composed of different variations that spread across health, wellness, fitness, and even lifestyle improvements. In line with that, events, in general, need promotion in order for people to be aware that there is such being organized. With that, here are brochure designs and templates you can use for your health fair event.
Healthcare Multipurpose Brochure
Health Care Trifold Brochure
Importance of Health Fairs
Just like any event aiming to help people, health fairs entail importance that highlights its value. It simply shows why there is a need to constantly provide for those who do not have the luxury to visit hospitals and set their appointments. Considering that this event not only focuses on one aspect of health, it becomes a gateway for them to a much better and healthier life. With that are reasons why health fairs are important and should be seen with great importance. You may also see chiropractic brochure templates.
1. It is Able To Help People
Not all people in the world can afford to go to a hospital and have themselves medicated, not even secure an appointment with a medical professional. That is why, with health fairs—as its main intent is to cater to people who are less privileged—no one is being left in terms of being taken good care of. People are given the chance to help people to have themselves checked and medicated, to have themselves aware and educated of all things related to their health. You may also see insurance brochure templates.
2. It Informs Asking Individuals
Since a health fair is not only organized to simply help with each individual's medical needs, it also is able to inform them about certain topics. It is able to help people educate and make aware of health issues, its symptoms, and how to prevent it to name a few. It is also able to confront them with topics that are considered taboo in the society which will further help them avoid it or prevent it. Information is indeed power and with that power, you will be able to do things that can help you in times of medical needs. You may also see bi-fold brochure templates.
3. It Provides Medical Assistance in Remote Areas
Health fairs happen in various settings, it could be in a church, a town hall, at the heart of the community, and in some cases in remote areas. And in cases it happens in remote areas, it is simply able to provide medical assistance to people who have left their health at negligence due to how far they are. This will simply provide the people living in such areas with all the information and medicines they need to help better themselves for a much healthier lifestyle. You may also see massage brochure templates.
Minimal Medical Fair Brochure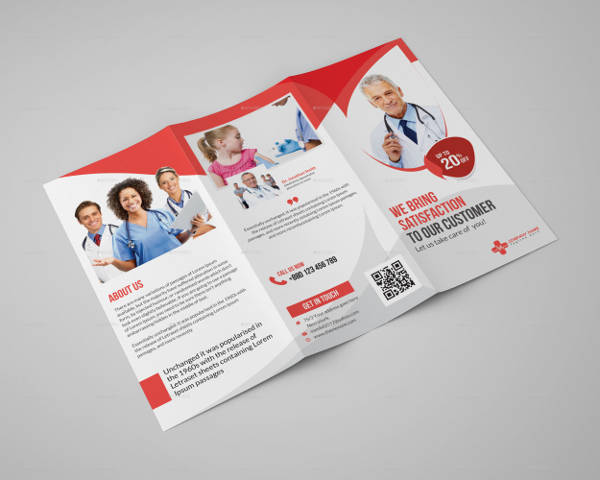 Clean and Minimal Medical Tri-fold Brochure
What Do Brochures Do?
In this age of technology and constant innovations, we rarely see the value of mediums now deemed as traditional. For advertising or promotions, people now commonly go for the more modern route that is with social media platforms or anything prefixed with "digital" (e.g. digital billboard). However, there are certain things that are only assured when you opt for the more traditional option. Considering that most other businesses now also rely on the ease and accessibility of social media platforms, there is a congestion in exposure that does not seem to stop building up.
Which leads us to the brochure, a small book or magazine that contains information about the business you have, to be used for promotion. Brochures are one of those more traditional options that with the rise of technology has been pushed to the side. So, what do brochures do? What do they do that still make them relevant to some despite the advancements of the world?
1. Brochures Inform the Market You Intend To Target
Brochures are meant to inform the people you are trying to target as a market, whether about your business or the products and services you offer, or in this case, about the event you are organizing for the community. Since it will contain pieces of information regarding the entirety of the event, it has the capacity to make your market aware of the event to transpire and all it encapsulates. From wellness to fitness, everything is contained in the brochure. You may also see daycare brochure templates.
2. Brochures Can Also Advertise Your Business
In line with informing the people, a brochure is also able to advertise your organization or company you work for who will do the deed to the market. Since brochures are a medium used to inform the people about the event, it is also able to present itself as a medium to advertise the business. Greatly considering that it is a more tangible mean for promotion is the certainty of effectively advertising to your people. Worrying whether the market you are targetting will get to see the medium is irrelevant as you will have to hand it out personally which can only mean, the assurance with whether the people got it is there.
3. Brochures Identify your Business
Essentially, brochures contain the different necessary pieces of information about your business or in this case event and organization which one of it is the name and logo of the company or business you work for. With these identifiers in your brochure is the inevitability that you identify your event or business to the people you intend to do so. Also, when you are able to successfully design your promotional mediums cohesively it can also help in identifying your business which makes identifying you a lot easier. With just one look at the brochure you will provide, people will already have an idea about who it is from.
Medical & Health Brochure Design
Medical Trifold Brochure Example
Pre-made Brochure Designs and Templates
Considering the vastness of options we have due to the fact that most have gone digital, there are tons of different ways to acquire your very own brochure. It mostly actually depends on the option that resonates with you the most or the options that allow your simple budget. There is opting of having it custom-made by a professional graphics artist and the option of simply buying pre-made designs and templates that are readily available online. If you are all about efficiency and practicality, then the pre-made option is most definitely for you.
Going for the pre-made option helps you save a lot since it is not considerably priced compared to the other one, which is probably why most people gravitate to it. The reason why this option is not s expensive is maybe due to the fact that the labor is not as extensive as its counterpart which prompts graphics artist to price expensively. Also, a premade option is very easy to work with. You will not need to have an extensive knowledge of different design software since basic understanding can already help provide you with the brochure you need. You may also see word brochure templates.
Furthermore, the designs and templates that come with the pre-made option are all fully editable and customizable to your preference. You are given an ample freedom to do whatever you want with the brochure design and template you have chosen. You can edit the texts, the fonts, the colors, even the sizes and a few other elements that are in the design.
At times, it comes with smart object layers or vector files that enable you to move around elements to create a more personalized and unique-looking brochure. More so, the pre-made option comes with an array of designs you can choose from. There are simple brochure designs for those who prefer a more minimal brochure and even modern designs for those who want their brochures to be contemporary. There is simply one for every different preference.
Medical Tri-Fold Brochure Sample
If you find this article helpful in any way, do not forget to bookmark this page for future references. And, kindly share this with other individuals who are keen in helping put out health fairs for those in need and are seeking brochure templates to use for their promotion.