Restaurant menus date back even to the Song Dynasty in China. Chinese cuisine had too many dishes and they wanted an easier way of asking people what they want to eat instead of attending to each question from the customers. Since then, restaurants have started to adopt the concept of making menus a restaurant asset. It helps businesses function more efficiently in order to provide the food and service customers are expecting from them. This article will teach you how to make a simple restaurant menu that is effective and will help you boost your confidence in the business.
663+ Restaurant Templates in PDF, Word, Excel, PSD, Google Docs, PowerPoint, InDesign, Apple Pages, Google Sheets, Publisher, Apple Numbers, Illustrator, Apple Keynote, Google Slides, HTML5 - START DOWNLOADING
Step 1: Write down your proposed menu
Yes, you may be excited to have your very own restaurant menu, but kicking it off with opening a template and choosing a design is not the way to do it. Begin with the basics. Start by getting a piece of paper and think about what food menu are you going to offer in your restaurant. List it down along with a short description of each cuisine or you can also include a proposed price for each meal.
Step 2: Categorize your menu
After writing down your proposed menu list, try categorizing them for a more effective restaurant menu. Group your meals by putting them into specific categories such as appetizers, entrees, soups, drinks, or any other category. Doing this will help your customers easily view a specific group of meal that they want to order. Then decide on which category should appear first on your menu card. You can also add some specifications such as putting a special icon beside a simple menu that is considered a specialty or best selling.
Step 3: Decide on a restaurant menu theme
Now think on how you want your menu card to look like. Is it Italian inspired? Asian? Classic? To narrow down your choices of how you want your menu card to look like, reflect on the choices your menu offers. Take, for example, if your restaurant specializes in steak, then maybe you can let your design look like a grill. If you specialize in seafood, then maybe you can use blue for most of the elements and designs. The main idea here is for your menu to look like the food it offers.
Step 4: Download an online template
Starting from scratch can be exhausting, most especially when you can't go hero on a design software because you only have little knowledge about it. That's where online templates step in. These templates are pre-designed with texts, font style, font sizes, designs, and images. The templates shown below are editable using design software such as Microsoft Word, Illustrator, Publisher, Adobe Photoshop, and Apple Pages.
Step 5: Edit your template
After downloading an online template, open any design software that you want to use. Open your template and edit it from there. You can start by putting in the texts. Arrange your menu by category, input the price for each meal, then provide a short description of the ingredients or maybe how it was cooked.
After doing so, take the time to check if there's any design element that needs changing or adjustment. Evaluate the final layout and show it to your colleagues or friends for the second opinion. If you are already satisfied with your work, print it. There are various printing mediums for restaurant menu cards. Consult a printing professionally for other printing techniques to have a unique menu.
Download
Does your restaurant need a menu card that is minimal in design? Let us help you with this Asian Restaurant Menu Template. This template has very minimal design elements but the layout still delivers. The design is neat, simple, and easy to edit. This effective layout makes it easier for the customer's eyes to quickly scan through the menu without getting confused.
Download
Want to get off from the conventional menu card style? Here's a unique-themed Chalkboard Asian Menu Template. This menu template can guarantee you the best design which is different among the usual designs and layout. This menu template is editable with various design software such as Microsoft Word and Adobe Photoshop.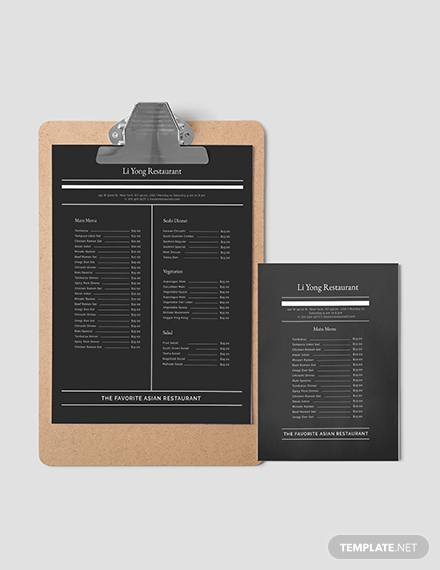 Download
Here's a restaurant menu card template that will not disappoint! This Simple Asian Restaurant Menu is sleek and neat in design. The minimal feature it displays is very effective most especially if you want the customer to put more focus and attention to the menu instead of the design. Download this template now!
Download
This Blank Restaurant Menu Template is fit for any minimally-designed template needs. This template features a clean layout without any distracting or unnecessary design elements. It is easy to edit and is downloadable and compatible with any design software of your choice.
Download
Wanting a menu card that will reflect the flavors of Italy that your restaurant menu offers? Here's our exquisite Italian Restaurant Menu Template. This template is editable with various design software programs. It features a simple background which makes it easy to edit. The typography of the entire template is what makes it sophisticated.
Download
This Restaurant Menu Card Template features a unique design for your restaurant menu card needs. The illustrations included in this template are high in quality and are scalable to any size you want. The typography reflects a calm and soothing mood. Grab this template and be sure of a restaurant menu card that will impress your customers.
Download
Looking for a template with a 90s vibe to it? Then this template if for you. This template will give you a ride to the past with its retro layout and typography. Download this template now and take your customers back to the days of chivalry and handwritten letters. Now that's how to set the mood for a date.
Download
This template features a different shape among the others. This is our Restaurant Table Tent Menu Template. This template can help you feature a short list of menu dishes. The unique layout allows customers to narrow down their food choices and quickly order on the food they want, without failing to give them a good impression for the restaurant.
Download
Looking for a template that is effective in design and content? Look no farther! Here is our Free Dinner Menu Template fit for your restaurant menu needs. This template features a simple background with a sophisticated touch to it. The vectors are scalable and the typography is what gives it a sweeter attitude. Download this template today and edit it through a compatible design software.
Download
Here's a contemporary menu template that will surely create a lasting impression on your customers. The sleek and elegant black background makes it stand out. The layout is what makes it neat, making the customers focus on the content and not on the design. Download this template today.